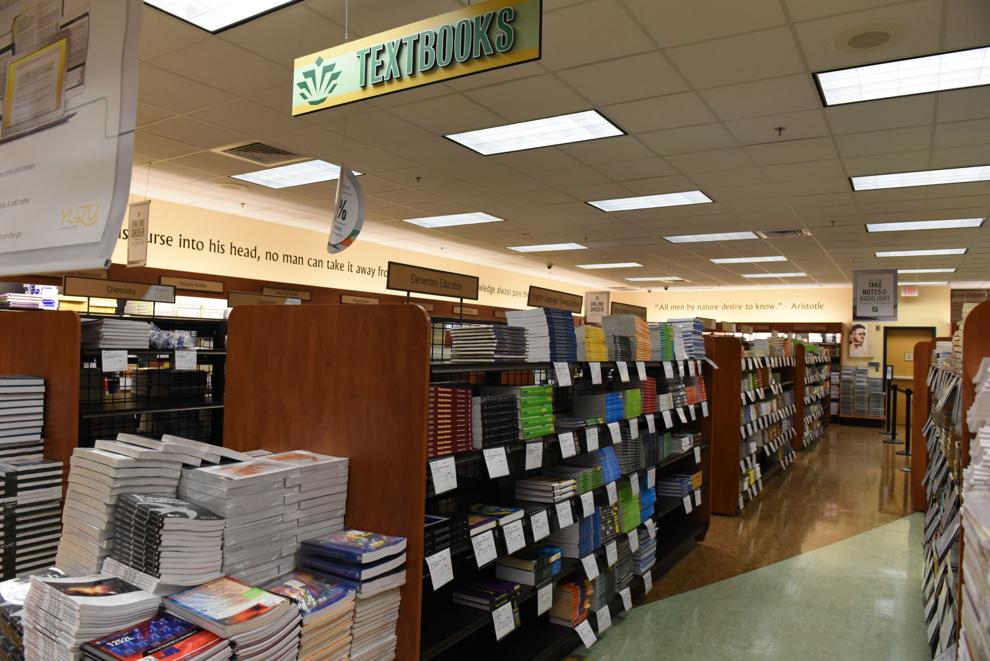 First of all, don't worry about getting your textbooks immediately. While they're definitely one of the most important tools you'll need at school, most professors don't expect students to show up to class on the first day with the textbook for the course. Some will even tell you the textbook is optional. 
My first year, I panicked over buying a textbook and ended up overpaying. I was skimming through the syllabus for a Spanish course I was taking the next morning, and part of the syllabus said to have the textbook ready for class every day. I debated with myself whether that included the first day of class. Well, the bookstore closed in 15 minutes and my class started promptly at 8 a.m. the next morning, so I didn't have much time to decide. I literally jogged across campus to make it to the bookstore before it closed. In my rush, I bought the extended version of the textbook. It was the correct version, but I spent an extra $60.00 or so on material I wouldn't need. The next morning, half the class didn't have their textbook, and the professor wasn't worried at all. I felt ridiculous. I had freaked out for no reason. 
If your professor doesn't explicitly say to have the textbook ready for the first class meeting, don't worry about it. Course materials can be really pricey even without accidentally buying too much of them. Additionally, many textbooks now come with online codes that are easy to mix up. It's in your best interest to wait for the syllabus or consult with the professor about what you need and when you need it. 
Once you know what you need, you can search a few different places. Just don't buy the first option you see. Most places charge a lot for textbooks, but if you're patient, you can find something a little cheaper. This is especially true if you're willing to buy a used copy. Amazon is an easy place to start for any kinds of textbooks, workbooks, or general literature. They'll often offer used options to buy. 
You can also rent some materials from the UNC Charlotte bookstore. This includes both textbooks and smaller books like autobiographies, fiction novels or anything outside of the "textbook" type. If the renting option is available, you can keep the book for the whole semester and return it when you're finished. It's always cheaper than buying. 
If you only need an online textbook and software, you may only need to buy a code to access it. These codes come in wrapped packets at the UNC Charlotte bookstore or can be bought online. Unfortunately, these course materials are often the most expensive and rarely have cheaper options. If a code for semester access costs $120, you likely will not be able to find it anywhere else for cheaper. Unlike physical books, these codes are not reusable once their access expires and thus cannot be resold. Be suspicious if someone offers to sell you a "used" online code. 
Lastly, if you've got the time to search around or are really determined to save some money, you can check with friends, other UNC Charlotte members and social media. During the beginning and the end of semesters, the UNC Charlotte Reddit is flooded with posts about selling textbooks for specific classes. Many other students are just looking to get some money back on textbooks they've bought and are willing to sell them at a discount. 
Once you've got your options lined up, check again to make sure you have the right online code or textbook edition. As I've said, it's really easy to get the wrong thing when the only different features are a few different numbers or letters on a code. You can also check the International Standard Book Number (ISBN), to make sure you have the exact edition of the textbook you need. The ISBN is a unique number code that can usually be found on the barcode of a textbook. 
Gathering all of your course materials is usually a tedious and expensive process, but I encourage you to be patient. Start the process early. Find several purchasing options, double-check your codes and don't rush it.