UNC Charlotte's Popp Martin Student Union serves as the hub for student life and campus activities. The imposing building houses a wealth of opportunity for students including several dining options, Barnes and Noble at UNC Charlotte, Union Theater, the Campus Salon and the nerve center for student organizations; not to mention, Starbucks!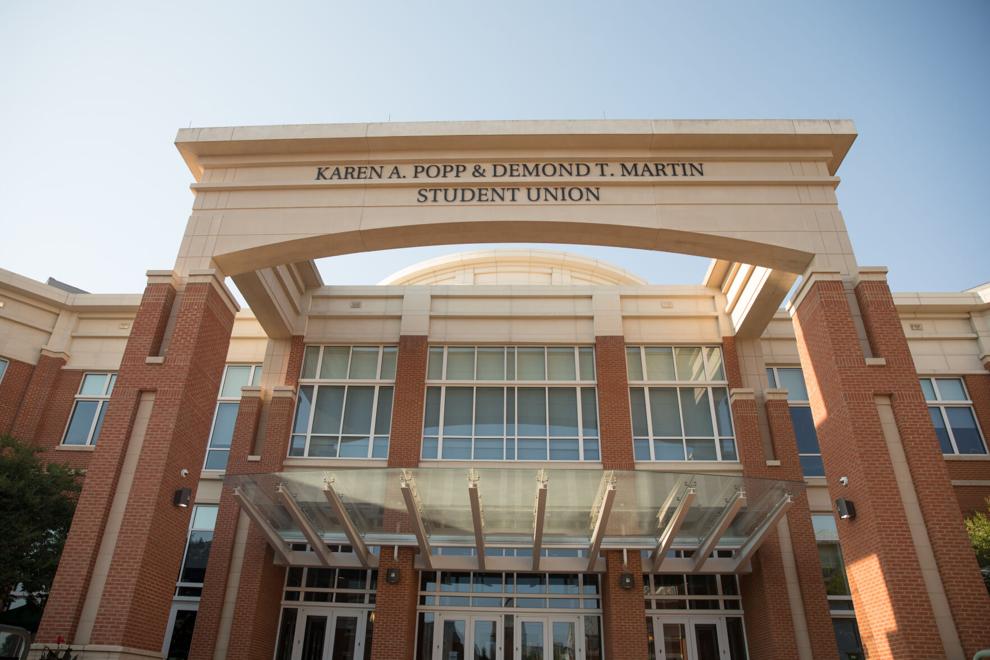 Originally opened in 2009, the UNC Charlotte Student Union is a community center for student affairs to thrive. It was renamed after prolific alumni Karen Popp (1980) and Demond Martin (1997) in 2016 to commemorate their dedication and extraordinary service to the university. As a unifying part of student life at UNC Charlotte, the five-story structure holds many exciting resources that students, faculty, alumni and visitors can take advantage of. Here is a guide to help you tackle Popp Martin: floor-by-floor!
Floor 1
Whether you are settling in for a good meal or just grabbing a pick-me-up, Popp Martin's first floor is especially convenient because it contains a plethora of fast-food dining choices Bojangle's, Einstein Bros. Bagels, Wendy's and Starbucks. If you want something a little more homegrown, try the Market on Craver featuring Erbert and Gerbert or Outtakes Quick Cuisine for a sandwich deli counter dining experience and a wide variety of tasty refreshments, available at your convenience. 
If you're looking to kick back after class, check out Norm's to catch a performance, play a game of pool, watch TV, eat, study, or simply relax. Popp Martin's first floor also holds the Union Theater where students, faculty and guests can check out flicks and even host events and presentations. More information about reserving the Union Theater can be found on the PMSU website. 
The Student Union's first floor holds the Barnes and Noble at UNC Charlotte for all of your Niner gear, textbook & supply needs. Additionally, students can explore the Union Station for paper and shipping needs, the ID Card Office, Campus Hair Salon, NinerTech Computer Store, art gallery, information center and the Rotunda seating area. 
Movies are canceled until further notice. Union Station, Barnes & Noble at UNC Charlotte, and NinerTech storefronts are closed but are available via store websites or email until further notice.
Mezzanine Level
Less of a floor and more of a subarea, the mezzanine level has plenty of seating for studying, impromptu meetings, or just relaxing. The open floor provides a birds-eye-view for events or general happenings on the first floor below. The mezzanine level also includes email stations for quick computing needs.
Floor 2
Forgot to eat on your way up? Well, the second floor of Popp Martin holds even more options for dining. This includes Bistro 49, the union's premiere leisure eatery complete with table service, and one of the university's two dining halls, Crown Commons where you can grab a table with friends, or solo, at Crown Commons and enjoy an ever-changing menu. .
If you're looking to get more involved on campus, then take a trip into the Student Government & Organizations Complex which holds the Campus Activities Board Niners on the Weekend, the Office of Identity, Equity & Engagement and other various student organizations. In addition, the second floor has James M. Hoppa Room 200, CRES/Reservations and Student Venues and Engagement Administration offices and various meeting rooms for your organizational needs. 
Floor 3
Just one level up, the third floor holds multipurpose rooms A-I that can be reserved for conferences, organization meetings and company events. All reservations for multipurpose rooms can be made at CRES/Reservations office on the second floor.
Lower Level
The final level of Popp Martin is not above, but below. The basement holds the Student Niner Media offices, including Niner Times, Uptown Audio, Sanskrit and Media Marketing. In addition, this floor holds a lower level of Barnes and Noble, but you will need to use the first-floor entrance to access this. 
The Popp Martin Student Union is your resource for a fulfilling experience at UNC Charlotte! Find more information about the Union at https://studentunion.uncc.edu/home.