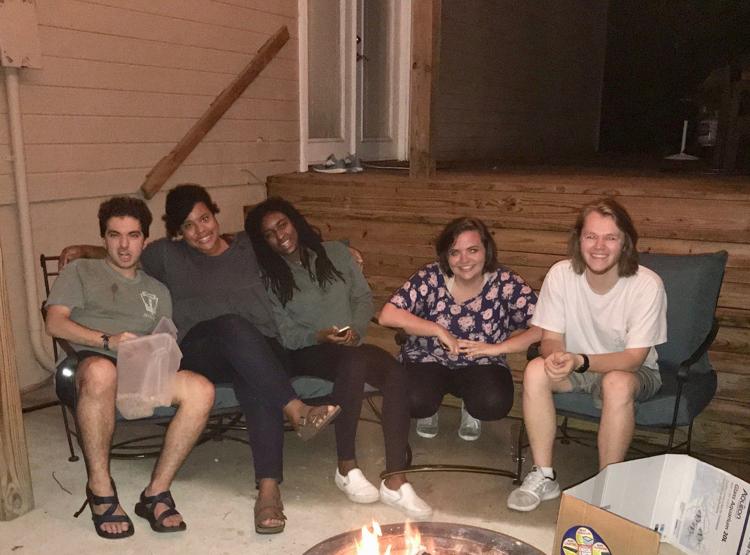 They're your squad, your ride-or-die buddies. For a while they were the people you couldn't imagine living without... and then Graduation Day comes, and that chapter closes so a new one can begin.
If any of y'all were like me, I always knew I would go to college, but I was also not ready to leave high school. I loved my group of friends, going to football games, eating lunch together and hanging out on the weekends. Also, senior year of high school was the best year, am I right?
Your friends are a huge part of your life in high school, so when college starts, your world completely changes. Some of us go to college with our friends while others don't. As a current senior, I've been doing this college thing for a few years now. Time has passed and the years have flown by. My dynamic with my high school friends is totally different now from how it was when we all walked across the stage to get our diplomas. 
As much as I loved my friends, I knew I did not want to go to college close to home, which meant leaving what I knew for something entirely new. My friends all went their separate ways. Some moved out of the state like me, some stayed in my home city and others went to our big university 45 minutes away. Either way we were all on our own path.  
During the first couple of years of college when my friends and I were all in town on break, we constantly made plans and did so much stuff together. Now if we can see each other at least once during a break, I call that a win. It feels amazing having those few friends from high school still heavily interested in your life like they used to be every time you all meet up.  At one point I feared not being close with them or not hanging out with them frequently; however, that's not the perspective you should take. Instead recognize we are all growing and have lives that include each other in a different way. The friends back home have relationships, co-workers and college friends of their own. When I am in Charlotte, I still keep in touch via snap streaks and occasional talks.
It's also okay to have arguments and break-ups. I definitely believe that the majority of us have had a really good friendship at one point that ended post high-school, and that is normal too. It's painful sometimes, but what's growing without growing pains?
College shapes us in so many ways and I think it's because we are so young that four years is still a long time of friendships, relationships and experiences. If I didn't go to college, my high school friends would have been all I ever knew. Now imagining life without my college crew is too hard to believe, and imagining my life without all the memories created is too crazy to think. 
Every group and relationship works differently. Remember you do not need to see someone everyday to still be best friends with them. Honestly, coming to college and separating myself from my high school friends has been one of the main factors contributing to my growth and I could not be more thankful. So, the truth about high school friends in college is that making new friends doesn't always leave your old ones behind. They simply have a different dynamic now, and that's not a bad thing.