Protests have been taking place in Charlotte all weekend in response to the death of George Floyd, a 46-year-old black man that died in Minneapolis police custody after alleged forgery.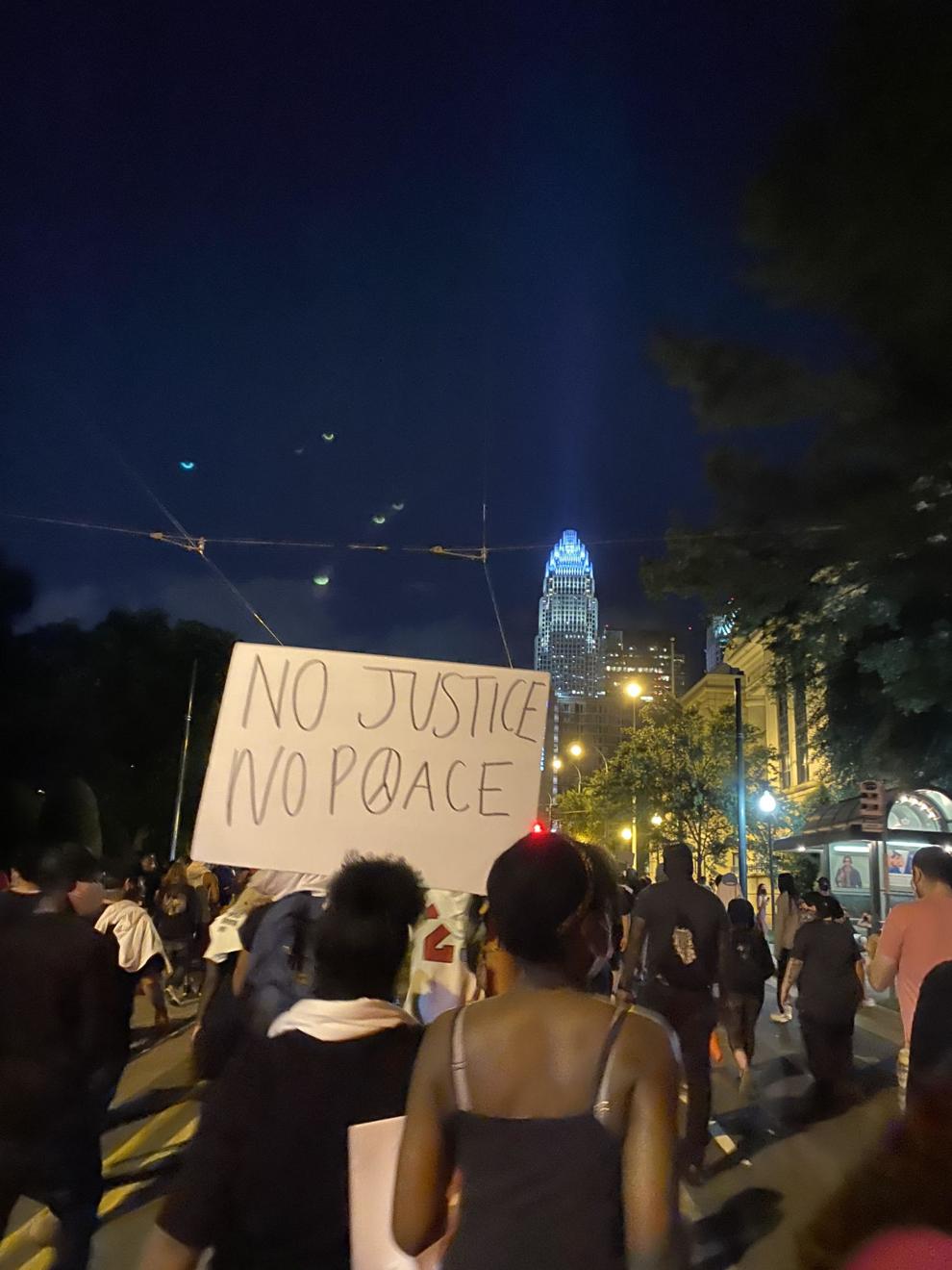 Protests began on Beatties Ford Rd. at around 6:30 p.m. on Friday, May 29. Friday's protest resulted in many arrests, including councilman Braxton Winston and Kristie Puckett of the American Civil Liberties Union, who were both arrested on "failure to disperse" charges. 
Since his arrest, Winston has tweeted a thread about the circumstances of his arrest. He released video footage of his arrest and explained that he was aiming to de-escelate tensions between the police and protesters at the time of his arrest.
Saturday's protests began around noon in Uptown Charlotte and continued late into the night. CMPD stated in a Twitter thread that a group of "more than 100 demonstrators" peacefully assembled at the police headquarters. The thread also stated that later in the evening a group of protesters gathered on I-277 and blocked traffic, and that the protests became more violent later in the night. CMPD said that explosives, rocks and weapons were used to damage businesses. 
The thread goes onto say 30 people were arrested as a result of this and six of those were in possession of handguns and rifles they brought with them.
Sunday's protests began around 1:00 p.m. with a march in Uptown Charlotte that continued into the night. There were many protesters passing out water and other supplies. Some protesters brought speakers to play music and speak to the crowd. Protesters chanted "I can't breathe," "No justice, no peace, no racist police," "black lives matter" and more. At night, the marching stayed in Uptown Charlotte, primarily on E. Trade St., S. College St. and near the CMPD headquarters and the Government Center. CMPD blocked many different roads throughout the night, with most of the officers in riot gear.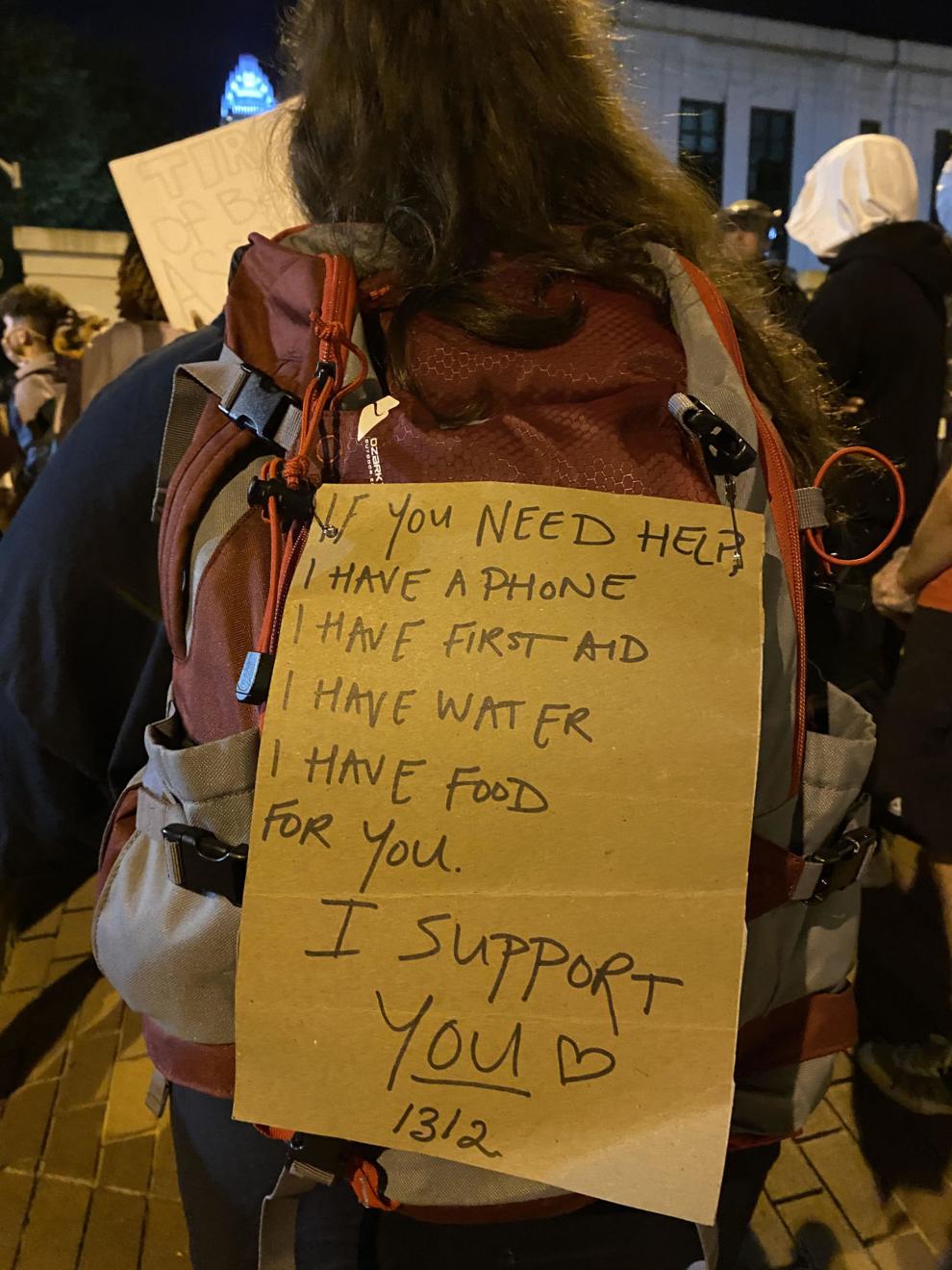 Many protesters actively encouraged their colleagues to remain peaceful. They told people throwing water bottles to not do so and encouraged them to continue to protest peacefully. 
At the intersection of S. College St. and E. 4th St., in front of BB&T, some protesters began to throw water bottles at CMPD and rocks at businesses. Many people continued to discourage this. Many protesters saw officers kneeling and as a response, asked protesters to stop throwing water bottles. The first video below is of protesters getting closer to officers and putting their hands up as a response to the kneeling.
Some protesters continued to throw water bottles. CMPD then ordered the crowd to disperse and released pepper spray. The second video is a short clip of people running from CMPD and the pepper spray.
Many protesters dispersed. Some remained in Uptown Charlotte and continued to protest. There were some businesses damaged during the protest.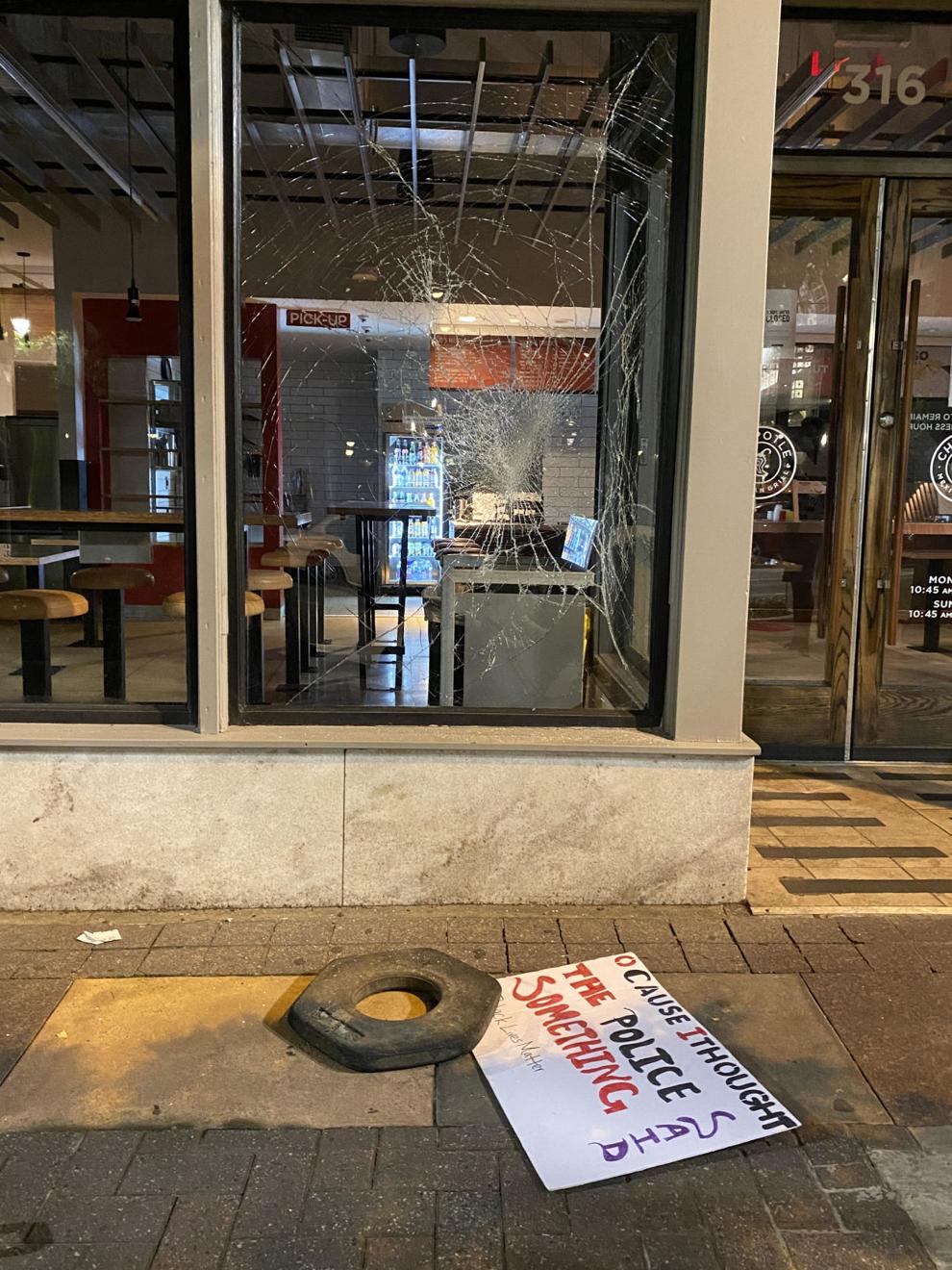 During a press conference Saturday afternoon before protests, Mayor Vi Lyles spoke about declaring a State of Emergency. Mayor Lyles and the Chairperson of the Mecklenburg County Board of Commissioners George Dunlap jointly signed a local State of Emergency that went into effect on May 30 at noon. The State of Emergency provides the possibility for restrictions such as Curfew, Restricted Access, No Alcoholic Beverages and No Dangerous Weapons.
Curfew and other aforementioned restrictions are not currently in place. The current State of Emergency allows these restrictions to be enacted when deemed necessary. 
Protests continued on Monday with demonstrations in Dilworth and Uptown Charlotte. More protests are scheduled for Tuesday, June 2.