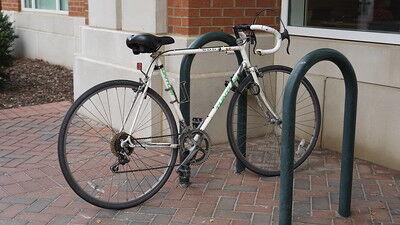 Students are reporting their bikes being stolen across campus.
"This year, so far, we're at 26," said Sgt. Jerry Lecomte, head of the community-oriented policing division, said. "I don't think it's a lot of people committing the thefts. I think it's probably one or two people that may be coming up on the light rail or riding a bike up," he said.
Sgt. Lecomte has almost seven years of experience as an officer of community policing. He oversees outreach, programming and education of faculty, staff and students at UNC Charlotte.
A second-year majoring in mechanical engineering, Andrew Thompson had his bike stolen Nov. 1 at the bike rack by Elm Hall. A month before the theft, his handlebars were stolen.
Thompson recalls feeling angry and confused when discovering his bike was stolen. "It's just one of those things you don't think will happen until it happens to you," he said.
Nathan Klinge, a recent graduate, reported his bike stolen right outside his residence hall at the end of spring semester 2020. His lock was stolen along with his bike. "I came back to campus to get everything from my dorm after the semester ended, and I was looking for my bike where I had it chained up on, it was gone," he said.
Klinge graduated in the summer of 2021 and still works on campus. However, he longer uses his bike to travel around the campus. "I bike in my free time, but just not on campus," he said.
Sgt. Lecomte recommends using a solid U-shaped lock to deter thieves. "I have a chain lock, and apparently those are much easier to break into than U-Locks," Klinge said. "But I think you could still break into both of them, but I think the U-lock would serve as more of a deterrent."
Most of the locks that Lecomte saw on campus were cheap locks that could be removed with a pair of wire clippers or a good pair of scissors. "We encourage just investing in a good lock that secures your property," he said. "The more time somebody spends on it, the more opportunity that they're going to get caught."
The campus police department recommends a free program called Operation ID that provides engraving and registration for items such as bikes, phones, earbuds, headphones, laptops, computers and other personal devices. All the program requires is the make, model and the serial number of the item. The program allows walk-ins for students, faculty and staff.
However, not all students found registering their bikes with the police helpful when their bikes got stolen. Klinge said registering his bike was not helpful at all in finding his bike. "It was the fact that one, I took all the precautions, which was to put a bike lock on it," Klinge said. "Two, I also registered it with the campus police."
When he reported his bike missing, the police asked him if he had just lost it. "They can't do anything about it," Klinge said. "It's kind of just a waste of time."
According to Lecomte, the item does not have to be engraved when registering it with Operation ID. "It just adds an extra level to the availability and identifiability of that property," Lecomte said. For example, out of the 26 bikes stolen this year, only six had been registered with the campus police.
The campus police hold events for Operation ID all year round at residence halls and other places on campus. At these events, students can get their personal property engraved or registered for free.
Lecomte recommends reporting any suspicious behavior seen at any of the bike racks on campus. "Give us a call or send us a tip through Live Safe," said Lecomte.