Construction on the UNC Charlotte campus continues as they conduct thousand-dollar projects across campus such as repairs, renovations and restorations. The Facilities Management website includes plans and all other relevant construction information. 
McEniry renovations and repairs 
Facilities Management lists two separate projects taking place in McEniry.
Repairs to electrical, plumbing and HVAC in the McEniry building are estimated to be completed by November 2021. According to the Facilities Management website, this project will replace an existing chiller, transformer and electrical service for the newly added equipment. The total project budget for this project is $1,093,664. 
McEniry's IT infrastructure will also undergo several upgrades by the completion date. These upgrades will include the renovation of the current two research labs and modifying an existing lab exhaust system. Construction on floors 2, 3 and 4 will be complete in June 2021, and the lab exhaust upgrades will be complete in November 2021. The total budget for these upgrades sits at $10,000,000.
Bioinformatics building
The updates to the Bioinformatics Building include the build-out of about 24,000 square feet of space on the fourth floor of the building. This will allow for extended research space with computer-supplied and experimental research labs, faculty offices and space for graduate research assistants. The completion date for this project is April 2022. The University has a $10,500,000 budget for this project.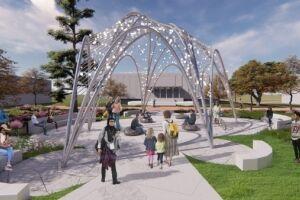 Remembrance Memorial 
A memorial and commemorative space will be produced in Belk Plaza, across from Kennedy, to recognize the on-campus shooting at UNC Charlotte on April 30, 2019. According to a September Niner Times article, the construction for this project will break ground on April 30, 2022, and will be completed by May 2022. The budget for this project sits at $2,000,000.
Union Deck elevator 
Updates to the Union Deck southeast elevator will begin in March 2022 and be completed by August 2022. The current elevator in this area is hydraulic, and facilities management says that it "needs to be modernized." The University allocated $800,000 towards this project. 
Toby Creek restoration
The City of Charlotte Stormwater Services will work to improve conditions alongside the bed of Toby Creek to improve its overall water quality. The improvements for Toby Creek are scheduled to be completed by October 2022. There is no University budget listed for this project.
Reclaimed Water project
The Reclaimed Water project will bring reclaimed water into campus from the Mallard Creek Water Reclamation Facility. This project intends to replace the existing potable campus water and connects the regional utility plants and irrigation systems. As noted by the City of Charlotte website, pipe installations have already begun. This project should conclude in January 2023. The budget for completing this project is $2,100,000. More updates regarding the Reclaimed Water progression can be found on the second issue of the Mallard Creek Pipeline Newsletter. 
For more information about construction on campus, visit businessaffairs.charlotte.edu/facilities-management.