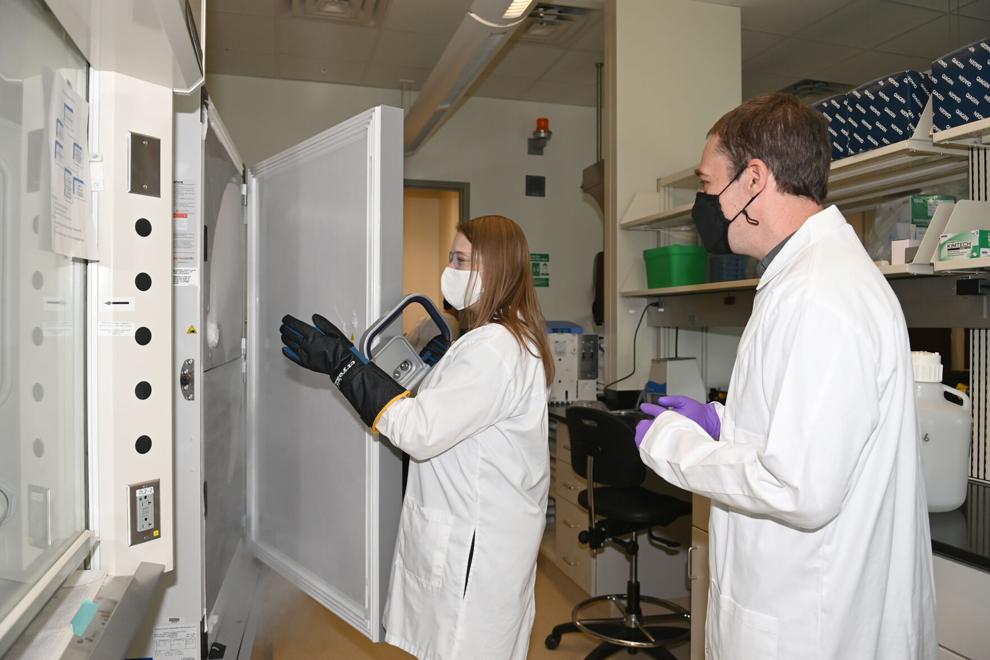 Dr. Alex Dornburg, assistant professor in the Department of Bioinformatics and Genomics, is researching reinfection rates for Covid-19 using evolutionary biology. In his lab, Dornburg includes UNC Charlotte graduate and undergraduate students' participation and learning from doing this research. 
"We are trying to take something terrible and turn it into as much of a positive as we can," said Dornburg. 
On Oct. 1, a study was published in the Lancet Microb about Covid-19 reinfection rates. Covid-19 reinfection is the ability for an individual to get Covid-19 again within a certain period of having Covid-19 once before. In an interview with the Niner Times, Dornburg explained from the study there is a range of a person who previously had Covid-19 could be reinfected, which fell anywhere from three months to three years. The average, however, was 16 to 17 months. Dornburg stressed that this range is different for everyone as individuals are unique in their health standings. For example, according to Dornburg, an older, immunocompromised person has a greater risk for quicker reinfection than a healthy, younger person.
The study concludes with steps toward another study about reinfection rates in vaccinated individuals.
Dornburg discussed evolutionary biology when describing the Covid-19 reinfection research and where that can be applied in other aspects of scientific research. "You get a sense of what that means for your genetics," said Dornburg. "If we retrace those steps, we can figure out what everything in common and how long it's had the change. We just published a paper that uses this same idea in cancer. We are able to track primary tumors and metastases and then re-map the patient history back onto that to see how the cancer's actually responded to different therapies and how the different mutations arose. Taking that kind of thinking, we can actually use this to enhance personalized medicine and come up with predictable forecasts of when you apply this therapy you are likely to see this [result]."
According to a study published in the Lancet Microb, "Evolutionary immunological inference can be deployed on future emerging diseases, rapidly informing critical gaps in knowledge necessary for effective pandemic response." 
In this research, many hands make this all possible to learn and grow in science. Dornburg told the Niner Times about the involvement of graduate and undergraduate students in the research on campus. While reinfection research affects the world because everyone wants to know what is happening, these students are allowed to learn and work with each other. 
This research is conducted in Dornburg's lab group, where he and the students work collaboratively to train in "how to code, various analyses, a lot of evolutionary analyses, how to do biogenetics, biogenetic comparative methods and how to access public sequence databases," said Dornburg. "A ton of analytical, computational training that is going into this. Some of the students are learning graphic design and some in scientific writing." 
In addition to the lab work, Dornburg encourages the students to be involved in team-building exercises as they will work collaboratively in professional career settings. These team-building activities can be anything from designing a poster for a research proposal to giving elevator speeches to explain their research. This teaching method allows Dornburg to show the students how to work together to prepare them for a professional career. 
"I really try to train everybody, aside from being a professional, to be a well-rounded scientist and having a well-rounded education on the scientific process," said Dornburg. "I don't like anybody just doing one thing over and over again. I prefer when they get that 30,000-foot view as well, and they figure out where they fit in, too...By doing that, we are giving everyone a leadership opportunity."
Before the Covid-19 pandemic, Dornburg was a marine fishes and ichthyology researcher, the study of fish. He was a research curator of ichthyology at the North Carolina State Museum of Natural Sciences, where he published many works. According to the Bioinformatics Research Center website, Dornburg's lab is researching "to develop a better understanding of the general principles that have given rise to the diversity of living vertebrates and enabled their persistence." 
When asked if he would ever return to solely studying marine fishes and ichthyology, Dornburg said, "The weird thing about science is that as you work on a topic, you discover more, you ask more questions and there's no going back. The same thing goes for all the marine work and all the fishing genetics that we've been doing." 
"We view evolutionary biology as a historical science, but I think it's time that we don't just learn about the history, but we learn from it and understand what that means for our future," said Dornburg.