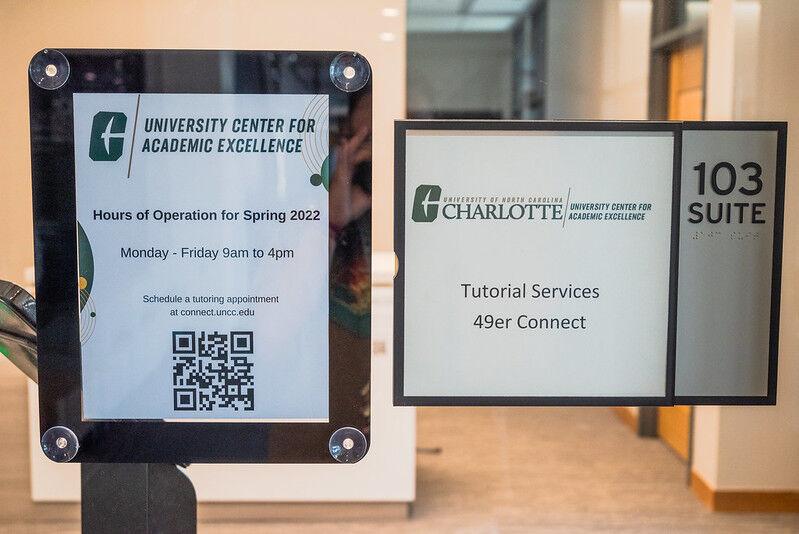 The 49er success guides program is a new program the UCAE developed in fall 2020 to help provide student resources. The Niner Times covered the program and how it assisted students during the pandemic in March 2021. As a year has lapsed, the Niner Times followed up with members of the program. 
According to the Assistant Director of Learning Strategies and Instruction, Mackenzie Barry, the program has been successful over the past year. 
Ellie Nanney, a fourth-year student and a new success guide, said the program primarily provides resources and peer support. She emphasized the importance of being the first point of contact for the students who need assistance; the success guides help students with time management and study skills. 
A returning success guide and fourth-year student, Tamia Lipscomb, tells the Niner Times about how the success guides help students.
"It's a program for helping students navigate being a college student and handling the normal ways of college [such as] trying to navigate the campus, the new environment and the school," said Lipscomb. "Being a student isn't just education–there's more to it; we have mental health. We're trying to figure out where to eat on campus, be connected to other students [and] make friends. There's a lot more to be a student than with just academics."
In the past year, Nanney reflected on how the program works for students that want to use it. She said that the program needs more student involvement and participation. "I think that it works well for students who want to utilize it," said Nanney. "I think a lot of it depends on how much students put into it or don't put into it because we are always a resource."
The program is working towards becoming certified in the CRLA (College Reading Learning Association). This certification will allow the program to be trained to certain standards of CRLA, which would enhance student academic success. Barry says that she thinks this will elevate and help the program bring in more students. 
According to the CRLA website, "The College Reading and Learning Association (CRLA) is the professional development resource of choice for college professionals dedicated to enhancing student academic success."
Barry would like to see the implementation of adult student learners as a peer mentor to cater to the number of adult learners that reach out to the success guides program in need of resources and connections. These success guides would be over the age of 24 to connect with adult learners.
"We're hoping we're going to get an adult learner who wants to be a success guide because a lot of times this semester, we've had students who were over the typical college age," said Barry.
"I think it would be really beneficial if we had an undergraduate student who was an adult learner—complicated to get because most of them have other full-time jobs and going to school. But we're hopeful that we'll be able to get an adult learner who can help. The students feel more connected to both their peers [that] know exactly what students similar to their backgrounds are going through." 
The program is catered for all students, not just incoming first-year students and transfer students. "49er Connect helps students who are not freshmen or transfer students in a similar way to their counterparts," said Barry. "[The] process does not differ for students who are not freshmen or transfer students because the student is the one that sets the agenda of what they want to work on with their guide, with their semester plans, not by the type of student they identify with."
As a change since the beginning of the program, there are no more mandatory students participating in the program. These students were previously recommended by their deans and college to join the program and required to attend success guide sessions. 
In reflection of 2021-2022 data, Barry says that they have reached out to a total of over 5000 students via personalized emails; 60-65% are responsive versus the fall 2021 semester, where 3500 emails were sent out with a 60% response rate. 
"The excitement of the Success Guides paired with the responses we have gotten, both negative and positive, will shape the program moving forward. Receiving feedback from students and Success Guides is a crucial part of our program that will truly help us grow to our potential as a means of helping students reach their success and feel supported on Charlotte's campus," said Barry.