To better assess damaged structures in the wake of natural disasters, a UNC Charlotte research group purchased a quadrupedal unmanned ground vehicle referred to as K-Niner.
Dr. Stephanie Pilkington, an assistant professor in the department of engineering technology and construction management, leads the research group, PhDisaster. She also coordinates the majority of the K-Niner project with her graduate research assistant Sai Bharadwaj.
By the next hurricane season, Pilkington hopes K-Niner will enter and assess damaged structures that are too dangerous for human entry.
"We've historically gone out after extreme events and have been able to look at structures and get an idea of what failed," said Pilkington. "We've got much more data for residential structures because they're easier to get to, but maybe not so much for some commercial structures."
"It's hard to get into specifically commercial buildings that have been severely damaged," said Pilkington. "Because a lot of times, they don't want people entering due to liability. So the robot would help us kind of get around that aspect of it."
K-Niner will collect data regarding the failures of building methods and materials during extreme situations. Researchers will utilize this data to prevent those failures in the future.
Before being sent into these structures, Pilkington and her team need to test K-Niner's mobility and controls. Although they can give K-Niner basic commands like walking and tackling small inclines through a hand-held controller, the team will have to program K-Niner to perform more complex commands.
"Its mobility is fairly good already," said Pilkington. "Especially with the high-step capabilities and being able to get around debris, but there might be some other situations where we have to consider different mobility of the robot and be able to navigate the kind of odd situations you'd have in a damaged structure."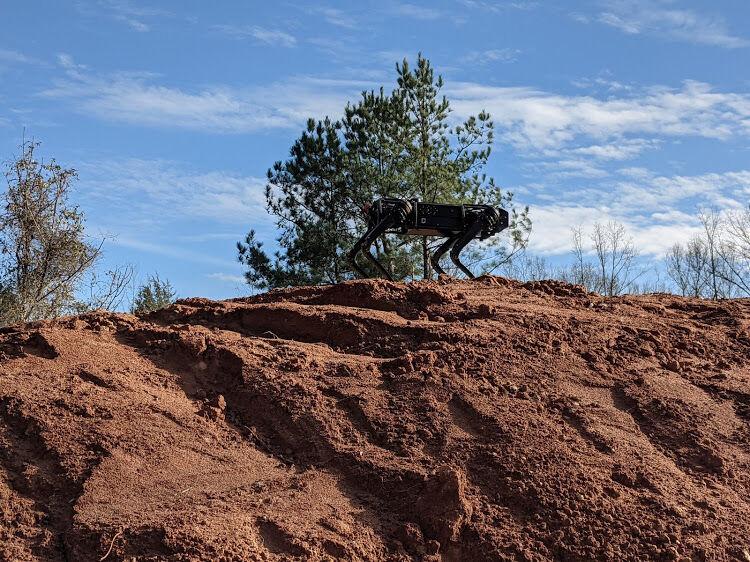 "We are just starting out and digging into the software," said Pilkington. "We're first going to try and do some tasks that are going to seem very small, but computer-wise might be somewhat significant."
Bharadwaj said that, in the future, K-Niner could learn to map and navigate damaged structures autonomously. However, coding requires time, and progress is often slow.
"It's not glamorous," said Bharadwaj. "It doesn't look as good as just operating the robot and seeing the end product. But at the end of the day, it's worth it because I am learning."
K-Niner also needs hardware modifications before entering damaged structures.
"Right now, the camera I have on it doesn't take pictures," said Pilkington. "The camera mounted on it is mainly for control purposes."
"I'm currently working on a couple of proposals with it," said Pilkington. "One of which will involve me mounting a camera that allows for 360 rotation and another one that's very new," said Pilkington. "It would involve mounting drones to the back of it."
Bharadwaj said that once K-Niner enters the destruction sites, these attached drones would launch and begin recording in places even K-Niner can't reach.
Another obstacle K-Niner faces is repair and maintenance. This technology is still relatively new. That means if K-Niner gets injured in a destruction site. It may be difficult to repair. Luckily, K-Niner has a durable roll-cage that should protect integral parts like the battery.
Due to its dog-like appearance, Pilkington said that she'd grown somewhat attached to K-Niner.
"It's weird because it looks like a dog. You almost treat it like one," said Pilkington. "Whenever I've walked it around, and it accidentally bumped into something, I'm like, 'Oh, I'm so sorry.' You start to almost feel for it.'"
K-Niner is also popular with students. Pilkington said that many students stare and photograph K-Niner as she walks it around campus.