The Latinx Student Union and the Black Student Union hosted a discussion titled Intersectionality: Afrolatinidad on Feb. 20 in Cone University Center.
The discussion centered around Afrolatinidad students and issues they face in society.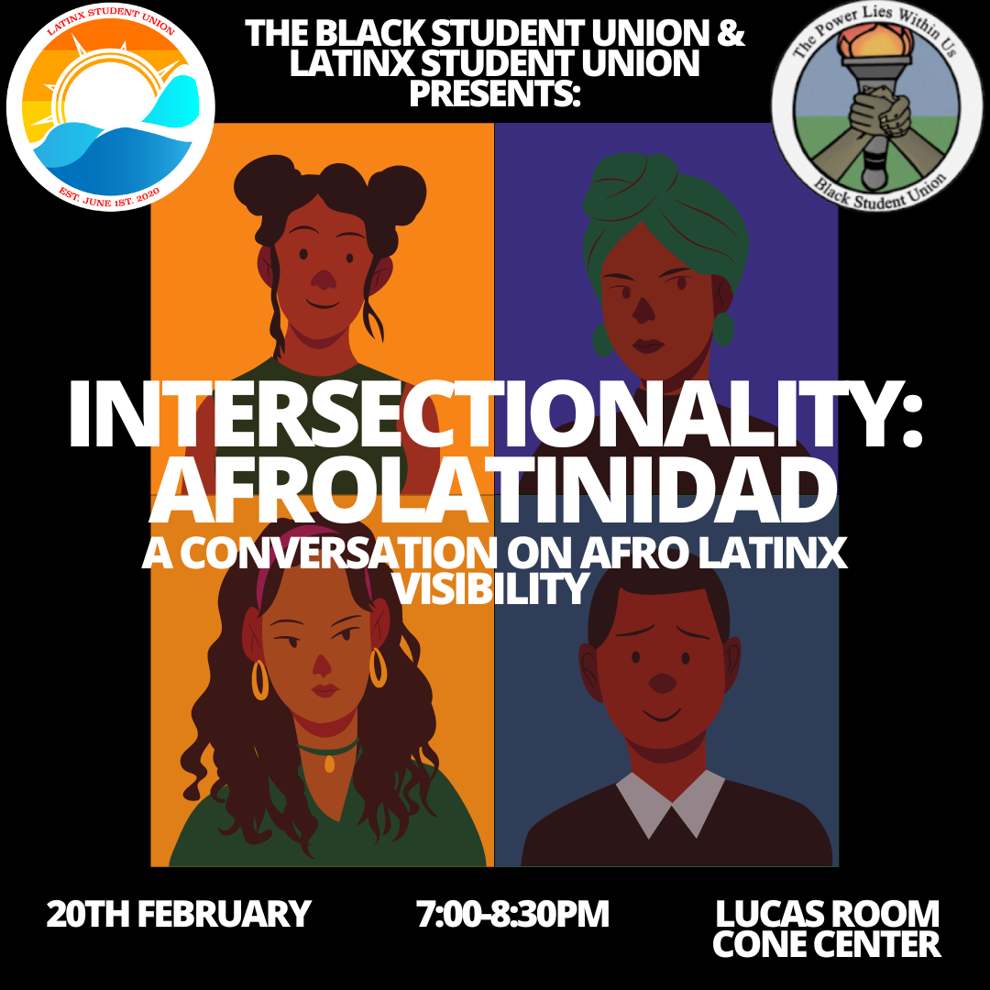 "For Black History Month, we had a collaboration with the Black Student Union and our organization," said third-year student Jason Medina, digital content chair of the Latinx Student Union. "We were highlighting Afrolatinidad, which is people who are ethnically Latino, however their race will be considered black, so they're of African descent." 
Many Afrolatinidad people can trace their roots back to the system of race-based slavery that was prevalent in North America and South America until the mid-1800s.
"[African] slavery happened all over Latin America the same way that happened in America, but it happened on a much larger scale in Central and South America," said Medina. "The [Afrolatinidad] population was always there, [but] they got forced out and don't get that much representation anymore. That's why we decided to highlight them, especially during Black History Month."
The event organizers grouped the attendees around several tables. Each table engaged in an open discussion of topics pertaining to Afrolatinidad people.
"It was a very open discussion event on a sensitive topic," said Medina. "We had questions such as 'what is colorism' [and] 'have you ever been stereotyped.' We tried to aim for questions that people could relate to and give their opinions on so people could see different people's perspectives. I feel like the key is being uncomfortable and putting yourself in other people's shoes and understanding what they've been through."
Other topics of discussion at the event included racism, Afrolatinidad diaspora, personal experiences being Afrolatinidad and microaggressions. 
"A microaggression is taking a subtle shot at someone unintentionally," said Medina. "For instance, saying 'you don't really look Latino' or 'you don't really look Hispanic,' or when I speak Spanish [and] they're in shock. It shouldn't be like that; I shouldn't have to conform for other people. Culturally, that's what I am. That's one of the things we really covered."
Fifty students attended this year's Afrolatinidad event, approximately double the number that attended the event last year. 
"I was very shocked at the amount of people that [attended]. [It is] shocking to me as it's a very sensitive topic, so I can understand why people wouldn't want to touch on it. But I feel our purpose as the Latinx Student Union is being able to put people in those settings where we can have those uncomfortable conversations."