CW: This article briefly recounts the shooting on April 30. Skip the paragraph below to continue reading about Reed Parlier and Riley Howell.
Two years ago, on April 30, 2019, a gunman entered Kennedy 236 and indiscriminately opened fire. He wounded four–Rami Al-Ramadhan, Sean DeHart, Emily Houpt and Drew Pescaro–and killed two. This year, we at the Niner Times send support to those wounded and all those affected. Above all, we honor the lives of Reed and Riley, both of whom became heroes on that traumatic day two years ago. 
The articles below were published as part of a one-year anniversary special edition in 2020. We invite you to read them again to reflect on the amazing lives of Riley and Reed.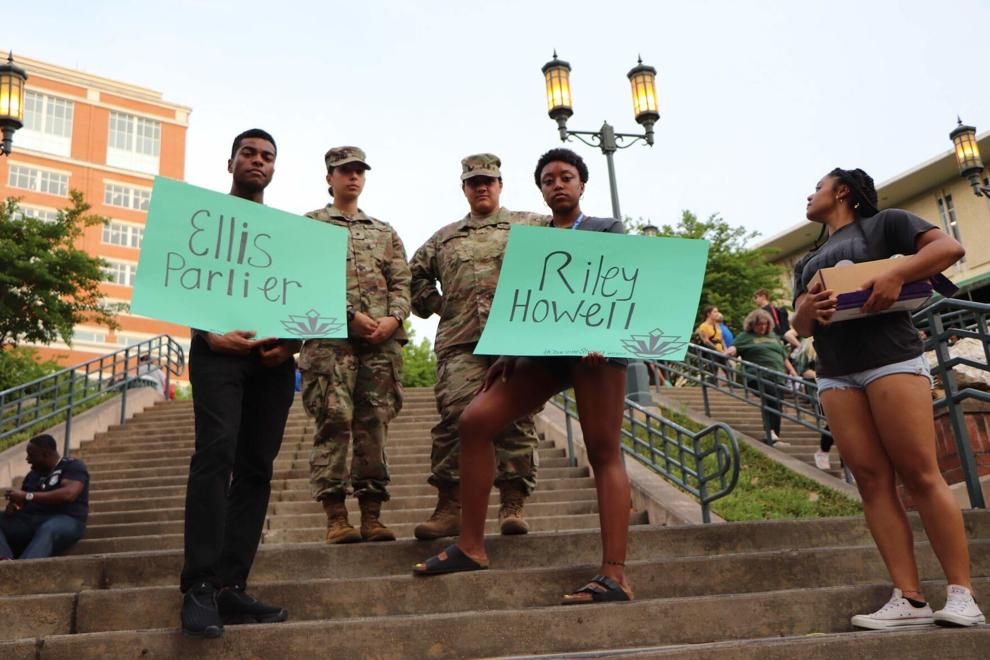 Ellis "Reed" Parlier
Ellis "Reed" Parlier was only 19-years-old when he tragically lost his life on April 30, 2019. Reed was born in Charlotte on October 2, 1999 to Julie and Brian Parlier. Reed has a younger sister, Mallory, who is now a senior in high school. Reed's real name is Ellis Reed Parlier, "Ellis" being Brian's mother's maiden name and "Reed" being Julie's maiden name. However, Reed's family never referred to him as Ellis. 
In 2019, Reed was a sophomore at UNC Charlotte and was studying Computer Science in hopes of becoming a video game developer. Computer Science was a fitting major for Reed considering his love for video games. Early on in high school, Reed built his own gaming computer. He attended Central Academy for Technology and Arts (CATA) in Monroe, NC where he studied in the information systems program. 
In an interview with the Charlotte Observer, Reed's family discussed how much Reed enjoyed playing video games. From Nintendo games on the Wii to "Guitar Hero" to "World of Warcraft," Reed could spend hours playing. However, unlike most teenagers, Reed's family has said that he was happy even without a screen in his face. 
Many of Reed's closest friends were also gamers. When the Parlier family had a celebration of life service for Reed, the service was privately streamed online so that Reed's gaming friends could be there. 
A scholarship has been created in Reed's honor called the Ellis "Reed" Parlier Memorial Scholarship. The fund will be administered by the College of Computing and Informatics and the recipients will be selected by a scholarship committee based on who best meets the criteria that was established by the donor. The scholarship was made possible by contributions of friends of the Parlier family as well as an anonymous donor. The scholarship criteria as well as information on how to apply can be found on ninerscholars.uncc.edu. 
A memorial for Reed was established outside of CATA to honor his memory. Students from that school will receive preference for the scholarship. 
In another interview with the Charlotte Observer, Reed's family describes him as quiet, thoughtful and observant. They explain how he rarely talked negatively about others and was very loving. On her Twitter account Julie posted, "My beautiful, kind, loving son should be on this earth spreading his intelligent, kind, loving soul to the world."
Riley Carl Howell 
Riley Carl Howell was a 21-year-old junior at UNC Charlotte where he lost his life on April 30, 2019 tackling the gunman that opened fire on his classroom. He saved an indeterminable number of lives and was awarded a military funeral, the ROTC Medal of Heroism and the Congressional Medal of Honor Society's Citizen Honor Award for Valor, the "Single Act of Heroism" award.*
Riley was born on December 13, 1997 in Haywood County, North Carolina where he grew up with his parents, Thomas and Natalie Howell, younger sisters, Iris and Juliet Howell, and his younger brother, Teddy Howell. Riley was in a five-year relationship with Lauren Westmoreland who told the Niner Times that the couple planned to live one day in a small home on some large land. 
Growing up in the mountain town of Waynesville, Riley developed a deep passion for the outdoors that might only have been matched by his affinity for everything car-related. Much of his knowledge on these subjects was self taught as he valued learning new things outside the classroom. In a Niner Times interview, Iris Howell referred to him as a "jack-of-all-trades kind of person" who knew a little bit about everything. 
Riley's siblings remember him enjoying "everything nerdy," especially Batman, The Hobbit and comic conventions. However, he is most often recognized as an avid Star Wars fan. Teddy says he owned several Star Wars Lego sets and told ABC News that Riley was "the only 21-year-old who would willingly fight his lightsaber with [Teddy]." Riley now lives on symbolically in the franchise's official storyline as a new character, Jedi Master Ri-Lee Howell.  
After attending A-B Technical Community College in Asheville, Riley came to UNC Charlotte excited to experience big-city life. At Charlotte, he was a student employee and CrossFit club member. In an article published by the U.S Army, Riley's ROTC instructors said he embodied the perfect army officer. Though he was still deciding his career path, he planned on majoring in environmental science and minoring in geology. Riley's family saw him potentially working with wildlife. 
"He taught me to take life a little less seriously," recalled Lauren Westmoreland to the Niner Times. "To laugh even when I didn't want to, to forgive readily and to love freely and without abandon."
The world will remember Riley as the everyday hero who, on April 30, 2019 instinctively tackled the gunman firing on his class. Those who knew him will remember Riley as a kindhearted individual that everyone could look up to. He was a hero and a man of many talents. He was a friend, boyfriend, brother and son. 
"He was just a normal guy," says Iris. "He was my big brother. He was special to us in his own way."