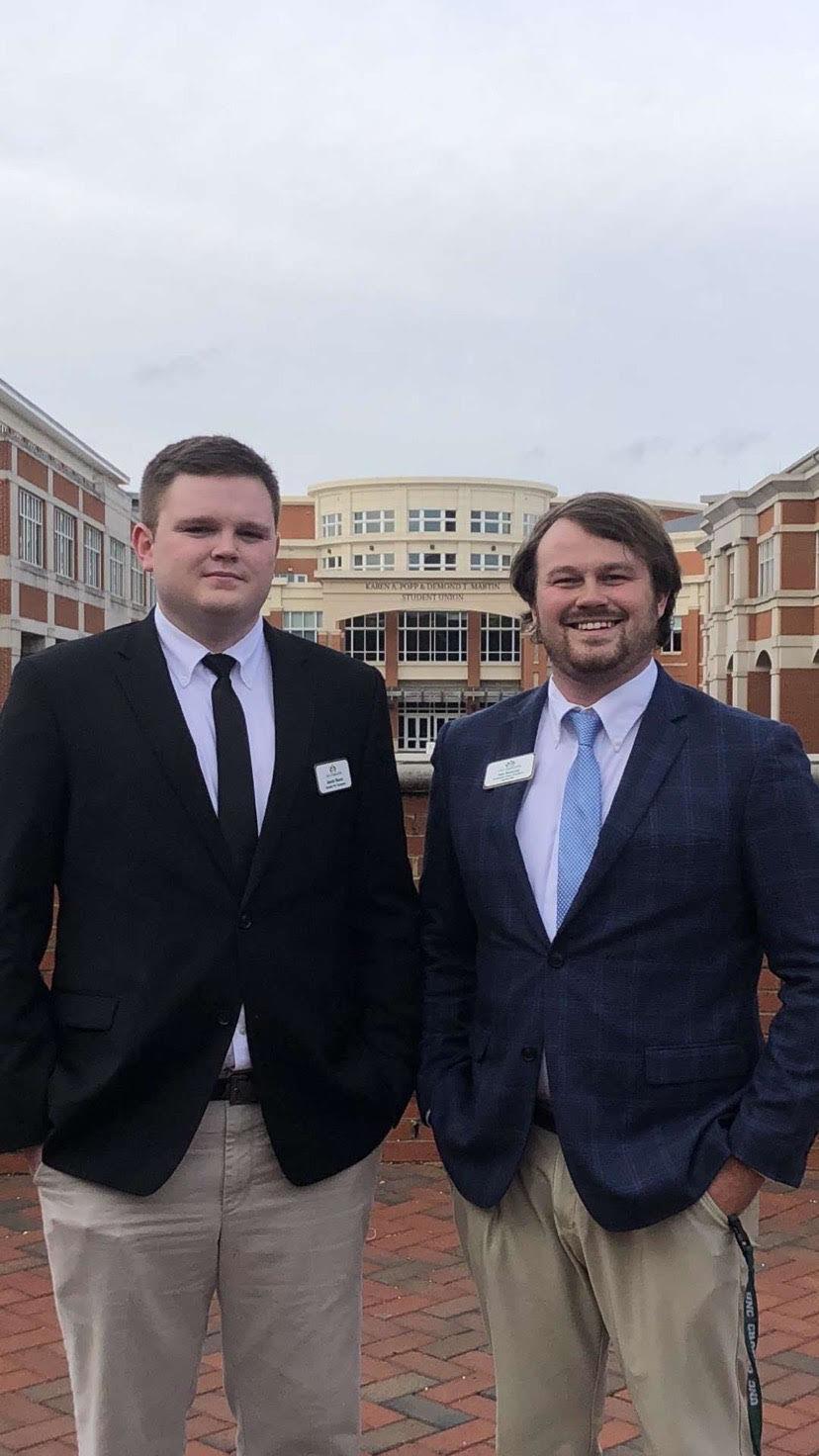 Jacob Baum and Dick Beekman are running for student body president and vice president for the 2020-2021 academic year. They are running against two other tickets: Mazag-Hitchcock and Sampson-Graham.
Baum is a junior from Kernersville, NC and is majoring in political science with minors in American studies and history. He hopes to one day be involved with local government and state government. Baum's Student Government Association (SGA) experiences so far include being freshman class president, internal affairs committee of the student senate, vice chair, and pro tempore of the student senate. 
Beekman is a freshman from Charlotte, NC and is a finance and economics major. His SGA experiences so far are that he is the freshman class president. As for career aspirations, Beekman hopes to be involved with politics and be a policy advisor for economic issues. 
The following is a transcript of their interview with Assistant News Editor Emily Kottak. Their answers have been edited and condensed for clarity. 
Kottak: Why do you all think you are qualified for this position?
Baum: I am currently one of the most senior people in SGA, meaning I've served in SGA the longest. I am very qualified and have served on two of the three branches of student government. I helped to create the third branch. I think everyone knows how qualified I am. 
Beekman: I've done a lot of work as freshman class president. We were the first class council to add secretaries in dining, housing, transportation, parking, student safety, commuter affairs and academics. We have given the freshman class a louder voice.
Kottak: Can you all describe your platform? It looks like you are very invested in trying to advocate for minimizing the cost of attendance, addressing housing and dining concerns, parking, and student safety. 
Baum: It all stems around advocacy: giving the students a louder voice. Listening to students and relaying information to administration and vice versa is very important and something we want to make sure we do. We want to inform the students more. 
Kottak: What are some of the main things you would change about UNC Charlotte?
Baum: One of the first things I would do is a re-examination of the Parking and Transportation System (PATS). Many students know UNC Charlotte has to charge a significantly higher price for parking passes and I think the entire system needs to be revolutionized. It's a pretty arbitrary system. At some point, somebody has to say no to increasing costs of PATS. Also, when the new chancellor arrives, it [will be] a good opportunity for the student body president and vice president so that they can be a part of the master plan for the entire university. This involves shaping the future of campus for the next 10-20 years, including things like a lot of renovations that need to benefit the student body. 
Beekman: I would like to expand to all councils what we did on the freshman class council. It would go such a long way to give students a louder voice. 
Kottak: Why do you think that you two will work well together? 
Beekman: Jacob and I both have a lot of respect for each other. Jacob is a junior so he is much more experienced whereas I am a freshman. But he cares so much and has put in a lot of work. We also bring different perspectives to the table on different topics. This helps us come up with different and more unique solutions and approaches. 
Kottak: How do you plan to engage the student body more?
Baum: One thing that is really important is transparency. I try to share as much information as possible with students, such as through social media. We want to try to make it not so secretive. We want to increase the amount of information getting out there.  
Beekman: I would say getting class councils more involved would help to engage the student body more. One goal we have for the council is to benefit every student organization and hear their concerns and elicit feedback. Something our freshman class council did last semester that worked really well was we would gather in popular spots on campus and allow students to come forward with a concern or complaint they had. In exchange, we would give them a cookie. This was a great way for us to receive new ideas and let students have their voices heard. 
Kottak: How do you plan on being a leader during times of crisis?
Baum: What's really important is building connections and understanding relationships. You have to realize that you can't do it alone, so having established connections is really good. Personally, I have a lot of connections, an example being the chief of police, so I feel prepared to reach out for help from others if I need to. 
Kottak: What makes you better and more qualified than your competitors?
Baum: I've learned how experienced you need to be. The other two [candidates] have been in the student government less than I have, so I do think that makes them less qualified. I have the utmost respect for the other candidates. But in terms of the board of trustees, I know every member of the board of trustees and I know the process. I think it would be hard for the other candidates to jump in and be able to do that right away since they don't have experience with it. 
Beekman: When you look at the track record of accomplishments of the ticket, we have accomplished much more than the others. Jacob has done an incredible amount of work in the senate. Our freshman class council has provided such a voice for students to have their voices heard. I think together we have a lot of accomplishments and have been very successful. 
Kottak: You all posted a campaign video on Twitter which has reached 10.7k views, but received some controversy with the slogan "Baum Dick." Where did the idea stem from and do you stand behind it?
Baum: In terms of reading what our names are in the ballot, they are Jacob Baum and Dick Beekman. Obviously there's humor there, but it is just our names at the end of the day. We are both serious; we are proven leaders and have gotten a lot of results. 
Beekman: Some students may question it, but we take our role very seriously and the position very seriously and I think students recognize that. Regardless of any campaign ad, we are serious. 
Kottak: What has been one of your favorite memories at UNC Charlotte?
Baum: I think my favorite memory was storming the field after UNC Charlotte beat Marshall, making us bowl-eligible for the first time. To see the team go to a bowl game was really cool, especially since I know a lot of the players and coaches. I go to every football game, but that one against Marshall was very exciting. 
Beekman: I would say my favorite memory was Gold Rush in the fall. That's when everything became real for me. I was surrounded by everyone who I now consider part of my UNC Charlotte family. That's what inspired me to give back to the UNC Charlotte community; to see everyone so ecstatic to be on the campus. That will always stand out as such a special event. 
The March 23 debate has been cancelled. Elections will occur online March 24 and 25.