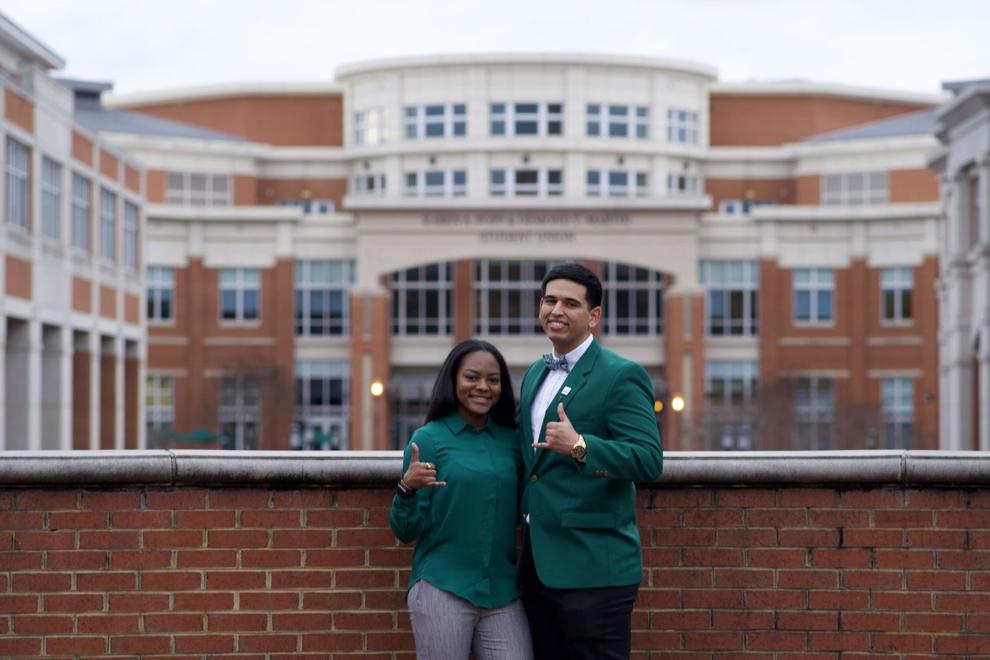 Tahlieah Sampson and Vince Graham are running for student body president and vice president for the 2020-2021 academic year. They are running against two other tickets: Baum-Beekman and Mazag-Hitchcock.
Samspon is a sophomore from Raleigh, NC majoring in political science and minoring in legal studies. She started in Student Government Association (SGA) as freshman class president and is currently the press secretary. Sampson also gives tours of UNC Charlotte as a Niner Guide. She has also been both a University Transition Opportunities Program (UTOP) mentor as well as a Student Advising for Freshman Excellence (SAFE) mentor. 
Graham is a sophomore from Lumberton, NC pursuing a degree in business finance with a concentration in accounting and a minor in Spanish. He has been involved in SGA since his freshman year as the Organizational Ways and Means (OWAM) Chair and is currently a senator at-large as well. Outside of student government, Graham is president of the National Society of Collegiate Scholars, programming director for the Diversified Greek Council, a student ambassador and a member of the Hispanic College Awareness Program. He is also a brother of Lambda Theta Phi Latin Fraternity Inc. 
The following is a transcript of their interview with Editor-in-Chief Madison Dobrzenski. Their answers have been edited and condensed for clarity. 
Dobrzenski: What makes you each qualified for the positions you are running for? 
Sampson: So freshman year as freshman class president, I just put on a bunch of events for our freshmen and helped them get engaged and connected to resources here on campus [to get] them excited to be here their first year. This year, I'm currently press secretary, so what I do is draft emails, speeches, [publications]. The posters you see across campus come from me. I do that for not just our executive branch but for our legislative branch as well. I'm also a part of the Campus Accessibility Advisory Committee (CAAC) and so that's probably one of my favorite things that I do under SGA. Basically what we do is we go around campus to different departments and buildings and make sure they are handicap accessible, because as students who don't have disabilities, it's quite easy for us to maneuver around campus and aren't really aware of the barriers that other students may face that have disabilities. We want to go into those buildings and eliminate all those barriers that students with disabilities may have. 
Graham: For me, what makes me qualified as a vice president, I've been in SGA for two years. One thing I feel SGA is lacking...is basically a lack of connection between Senate and executive, and as a senator currently, I feel like I can bridge that gap. Also having those connections with a bunch of senators, I know everybody in that room and they can own their feelings. They can express their feelings to me anytime, any day; we're that close. They can let me know what we need to fix and what problems are going on in SGA and also with resolutions and stuff like that. I feel like if we have a better connection with Senate [then] we won't have miscommunication. I know there was an incident a few weeks ago where some legislation wanted to be brought down from executive but it didn't, and that stuff I want to shy away from because at the end of the day, we're representing the student body, so our best interest is the student body. Also being the chair of the Organizational Ways and Means Committee, that could help because knowing that we fund organizations as a vice president, we can partner with organizations. We're here to help students, bring students out and get them involved. [By] being the former chair, advertising our committee [is important] because I feel like our committee is overlooked by a lot of people, and I feel like as vice president I could get the name out there, and that leads us to what Tahlieah wants to do which is partnering with a bunch of student organizations. 
Dobrzenski: Can you explain a little bit about what your platform "Breaking Barriers" means to you?
Sampson: We decided to make that our campaign platform because we are aware of the limitations and stresses that students face on a daily basis here at UNC Charlotte and we want to eliminate those stresses and limitations as much as possible. We're very passionate and our whole reason and our why for campaigning is because we believe that every student deserves an organization that is going to go above and beyond for them. We believe that me and Vince are the team to actually make that happen, and our slogan "Breaking Barriers" is to do just that.
Graham: So basically, I feel like me and Tahlieah are the candidates to go the extra mile for every student. Not just certain students, but every student. Because at the end of the day, we're going to represent the student body as president and vice president. Going back to what I said a little bit earlier, getting to know organizations on campus and allowing them to interact with each other [is important] so not just certain organizations collaborating with each other but everybody, because we're a student body; we are UNC Charlotte students. So it'd be everybody collaborating with everybody.
Dobrzenski: So there are 29,000 students and two of you, how do you plan on doing that collaborating and representing the student body?
Sampson: In the past, SGA hasn't really gone out and collaborated with organizations for their events. Instead of just giving them the money for it, we're actually supporting them and working with them. That's something that we want to start doing. Another thing we want to do is create a Google Doc or some type of form that will go on our SGA website and that will stay up there for the entire year. That form will be a safe space for students to just vent and talk about how it really feels and what's going on here on campus. We think it's very important we start [a platform] at our university so students [will] be able to talk about things they don't like, want to change, things they want to keep here, and things they want to see happen here at our university. Realistically, not every need for every student will be met, but we do want to give them a place where they feel their voice is being heard. We plan on creating another position within our executive branch as a secretary whose sole job will be monitoring that Google form. 
Graham: An idea I had was potentially [was] creating a podcast. Do you know the billboard where you post your events on there in the SGA complex? Basically that's where everybody puts their events, but my idea was creating a podcast so every organization can broadcast their meetings, their events or anything like that. Basically it would be having a group of leaders to come on our podcast to talk about what's going on on campus and some things they may be doing. Over time, we're going to add new ideas that students have. Maybe even have a monthly giveaway, but it just depends on what the students want and how they want to go about it. Because we want this podcast to be accepted as successful as possible and to reach as many students as possible.
Dobrzenski: What made you two choose to run together?
Sampson: I wanted to be student body president since I was a freshman and as soon as I got out of the UTOP program here at UNC Charlotte, I decided to contact Vince and reach out to him and ask him to be my vice president. I've seen all the work he's done in Senate, first as senator at-large and now as OWAM chair, and I've been a part of the executive branch since my freshman year [while] he's been a part of the legislative branch, and I knew I wanted someone who was a part of a different branch than I was because together we [can] bridge that gap that separates all three branches within SGA, like Vince mentioned earlier. We really want to make sure we're inclusive when planning things for our university and for our student body because we're not just exec; [we're not] just the legislative or judicial. What comes first is our student body. So yeah, that's why I picked Vince, because he's a hard worker and I knew that I wanted someone who would work as hard as me and go above and beyond in representing our student body.
Graham: I was at Ole Miss at the time with student ambassadors. We were at a convention, so she just called me and I was like, "Wow, Tahlieah picked me." Because Tahlieah totally is an amazing person, I've known her since her freshman year. Honestly, I was thinking about it, and then Tahlieah ran and I was like, there's no way. I actually had to think about this. I remember I told [Sampson to] give me a day, but then I actually pushed it back another day because vice president, even though president's like a big job, vice president often gets overlooked. It's a huge job as well because you have to help the student body representative. It took me three days to officially decide because I wanted to maybe study abroad, but my feeling at the time was helping students and I wanted to work with Tahlieah cause I couldn't have received a better offer to work with anybody. I think Tahlieah is an amazing candidate and it was a no brainer. 
Dobrzenski: So I want to talk about your individual platforms a bit and you've (Sampson) talked about this already a little bit, but can I just get a bit more about what specific organizations and advocate groups you want to work with?
Sampson: As I mentioned earlier, we really just want to connect and interact with organizations around campus. We have over 400 organizations here at UNC Charlotte. I want to work with those organizations who don't get as much recognition here on campus, like sports clubs. They don't have a lot of people show up to their events and show up to the practices or meets or things they put on here on campus. We want to reach out to them and make sure they're getting the support they need as well as minority organizations. As far as initiatives, the Google page would be the first way to go, and then we also might have a box outside our offices here at the Student Union. The box would be where they can put requests for like can you come to our event on such and such.
Dobrzenski: Vince, part of your individual plans or goals are utilizing the facilities on campus like getting people to go to the gym. Can you tell me a little more about that?
Graham: So basically, you know, I was part of the new year, new me goal, so I was going to the gym a lot. I went for two months. After maybe the second month, I saw a huge dip in numbers. It was obvious. So what I want to do with UREC is work on a buddy system and provide initiatives, because right now I know they're doing a fraternity and sorority life event, like you get an award if you're the fittest fraternity. So I'm thinking why not do that with average students? It shouldn't just be organizations that should receive an award. Let's [include all] students and also motivate them to use our facilities. Because this is not technically free, we're paying out of our pocket, so let's use these facilities. I wanted to start with UREC because it's obviously the hottest thing on campus. I wanted to partner with UREC and be like, "Hey, is there any way to have incentives for students to come to the gym as like a buddy? To keep each other in check?" Because I know personally if I were to go to the gym by myself, I'm less inclined to do that, whereas [when] I usually have my roommate coming with me, I'm all for it because he keeps me in shape [since] he actually likes working out.
Dobrzenski: On a more serious note, the current student body president had to deal with a shooting at the beginning of his tenure and the coronavirus at the end. How do you plan to be leaders during times of crises like these? 
Sampson: I believe the first and most important thing is to check on our students. That's our role; advocating for our student body. We have faculty and staff to handle the logistics of the crises. We are our student body advocates, so the first thing is creating a sense of transparency between our faculty and staff and our students. When something happens here on campus, [our first task would be to] reassure our students that we are doing everything we can to find out what's happening and [that] we will get back to [them]. Another important thing is to make sure that Vince and I are solid, because we can't do our job if we're all over the place, and with students being nervous or worried about anything that's happening here on campus, it's our job to make sure we're calm and staying responsible.
Graham: One thing we would work closely with is NinerNotice. I don't know if you saw the news came out with information about UNC Charlotte [moving online] because everybody was already speculating, [but] the news came out and next thing you know, UNC Charlotte hasn't said anything. The newspaper said classes are moving to online beginning March 23. So that's one thing I feel like we would have to handle. Making sure our students get the information before anybody else. That's my biggest thing, especially during a crisis. 
Dobrzenski: How do you plan on engaging the student body more? Is there an initiative we missed?
Sampson: We have different events here on campus like Ninerpalooza [and] sometimes we do tabling outside the Union, but Vince and I want to do that more frequently. Not jut like one time in the fall and one time in the spring, but constantly, once a month just getting out there and not doing it electronically, but going to people on campus asking, "Hey, is there anything you want to see here?" or "Hey, is there any event you want to see happen on campus?" Because I feel like it's one thing to have something electronic but it's another to actually be personal with them and go face to face. 
Graham: An event I had in mind, the title would have been "Peace and Jam." So basically just bringing students out to have a good time, peaceful jamming out to whatever music everybody wants. The reason I say jam is because any type of music can be played. This is a good way to learn about different cultures and a good way to meet people. It's not necessarily a party or like our block party; it's just students getting to know one another. 
Dobrzenski: If you could change anything about UNC Charlotte in, let's say your first month of administration, what would it be?
Sampson: That's a great question. The first thing we would want to change is the students' atmosphere. As I was saying earlier, just being really personable with our students. I feel like there's an assumption that SGA doesn't relate to our students. Right when we get elected, fingers crossed, [we really want to] go out there and talk to students and just really make sure that we are putting a face to our name. 
Graham: One thing I want to change is keeping and having more traditions on campus. What I feel like me and Tahlieah will be working on is building more traditions for UNC Charlotte because we don't really see too much Niner pride on campus. I've seen a lot of Carolina and State, and that's obviously going to be there, but I've seen a little bit too much. I feel like having Niner pride and Niner tradition and holding events about those things would be great. Like I said earlier, more events about SGA to get the ideology that SGA really is for the student body. That's one thing I love that Chandler did this semester. He really increased student government involvement so much. We were down to 10; now we have about 30 members in legislative specifically. So that's one thing that I feel like me and Tahlieah would also focus on, tradition and pride. I feel like that should be the goal of every administration. 
Dobrzenski: Speaking of pride and traditions, let's end on a more fun question: Do you have a favorite tradition or memory at UNC Charlotte?
Sampson: My first semester [of] my freshman year was just amazing. Coming out of the UTOP program and having 100 friends right off the bat coming into UNC Charlotte was very comforting and exciting at the same time. And we're all just here for the first time trying this whole college thing. Homecoming was a lot of fun; I really enjoyed it. The concert was fun. UNC Charlotte puts on a lot of great events.
Graham: This might be really nerdy, but my favorite memory was me getting into Emerging Leaders. The way they did it was kinda crazy. They sent me a message that was like, "Hello, you missed something on your application, could you please stop by our office?" And so I went to their office and they just like, all of them bombarded me saying, "Congratulations! You're in the program." Then and there I knew, wow, y'all are cool. Like UNC Charlotte's for me. The amount of energy I received that day, I was like yeah, I think I'm here for the long run. 
The March 23 debate has been cancelled. Elections will occur online March 24 and 25.