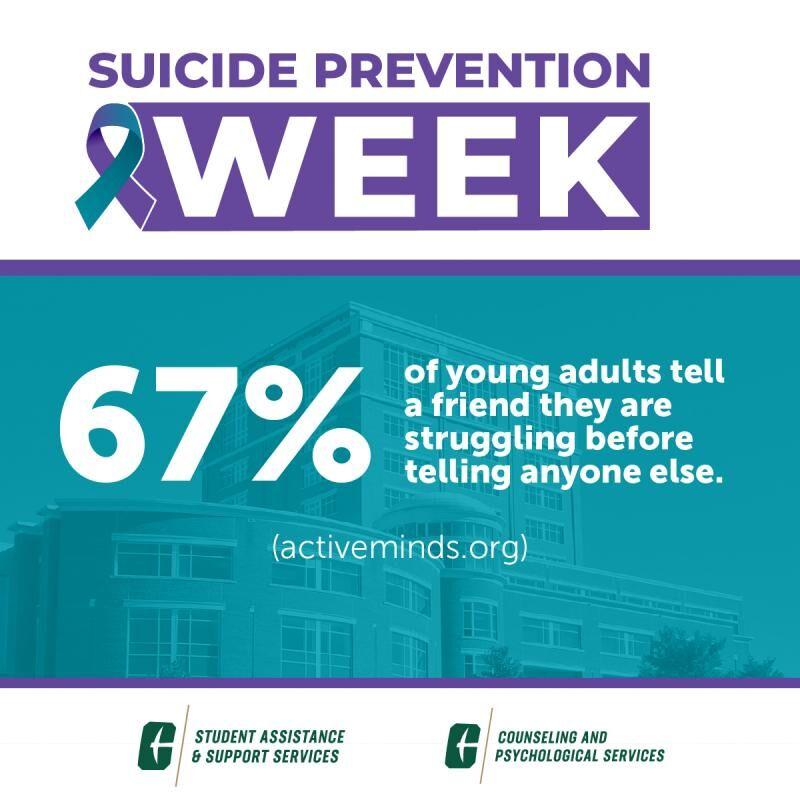 September is National Suicide Prevention Month, and the Counseling and Psychological Services (CAPS) will be hosting National Suicide Prevention Week from Sept. 7 to 10.
"Suicide Prevention Week is intended to bring awareness to mental health and suicide and really educate the community on ways to decrease stigma, promote health-seeking and create a community and environment where people don't have to suffer alone or in silence," Sarah Besse, mental health educator and suicide prevention coordinator at CAPS said.
In December, Besse will celebrate two years at the university as the first staff member to focus strictly on suicide prevention. 
This is her first in-person Suicide Prevention Week at UNC Charlotte. Her role is to shift the campus culture and climate around how we talk about mental health.
Tabling events will occur each day from 11 a.m. to 1 p.m. at different locations across campus. They are free for students and CAPS scheduled workshops each day and teach participants about suicide prevention. "You don't have to be an expert clinician to be able to recognize that somebody's struggling and take action," Besse said.
Two screenings of a 17-minute short film called "Mental Health in College" and discussions on the films will be held in partnership with the American Suicide Prevention Foundation to highlight students' various mental health journeys in different colleges. Question, Persuade and Refer (QPR) Gatekeeper Training will also be available to students, faculty and staff to teach participants to recognize when someone is struggling with thoughts of suicide and what to do.
The Illinois Department of Public Health (IDPH) found that suicide is the second leading cause of death among college students. "In 2011, more than 6%of students admit to seriously thinking about suicide with another 1.1% having made an attempt," the IDPH said.
According to Besse, 67% of college students are more likely to tell a friend more than anyone else that they are having thoughts of suicide. "Support needs to look broad and deep, and it's all about wherever we feel connected and finding spaces where we can feel fully seen," Besse said. Besse wants to bring awareness to more resources students can turn to when dealing with mental health. Some of these resources are the Student Health Center, the Center for Academic Excellence, student organizations, the Atkins Library and the Career Center.
The IDPH provides some warning signs to look for when to see if someone may be contemplating suicide. Some of the warning signs include: "sudden decrease in school performance, fixation with death or violence, signs of an eating disorder, indications that the student is in an abusive relationship, difficulty in adjusting to gender identity and/or depression," they said.
"Roughly one in five college students struggle with their mental health," Besse said. The IDPH suggests some preventative measures to help anyone dealing with thoughts of suicide. "Family involvement serves as a protective factor, whereas regular contact by phone, e-mail and mail may help remind the student they are loved, cared for and have access to a support network," they said. 
An individual's personal experience with mental health and losing people to suicide can motivate to get involved this week. Besse said there are many ways to create a positive change in our communities by recognizing the impact of mental health.
"It takes all members of our community to create an environment where mental health is a priority," Besse said.
 For more information about the events during National Suicide Prevention Week, visit: https://caps.uncc.edu/outreach/cultivating-community-care