On March 19, UNC Charlotte unveiled its Black Lives Matter mural in front of the UNC Charlotte Student Union. The mural, initiated by Student Body President Tahlieah Sampson and the Black College of Arts and Architecture student artists, displays the Black Lives Matter acronym, BLM. It is shaped to represent a 3D visual timeline, where the B reveals historical truth and past, the L depicts the contemporary activism of a people, and the M represents the promising hereafter for the Black Diaspora.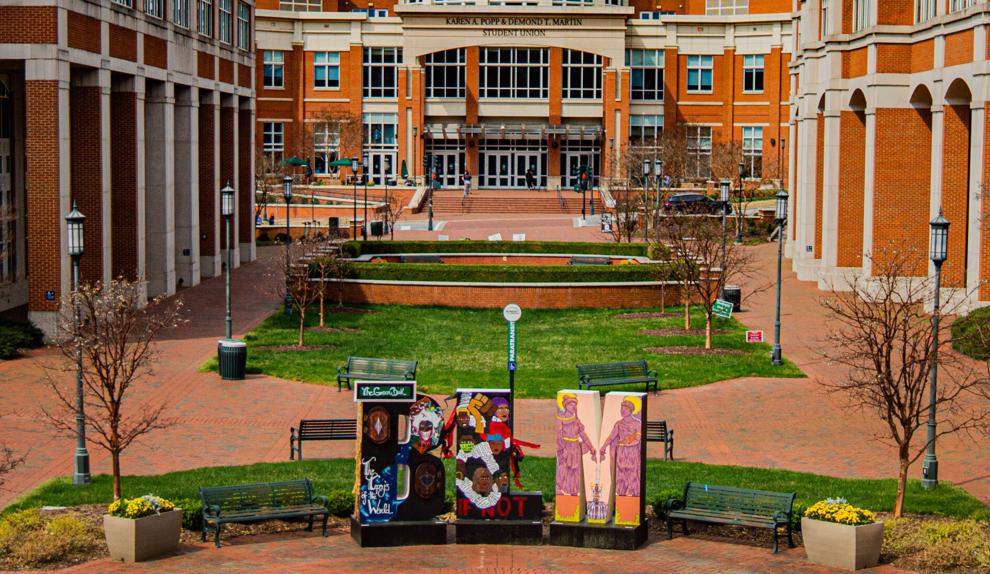 The Black Lives Matter movement initiated in response to the murder of Trayvon Martin in 2012 and experienced a resurgence during the summer of 2020. Although the Black Lives Matter movement reveals the wide variety of struggles faced by all Black people, the organization aims to combat and prevent violence, amplify Black innovation and center Black joy. Currently, the BLM movement is fighting for better working conditions and pay for Amazon workers in Bessemer, Alabama and approving Medicare for All. 
This movement is near and dear to Student Body President Tahlieah Sampson's heart. "When I thought about creating this mural, I knew I wanted something that would make UNC Charlotte Black students feel seen, heard and valued," she said. "Initiated, designed and created by Black students, this art piece captures the history, culture, struggles, achievements, triumphs, beauty, and fight of living in America as a Black person." 
Sampson hopes that anyone "can look at this mural and see themselves, see their worth and know that they matter. I hope prospective students who are interested in attending UNC Charlotte feel the comfort in knowing that we are a university that is against any form of hate and discrimination and genuinely support all students from all backgrounds." 
In addition to collaborating on the BLM Mural, Sampson was involved in creating a Racial Equity Task Force, a coalition advocating to eliminate systemic racial barriers and discriminatory practices for the success of students, staff, and faculty. She also helped found the Police and Public Safety Student Advisory Board "to ease the anxiety with police caused by acts of police brutality" with other student government members.