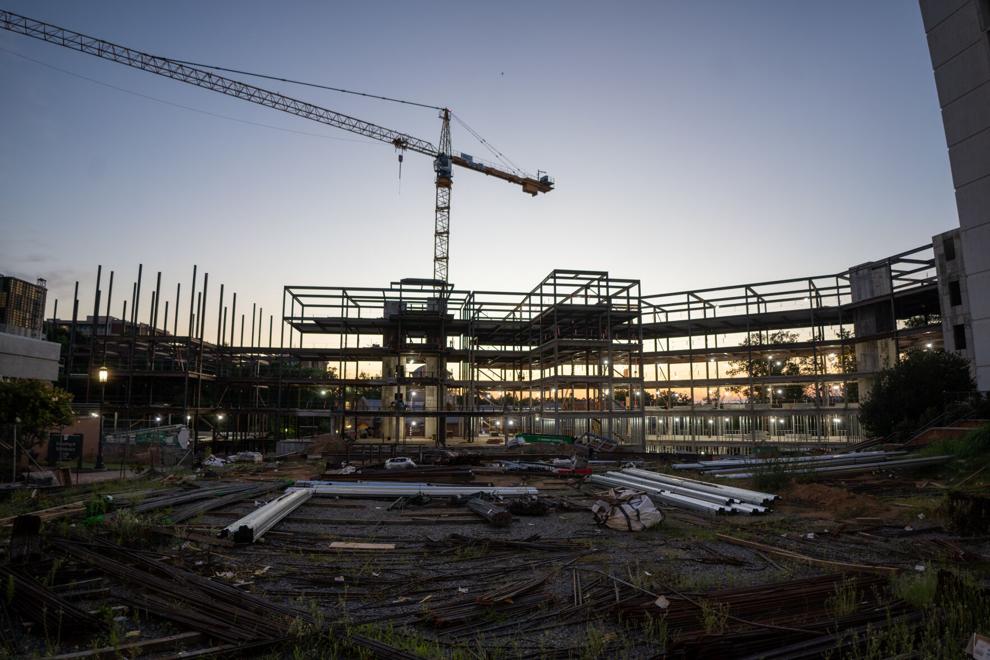 The construction on South Village Residence hall Phase XVI is still in progress. The project is set to finish in late summer 2023 and be ready for students in August 2023.
The Phase XVI building will be the last addition to South Village after Levine and will create a breezeway connecting Levine to the SoVi dining hall. The building is designed to replace the high-rise buildings that were the old Moore Hall building and the still-standing Stanford Hall.
The building will have double rooms and shared bathrooms instead of hall bathrooms. In addition, it will create housing for 692 students and their residential advisors.
Like the other campus residential halls, Phase XVI will have lounges and study rooms on each floor, a community kitchen and laundry area, and game tables such as pool or ping pong.
Construction has progressed since its start in February 2022.
The steel columns and beams for the whole building have been installed up to the sixth and final floor. In addition, the concrete flooring for the first and second floors are complete, and the metal decking for the fourth floor and below.
The stairwell and the elevator for the north side of the building have both been installed. The south stairwell is set to be built over the next month.
In addition to the Phase XVI construction, construction will begin to realign Stanford Hall Ln.
The Niner Times will provide updates when they become available.