University Recreation (UREC) hosted UNC Charlotte's annual "Pink Week" from Oct. 25 to 28, 2021. Pink Week is a week of group fitness classes that are re-themed to fit the recognition of Breast Cancer Awareness Month in October.
The classes and events for Pink Week are planned through the various fitness programs and intramural sports teams to highlight each type of class offered through the UREC.
Anyone who currently has a membership at UREC attended for free.
Tori Lord, assistant director of fitness for UREC, spoke with the Niner Times regarding her role in the fifth annual Pink Week at UNC Charlotte.
"We are trying to bring awareness to breast cancer by having facts available," said Lord.
Each of the events had informational pamphlets with information on self-testing and mammogram testing for breast cancer and other pertinent facts such as signs and patterns.
"We want facts available for everyone, right in front of them, even for males to know and recognize the signs also," added Lord.
"We also want to highlight each of our classes to get people to branch out into a new program," said Lord.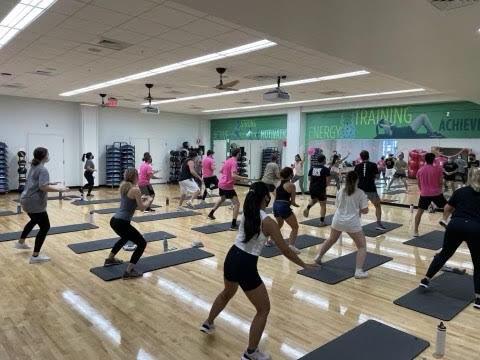 Oct. 25 was "Kick Cancer's Butts and Guts" class from 4-4:45 p.m. in room 201, a retitled version of the "Butts and Guts" group fitness class. In this class, the abdominals, glutes, quadriceps and hamstrings muscles are focused on through squats and crunches. The class had 22 participants, which is a typical turnout, according to Lord.
The "Tour de Cure" class took place in room 213, the cycle studio, from 5:30-6:15 p.m. on Oct. 26. and had a full class. This is a remastered cycling group fitness class. This class is for all fitness levels, and speed can be adjusted to fit the current fitness level.
Oct. 27 featured "Pump Up the Pink: BodyPump" group fitness class at 7 p.m. in room 212 with a full turnout. This class is a play on the typical "BodyPump" class that uses barbells to strengthen the entire body. This class lasts one hour and targets all major muscle groups. The weights used are dependent on current ability and fitness levels.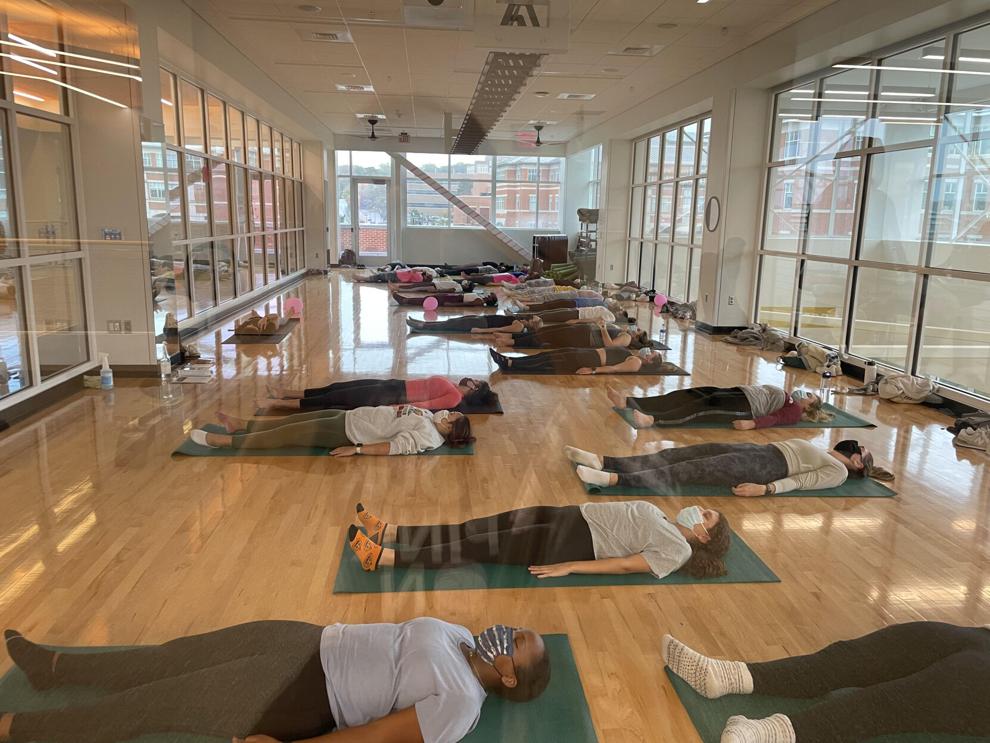 On Oct. 28, UREC showcased "Pose for Pink," a yoga group fitness class, at 4 p.m. in room 503. With the typical class size, the "Gentle Yoga" class uses deep stretching and relaxation techniques.
Also on Oct. 28, the "Party in Pink Dance Party" and "Big Pink Volleyball Tournament" took place. The "Party in Pink Dance Party" was on the UREC courts from 6-8 p.m. Zumba, cardio dance and "Twerk N Tone" were all featured classes at the dance party. The zumba class is a dance-exercise program that uses a combination of merengue, reggae-tone, salsa, cumbia and other dance types. The cardio dance class consists of various dance styles that are easy to follow and are meant to sculpt, tone and condition. "Twerk N Tone" is another class offered at the UREC that uses resistance bands and dance movements to target the glutes and other muscle groups.
"'The Party in Pink' is my favorite event," said Lord., "It brings everyone together."
The Party in Pink event consisted of a playlist made by all the dance teachers who led the group in the dance-exercise program. Dining services like the previous years even provided pink food.
This event typically has the largest turnout as it is three combined classes.
The "Big Pink Volleyball" tournament from 5 to 10 p.m. also took place on Oct. 28 and consisted of multiple teams that used a giant comically-sized ball rather than an average volleyball.
"You cannot be physically good using the giant ball, but it is fun to try," said Lord.
Many of UNC Charlotte's intramural teams participated in the tournament as their second Pink Week, where they collaborated with the fitness programs.
At each of these events, people wore pink to bring awareness to the cause, and UREC provided shirts to participate at the different events.
"Almost everyone has been impacted by someone who has had breast cancer," said Lord. "'Pink Week' is meant to continue to bring awareness."