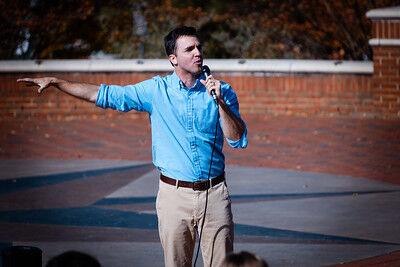 At noon on Monday, Nov. 15, in the Star Quad, a crowd of approximately 100 people gathered to listen to Jeff Jackson, a current senator in the North Carolina state Senate, who is campaigning for United States Senate Democratic Candidate for North Carolina.
This stop was one of 14 college town halls that Jackson has hosted across the state following his 100 county town hall campaign that he completed within 87 days.
"I am very glad that the candidate decided to come to our school. It gave us a one-to-one feel to how the youth would vote at the state and federal levels," said fourth-year student Jeremy Goldsby.
In his address, Jackson covered universal health care, increased climate action, education and combating misinformation. Other issues that Jackson is dedicated to are listed on his websites, such as comparing poverty, racial justice, Covid-19 recovery, women's rights, LGBTQ+ rights, gun safety reform and criminal justice.
Jackson sat down for an interview with the Niner Times before his town hall started.
According to his campaign website, Jackson runs his campaign on a platform of honest and decent politics.
"I think the big thing we lost in this dark moment of American politics is a commitment to these basic principles," said Jackson.
"Policy is important, but nothing is more important than being an honest and decent person," added Jackson.
"He has authentic values and ideas. His focus is on people," said first-year Joseph Thompson.
Jackson then elaborated on how his campaign and platform would help college students.
"Start with the college affordability act, which would do a lot of things to help people shrink their size of the debt, and will make college more affordable going forward," stated Jackson.
The Niner Times then asked how Jackson would approach apathetic students in terms of voting.
"I would start by acknowledging the cause of the apathy. They just have not seen very much from elected officials. One of the big reasons we are here now, a year before the election, and not just 30 days before the election, is because we are trying to show something real, something different," stated Jackson.
"We want to make young people a real part of the campaign, to make sure their voices are heard, and that is our effort to try and solve for apathy," said Jackson.
First-year Katherine Baker added, "This is my first time being politically involved as it is my first time voting."
Jackson has learned through his service that "Bipartisanship is still possible. It is just really, really hard."
Jackson concluded his interview with a message to the students, staff, and faculty that could not attend his town hall meeting, "I am not asking for your support. I am asking for the opportunity to earn your support."
Jackson said that the town hall forum is an extinct practice, but only using polls, focus groups, and key phrases are, "how you lose."
Jackson mentioned that reaching out to voters was "the best part of his day" and, "Nothing is more important than to stand here and to have a genuine conversation with you."
"It's really important that he is reaching out to students. It makes me hopeful for the future," concluded first-year Ellie McCutchen.
Jackson is also a veteran, former district attorney, and current member of the National Guard, serving as Captain for 113 Sustainment Brigade. After his deployment in Afghanistan, Jackson used his G.I. Bill to attend UNC Chapel Hill's School of Law. He then served as assistant district attorney in Gaston County. Jackson is also the second-youngest senator in the state Senate as of 2014. Jackson currently lives in Charlotte with his wife, Marisa and his three children, Haden, Owen, and Avery.
Jackson will be running for the Democratic nominee for the U.S. Senate and to be in the primary elections in Nov. 2022. Other candidates include Cheri Beasley (D), Chrelle Booker (D), Keith Davenport (D), Ava Edwards (D), Tobias Lagrone (D), Rett Newton (D), Erica Smith (D), Richard Watkins (D), Jennifer Banwart (R), Ted Budd (R), Marty Cooke (R), Marjorie K. Eastman (R), Kenneth Harper (R), Pat McCrory (R), Mark Walker (R), Kimrey Rhinehardt (I), and Brenda Rodriguez (I).