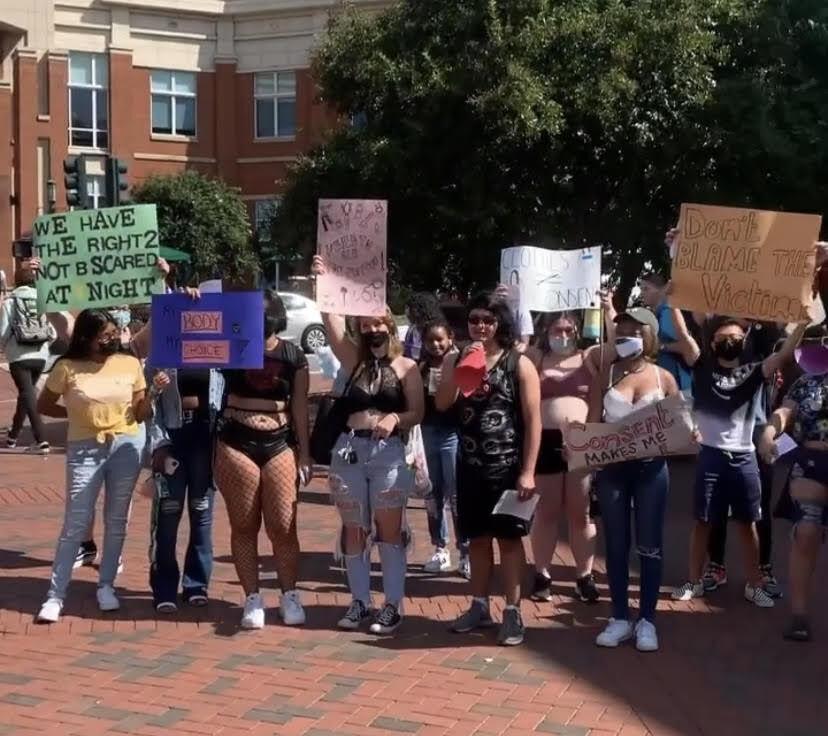 On Friday, Sept. 10, UNC Charlotte's PLEASE and Sex Week co-hosted the third annual 'Slut Walk' protest, which called for an end to victim-blaming. The hour-long event included a march from the Fretwell building to the CHHS Plaza, where participants chanted to bring awareness to these stigmatizations surrounding sexual assault culture. 
This event has occurred for years, however, this is the third time Sex Week UNC Charlotte and PLEASE have hosted. 
According to the Guttmacher Institute, only 24 of the 50 states require sexual education. While North Carolina is one of them, organizations such as PLEASE and Sex Week feel there is a fundamental gap in sex education. 
One of the leaders of the event and treasurer of PLEASE, Neva'eh Jacobs, said, "Slut Walk is where we want to implement body reclamation; reclaiming your body, reclaiming your space, and reclaiming yourself." The purpose of Slut Walk was to bring awareness to the issue of sexual assault and to protest rape culture.
Since its origin in Toronto, Ontario, in 2011, Slut Walk events have gained massive traction and have widespread global influence towards the feminist cause. 
Graphic designer of Sex Week, Emily Coulter said, "I spearheaded the event this year to gather the sex-positive community for students who have been online for the last year and maybe haven't been able to connect with their peers in a while."
Coulter discussed how the rise of social media usage influenced this event. She said, "A lot of people have a different relationship with their body, gender and sexuality after a year indoors, as evidenced by several fashion and makeup trends over the last year like cottage-core escapism, by the increased number of Google searches for the terms "himbo" and "maid dress," or by TikTokers like @chrissychlapecka reclaiming the word "bimbo."
The annual event was also a space for women to reclaim their sexuality and bring the community together. Jacobs stated that it is crucial to "bring back being sexy and make being sexy all-inclusive." The chosen name for the event emphasizes that sexual assault and sexual violence have nothing to do with what the victim is wearing. 
According to the Center for Disease Control and Prevention (CDC), more than one in three women experience sexual violence during their lifetime. Jacobs stated that "with sex work becoming so big and rape becoming more prevalent, it's something we need to cover in such small spaces so we can spread that knowledge to people." 
The event's information is targeted at college students on campus. Jacobs stated that "our school systems failed us" when it comes to sex education. "A lot of people come into college with these preconceived notions that are wrong," said Jacobs. 
Jacobs explained how this gap in "thinking positively about sex" has led to "high STD and STI rates." With the main purpose of PLEASE being sex education, Jabos stated that "this is definitely a great space to start teaching people." 
Coulter added to this by discussing how basic sex education should be common knowledge. Coulter said, "You need a baseline lexicon before you can even begin negotiating healthy, fun, safe sex." 
Coulter also emphasized how one of the most pressing gaps in people's sex education is consent. "One of the ways we try to close that gap is just to get people comfortable talking about sex, by creating spaces for dialogue and pushing the boundary of what's acceptable. I want people talking to each other and collectively setting high expectations for their partners and their sex lives," said Coulter. 
Following the march, protest participants were encouraged to come forth and share their experiences of being victims of sexual assault. This progressed to a discussion of personal growth and self-love. 
"SlutWalk means different things to different people; for some survivors, it's like Coming Out about their experiences, and for others, it's a fun tits-out space where people can be expressive in a safe and welcoming environment," said Coulter.
PLEASE is currently planning to host future events once a month that are similar to Slut Walk. Jacobs stated that these events would include "different presentations to teach about sex." 
For more information about Sex Week UNC Charlotte, check @sexweekuncc on Instagram or visit their page on campusevents.uncc.edu/sex_week_uncc.  The Niner Times has covered Sex Week's past events, such as the third annual 'Sex Week' in 2020. 
For more information on how to connect with PLEASE, check @unccplease on Instagram. PLEASE is currently accepting new members, and anyone is welcome to apply.