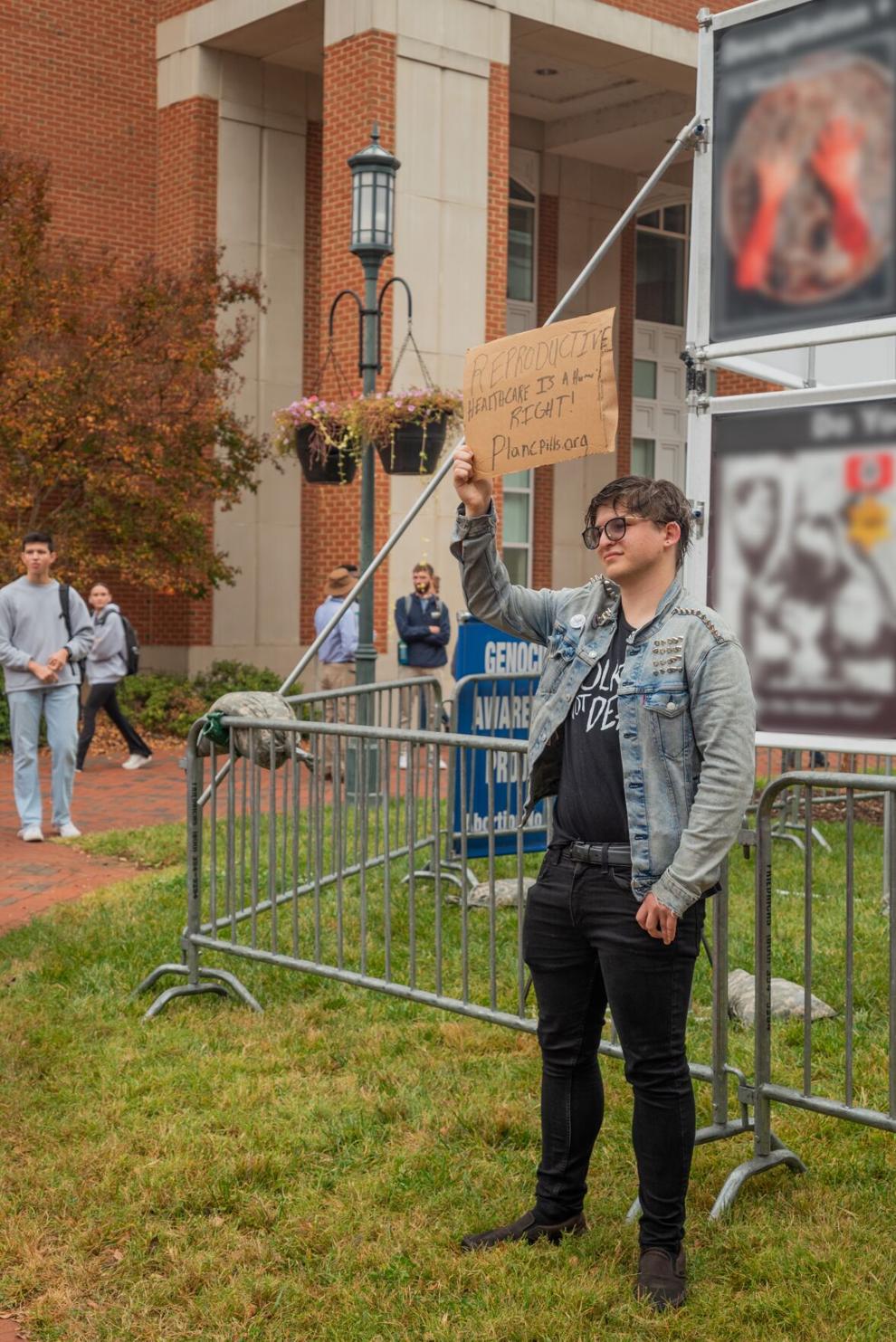 CW: This article contains mention of sexual assault and incest.
Students protest the anti-abortion group known as Genocide Awareness Project holding up graphic pictures of abortions outside of Cato Hall on Thursday, Oct. 27. 
The GAP group that set up the display in the College of Human Health and Sciences and College of Education plaza on Wednesday, Oct. 26, returned to campus with images on large signs to hit a more high-traffic area. 
The anti-abortion group set up on the road behind Cato Hall around 8 a.m., and pro-choice protestors quickly found them and started their own group. The group left around noon but returned to the same spot shortly after. 
A group of students at the display on Wednesday formed a group chat to come back and protest. They followed the group with signs and flags, and they even had large pieces of plastic to cover up the graphic images. 
"I'm extremely disappointed in the school that I decided to go to. If I knew that UNC Charlotte was going to allow people who are actively racist and who are actively transphobic and homophobic, then I wouldn't have chose to come here," said first-year student Donielle Cohen. 
Students that were not at the protest quickly took to social media to post their interactions and talk about how they were going to contact the school.
"The way that the police officers are here, not to protect us as students, but to protect these people who are violent and who are hostile towards us. I'm disappointed that we have to scream so loud for our voices to be heard, I'm disappointed that we have to scream at all, for our voice to be heard," said Cohen.
Cohen was one of the pro-choice protestors that helped form the group. She talked to people on Wednesday and showed up at the union at 7:30 on Thursday with signs to protest the GAP group. 
"It is now three in the afternoon, and we're still having a protest because I was gaslighted by a faculty member here. Yesterday, I was assaulted by a police officer here. Yesterday, I was mocked by a police officer that works here," Cohen said. "All of these things could be stopped. All of these things could be prevented if the police at the school here did their job. They're moving us with signs because they're trying to silence us. They want to silence our voices, but little do they know this is just the beginning."
The truck that was spotted driving around campus on Wednesday was driving around again, and students shouted at the truck in protest. 
A Reddit post reported that the GAP group was saying slurs and getting in the pro-choice protesters' faces. 
"I do understand that the campus has an obligation to allow people to have a permit, regardless of what information they're spreading. However, I do think it's the campus's responsibility to protect its students. And that includes protecting the equity of all students. And this group has propagated anti-abortion, racist and just all-around horrendous ideologies, comparing abortion to genocide and slavery," said third-year student Neva Steagle. 
Parents on the UNCC Parents Club Facebook page share concern about their students. One parent said that the group denied rape and incest and grabbed her daughter's shoulders.
People driving past the display screamed out things like "pro-choice" or honked and cheered on the students protesting the anti-abortion group. 
Women and Gender Studies faculty sent out an email to their students with a link to fill out an incident report for if they were affected by the demonstrations. 
Professors and CAPS staff were at the protest to help support their students and bystanders if they got too overwhelmed. 
"CAPS is open, and we are seeing students that are being impacted by this that are coming in and are having their mental health impacted by it," said CAPS Director Erica Lennon. "So we're going to remain available this entire week, future weeks for students who need to come in individually who might want to be able to connect with us. Same-day appointments available for students."