As thousands of UNC Charlotte students began classes virtually yesterday, campus housekeepers returned in-person to working conditions that they say are still unsafe.
UNC Charlotte workers in the North Carolina Public Service Workers Union (UE Local 150) gathered on Sept. 3 to deliver a petition with a list of demands to Chancellor Gaber. Among them were daily N95 masks and symptom screening, no 3:00 a.m. shifts and at least 25 percent additional hazard pay. The group requested a response within five days. Today is their deadline, and Union organizer Dante Strobino says they have not received a response. 
A tweet from the UNC Chapel Hill chapter of UE 150 said:
Robert Cooke, Facilities worker, at @unccharlotte lead an action today, delivered a petition to @ChancellorGaber demanding PPE, transparency, daily screenings, and a seat at the table as part of our statewide #SafeJobsSaveLives campaign. pic.twitter.com/ptXk5HQzsn

— UE 150 The Workers Union at UNC (@workersunionunc) September 3, 2020
UNC Charlotte released a statement on Sept. 3 in response to the rally, saying "We appreciate the continued efforts of our valued staff members who work tirelessly to provide a safe and clean campus environment. The University has taken several measures to protect essential workers, in line with CDC guidance, including providing personal protective equipment daily, shifting schedule times to support physical distancing, and deploying new technology to promote safety measures. We continue to listen to the needs of our employees and work with staff supervisors to ensure that proper protocols are in place to protect the health and safety of the entire campus community."
The petition, with over 100 signatures, was handed to Chief of Staff Kim Bradley, who assured the rallying workers that they could meet with Chancellor Gaber. "The Chancellor is absolutely always open to meeting with her employees," Bradley said.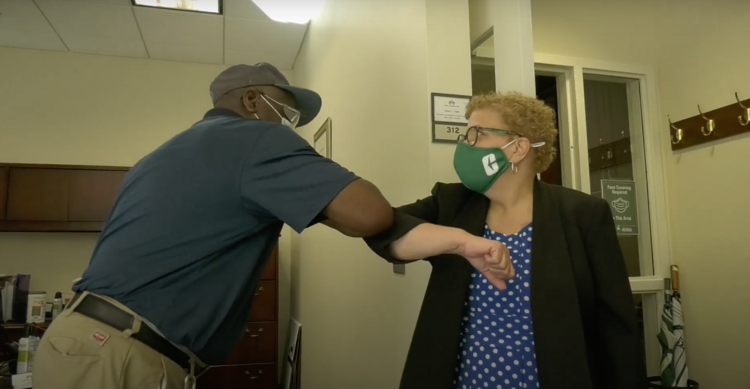 UE Local 150 workers at UNC Chapel Hill and N.C. State held rallies the same day as part of their #SafeJobsSaveLives campaign. 
UNC Charlotte housekeepers are specifically concerned about shifts beginning at 3:30 a.m, saying it is impractical for their families. "Some employees and managers will be asked to come in earlier to perform their duties to reduce the risk of contact with others and ensure key areas are cleaned and disinfected prior to additional employees and students arriving on campus," explained university spokesperson Buffie Stephens. UNC Charlotte says they will provide workers who are in need of face coverings with disposable masks and "any PPE necessary to perform their job duties per CDC recommendations." 
One housekeeper said she has taken a 10 percent pay cut due to the earlier shift. "This is not right for my family and me," she added.
Housekeepers will be responsible for cleaning a housing unit following a confirmed positive case of COVID-19, according to the University. Additionally, Housing and Residence Life staff will be trained to clean Maple Hall, where infected students are set to quarantine. 
Meanwhile, UE 150 has a lawsuit pending class action certification against the UNC System and its member institutions. Strobino said they met with representatives of the UNC Board of Governors last week who argued that face masks are not considered PPE as part of their claim that the plaintiffs' case is untenable.
"UNC Charlotte has the resources to provide all the necessary implements for campus workers, house keepers and maintenance workers to come into work and have peace of mind and to work safe every day but they refuse to do it," said Union organizer Dante Strobino. "We're saying Chancellor Gaber, you're a new chancellor. This is a new day. We hope that you will give the campus workers that are in the union, UE150, a seat at the table to hear from them directly because they know what's needed the most."
From July 1 to Sept. 6, 25 students and 52 employees have tested positive for COVID-19 at UNC Charlotte.