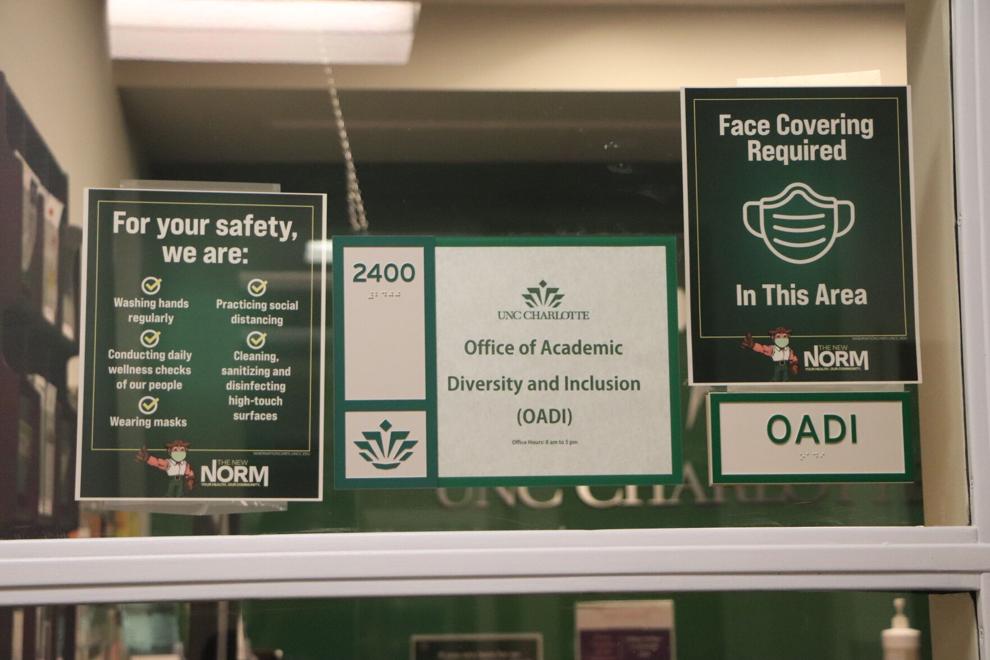 A Niner Notice released Feb. 17, 2022, announces new protocols regarding COVID-19 after Mecklenburg county lifted the county's indoor mask mandate beginning Feb. 26. This is a result of the downward positive test rates of COVID-19.
"We will continue to evaluate our plans, based on evolving data and guidance from public health officials, and keep you updated through NinerNotices and on the Niner Nation Cares website," stated the notice.
Dick Beekman, Student Body President spoke with the Niner Times to discuss the mandate lift.
"In my experience there has been a mixed reaction to the lifting of the mandate," said Beekman.
Beekman expressed that faculty have also voiced concerns over the mask lift with some indicating that they would move their classes online if the mandate was completely lifted. 
"With professors having a significant amount of academic freedom to provide course instruction as they see fit, it would be extremely difficult to provide recourse to students in these situations," added Beekman.
The decision to lift the mandate was made at the Mecklenburg Board of County Commissioners' weekly meeting on Feb. 16. The Board stated that high-risk individuals and isolated individuals should continue to wear masks in public places until infection rates reach a moderate level defined by the Centers for Disease Control (CDC).
The Board has left businesses to decide how they wish to move forward regarding masks.
Governor Roy Cooper has encouraged lifting restrictions as vaccine availability has increased and positive case rates have decreased.
Federal regulations are still in place, meaning masks must still be worn in healthcare facilities, public transportation and airports.
The University will continue to require masks in specific locations such as classrooms, Atkins Library, the Student Health Center, on NinerTransit and other indoor gatherings.
Indoor gatherings can now have up to 50% of the room capacity but will require masks. Outdoor activities will not require a mask but encourage them.
Athletics will follow guidelines as set forth by Conference USA.
"The situation, as has been the case throughout the pandemic, continues to be monitored and evaluated on a daily basis," added Beekman. 
Beekman explained that precautionary measures such as wastewater testing, contact tracing, and daily health checks will remain in place.
"Should the situation take a drastic change for either better or worse, appropriate adjustments to plans will continue to be made," stated Beekman.
Adjustments such as gatherings in dormitory halls are being discussed by Beekman, student government, and the administration.
"I believe it is in the best interest of the student body for the newly revised policy to be implemented and reevaluated should the COVID-19 situation hopefully improve," added Beekman.
The University encourages masks in more confined spaces such as hallways, elevators and lines.
Mecklenburg County still advises those who have tested positive in the past five days, are high-risk, unvaccinated, and those in a healthcare setting to continue to wear masks.
Masks will still be available at the Student Union, Atkins Library, Niner Central and the Advising Center.
As of Feb. 14, 83% of faculty and staff, 69% of residential students, and 61% of students in on-campus classes are fully up to date on vaccinations.
Daily positive new cases reported have been on a downward trend after a spike in cases on Feb. 7, from 10 cases to 42 of students and staff in the past 14 days.
Since Jul. 1, 2020, there have been 7,445 positive confirmed cases on COVID-19 among the student body.
The notice also states that there will be mandatory spring break re-entry testing for all those not up to date on vaccinations. These tests must be completed between March 12-18 and must be provided by a pharmacy or other healthcare provider. Other testing protocols will remain the same.
Vaccines are available on campus each Thursday through Vax Van, and flu vaccines will be available on Feb. 23 and Mar. 1 at the Student Health Center.
The Notice also indicates that it has been 755 days since the first Niner Notice about COVID-19 was released.
"As a President I would remind all students that Niner Nation remains in this together, and that many people have many differing opinions on the best course of action moving forward," concluded Beekman.