For the first time since 2011, the Charlotte 49ers baseball team has cracked the top 25 rankings. They sit at #15 in the D1Baseball rankings and #17 in the USA Today Coaches Poll, NCBWA Baseball Writers Poll and the Perfect Game Poll. Charlotte also found its way into the Baseball America poll at #19 and in the Collegiate Baseball at #25. 
Getting into all six polls occurred following an impressive 17-3 conference record. The backbone of Charlotte's success this season has been the pitching staff.
"The work ethic and the culture within our pitching staff is as good as I've been around," said head coach Robert Woodard.
Before the season, Woodard was excited about his starting rotation going into the year, but the bullpen has been equally as impressive.
Success on the mound this season
The 49ers are 29-11, and the pitching staff has played a huge role in the success this season, specifically at striking out opposing hitters.
The Niners rank first in the Conference USA in strikeouts with 405, while also ranking 24th in the nation of strikeouts per nine innings averaging 10.5 strikeouts.
Apart from strikeouts, Charlotte has excelled at limiting the opposing batters from getting base hits, having the best batting average against them in all of Conference USA, holding a .230 average against them.
Cause of the new success
Part of the success this season comes from the team's partnership with Premier Pitching Performance (P3), a pitching camp in St. Louis that plenty of Charlotte pitchers went to in the summer to improve their game.
"When Covid hit last summer, whether it did or didn't, we had already planned to send eight returning pitchers and 10 of our incoming pitchers there in St. Louis to train. So for eight to 12 weeks depending on the pitcher, we had about 18 pitchers training in St. Louis, Missouri." Said Woodard.
One of the pitchers who attended the camp was sophomore starting pitcher Bryce McGowan, who leads the team in strikeouts (77) and has the third-lowest ERA (3.32).
"It was cool, working with their guys every day, just focusing on our weaknesses. The program each plans individually for that particular person, so I think that helps our pitching staff a ton," said McGowan.
Pitchers on the staff contribute the success to both training at P3 and the team building each other up and adjusting to different roles. 
"As a team, we just clicked well from the beginning, so everyone has each other's backs, so that bodes well for practicing every day, enjoying being out here, and staying focused," said McGowan.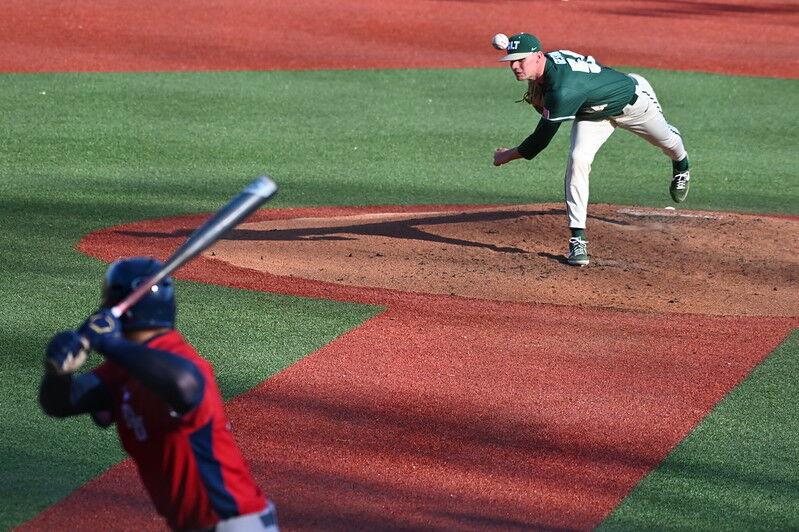 Spencer Giesting, who has played a reliever this year, has been another boost to the pitching staff in his freshman year. He has a 3.46 ERA after 26 innings pitched. 
"I've always been a starter, so it's been an adjustment for me, so I've learned every single time I get an appearance." said freshman pitcher Spencer Giesting. 
The pitching staff also helps promote their success by competition with each other. Wednesday's practice is where Coach Woodard lets the pitchers who need to get in work face live batters to play to earn some more real game playing time. 
"Inner competition within the pitching staff is something we try to foster and encourage," said Woodard. 
Charlotte is coming off a 4-1 statement win over North Carolina on Tuesday and will look to get the best of Old Dominion again this weekend as they face the Monarchs starting April 30 at 3 p.m.