For the Charlotte Men's Basketball 2019-2020 season, they are joined by seven new players, five freshmen and two graduate students. Amongst those seven hails newcomer Drew Edwards from Providence College.
Before arriving at Charlotte, the 6'4" graduate transfer from Baltimore, Md. earned his bachelor's degree in Business Management in May 2019. Edwards had actively played in 104 games throughout his three-year career (2015-2018) at Providence. Amidst those games, he scored at least eight points in eight career games with five of those being double-figure results. In his last season alone he scored a collegiate career high of 19 points along with tying his career high of three assists in one game; both against Georgetown during the 2018-19 season.
With only having one year left of eligibility, it raises the question of why Charlotte? From living in the North for so long, going to high school in his hometown and going to college just hours away from home, you would most likely question why he would choose to come down to the South. Turns out Charlotte head coach Ron Sanchez and the men's basketball program had reeled its way into Edwards' heart .
"Just the opportunity here, of this up-and-coming program and what Sanchez is going to do here. Then, the environment itself in Charlotte. It's an up-and-coming city and there are a lot of opportunities for me here business wise," said Edwards.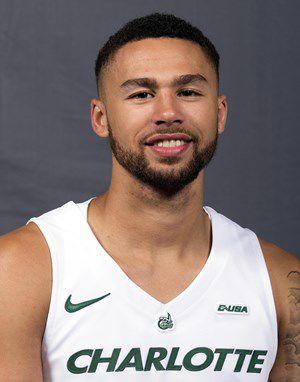 Being his last year, it is no surprise that he wants a memorable season, as would any athlete. Though achieving career highs and triple-doubles is stat worthy and looks beautiful on paper, Edwards just wants the chance to be a part of something bigger than him.
"Athletically, I just wanted to come here and be a part of something special, be a part of a team-oriented program and help lead the way doing that," said Edwards.
Besides wanting to make the All-Conference USA team, he ultimately strives to be a leader for such a young team. 
"We have a lot of young guys here and I want to be someone that's there for them. You know, I've experienced a lot so I want to be a player's coach to them," Edwards said. 
Being a leader comes with a plethora of responsibility, but with Edwards' collegiate career experience thus far, he believes that he can extend his knowledge to those around him as well as feed off of Amidou Bamba. They say that experience contains some of the biggest life lessons and he stands firm in believing so.
"You know, as a freshman, it's really hard coming in. You're hit with a lot and you're on your own for the first time. You got school and then you have a job in itself just in basketball and I've been through it," said Edwards. "So I want to be here for these guys, it's my job to be the voice; to hear them; to motivate them."
"As for Bamba, he's coming from another experience; a totally different experience than what I've had. And just bringing in those two different environments, it's just better for those guys to see two different perspectives and learn from it and keep on growing," Edwards shared. 
In reflection upon his time at Providence, Edwards seeks to apply what he's learned thus far towards his time here at Charlotte by "just staying in your own boat."
"Every single person is just a little bit different, everybody's path is different, everybody's job on the court's different, everybody's role is different," said Edwards. "And just learn through the process you know?"
Coach Sanchez made a repeated statement that Edwards took to heart and aims to live by: to "be where your feet are."
"I'm a firm believer in that just because you can't look too far ahead. There's a lot to deal with so just being where your feet are is the biggest thing," said Edwards.
In regard to living in the moment, Edwards is doing exactly that when it comes to career expectations. While his interests are broad and intriguing, he has nothing specific in mind as of right now. Edwards has a fascination with real-estate, so the potential of him owning his own company where he can flip houses is in mind as well as possibly engaging with the sports apparel industry.
"I'm from Baltimore, Md., so I know Under Armour is huge there. I know some people in there. I'd love to stay around the game as much as I can and make an impact on the environment wherever I'm living," said Edwards.
At the end of the year, Edwards will be graduating with a Masters of Arts in Liberal Studies that will pair nicely with his bachelor's in Business Management.
Edwards and the Charlotte 49ers Men's Basketball team will be playing in their first game of the season away at James Madison on Wednesday, Nov. 6 at 7:30 p.m.