Carson Pace is a senior pitcher at Charlotte. She has been playing since her freshman year and is now one of the oldest players on the team.
One of the biggest adjustments that she's had to make is having a new head coach in Ashley Chastain. Aimee Devos was the previous head coach for the softball team before Chastain took over. Pace became familiar with DeVos' coaching style during her first three years playing for the team and now has to learn Chastain's style of coaching. 
"I think before the season I was a little nervous because I had been used to a different coach for three years, but I was honestly excited. I think being completely bought in from day one really helped our relationship to be stronger," Pace said.
Getting used to the new head coach was not the only adjustment that had to be made, though. The softball team for this season is composed of a lot of underclassmen, which means that having someone with as much experience as Pace is going to be extremely important in how she can use her seniority to help out the younger players. 
Pace says that since their team is a majority of freshmen, it really helps to have someone that can help them out with their team routine. This can be anything from being on time to showing up and practice really hard. 
With a lot of underclassmen on the team this season, Pace mentioned that it was a lot of fun having more younger players on the team and that it has been a different experience for her.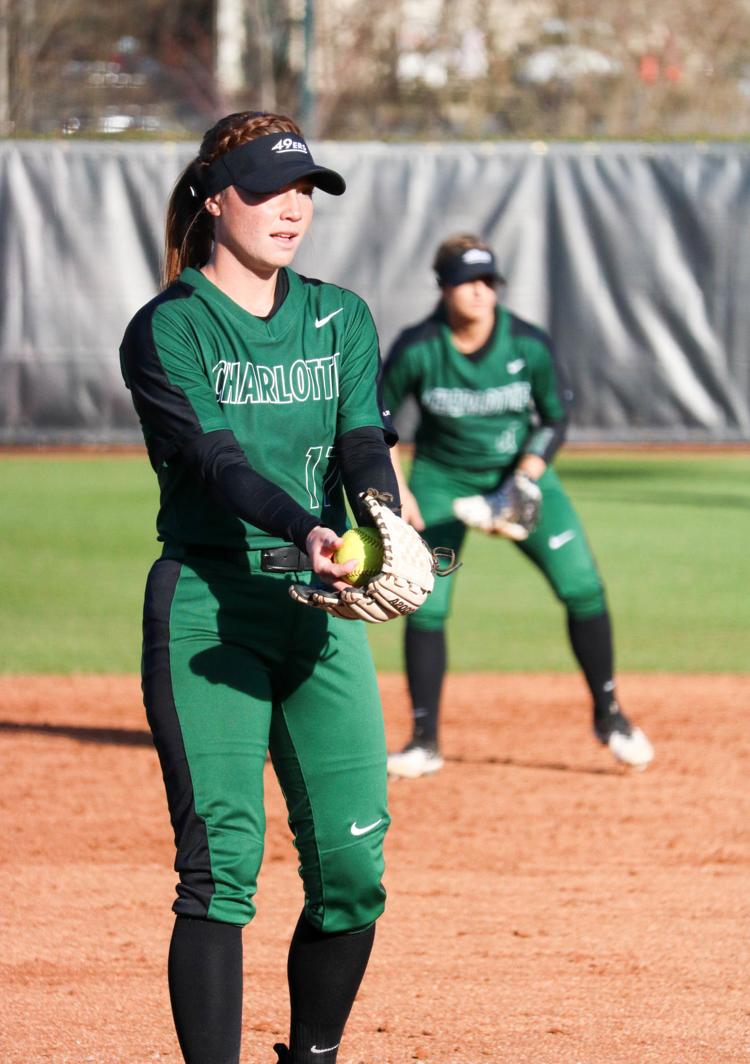 "I have always been the younger girl playing softball so I think it's a different experience for me being the oldest," Pace said. "But with the three of us -- me, Alison [Green] and Spenser [Gray] -- being seniors, I think that it has been a lot of fun and a big learning experience for us."
Since this is her fourth season of playing softball at Charlotte, there are some goals that she has set for herself.
"I definitely want to go to the conference tournament, that's number one... And if we win that, we go to regionals, which will probably be the first time in Charlotte's softball history," Pace shared. "Just [being] a good presence on the mound for everyone and being a leader that everyone needs in the middle of a game...That's definitely something that I want my team to remember about me." 
There are other goals that have been set for the team for this season besides going to the conference tournament, which is also one of Pace's personal goals for this season. 
The main focus right now for the team is pushing the heart of gold standard, which according to Pace, is a mentality that they want the team to have when going into games. This standard is for the team to hold themselves to the highest possible degree every single day and not slip up on that with everything they are doing.
Over the course of playing softball, Pace has learned important lessons while at Charlotte and they have helped her develop into a better player and leader for her teammates. 
"I think one thing is a deep sense of loyalty to your teammates. I think having that underlying mutual respect and loyalty to each other is something that I will never forget being a Charlotte softball player," Pace said. "Also, I think kind of just knowing that you are representing something bigger than yourself." 
Along with these teammate lessons, just like any other student athlete, Pace had to overcome obstacles since she started playing softball for the school.
"I definitely think the coaching staff change is, not a hassle of an obstacle, but is definitely something new for everyone. I think we have had rougher years than we're having this year," Pace said. "Last year, [it] was not fun to lose a lot, but I think that makes everyone appreciate what we're doing now so much more." 
The softball season has already started and even though the team has a winning record right now in Conference USA (2-1), they incorporated different methods in order to get to this point as a team.
When they are going into games, Pace says that they talk a lot about their focus. They want to constantly have that same focus and drive every single day whether it is during practice or while they are playing a game. To add onto this, as a team they discuss being detail-oriented and making sure that they do things right the first time.
Because of her being one of oldest girls that have been on the team for the longest, she has learned things that can help her be the best player she can be for her team.
"We learn a lot of things about mentality, character and things that will go a lot longer for us than just playing softball here. I think being able to take what I have learned and take that into a career will be lessons that I'll never forget, and they go so far beyond softball," Pace said. 
Currently, the softball team is on a two-game winning streak. Pace discusses the elements that have allowed the team to start off the season on a good note.
The following day after losing a game, the team sat down and had a talk. This talk consisted of them saying that they expect to win every single game and that since those are their expectations, that is never going to change. They are definitely not okay with losing and Pace emphasized that they are going to put themselves into positions where they can win every single game. 
The 49ers have been playing hard and keeping the mentality that they are going to win every single game. Pace even indicates that fans should be keeping an eye on the team this season.
"We really are on the ups and we are a lot of fun to watch. I think that everyone is holding themselves to a standard that will make everyone at Charlotte really proud," Pace said.