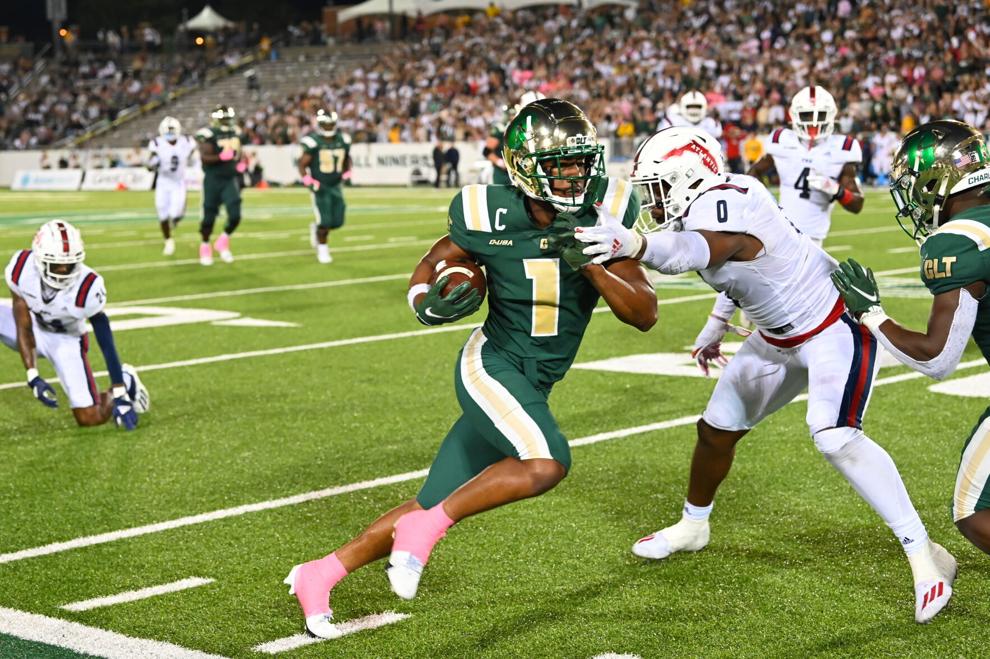 Charlotte football's Chris Reynolds, Markees Watts and Victor Tucker have been with the program since 2018. On Saturday, Nov. 19, the trio will suit up one last time. 
Former Head Coach Will Healy took over for Brad Lambert in 2019, ushering in the most successful era of the program. During Healy's tenure, the 49ers made their first bowl game and defeated their first power five opponent, Duke. 
"Every time we stepped on the field, we thought we would do something great. We made sure we left it all out on the field," said Reynolds.
The journey
For the trio, the journey was not easy or expected. Reynolds was a walk-on with no other option but the 49ers, Watts was a two-star recruit out of high school, and Tucker only had one D1 offer from Charlotte. 
Tucker said they defied the odds and built something special.
"It means a lot being able to forge your path. Creating history and being remembered years from now is a great thing," said Tucker.
Defining a legacy
Reynolds started as a scout team quarterback and became a program record-setter with 9,998 passing yards and 84 touchdowns. Reynolds said he does not want to be remembered for his records but for his work.
📰 @ChrisReynolds_3 Named Semifinalist for Burlsworth Trophy For Second Year https://t.co/UdlLTVhlU2

— 𝗖𝗛𝗔𝗥𝗟𝗢𝗧𝗧𝗘 𝗙𝗢𝗢𝗧𝗕𝗔𝗟𝗟 (@CharlotteFTBL) November 10, 2022
"I hope what sticks with these guys in the locker room is how I handle business and do things daily. I hope that is what people remember the most from a legacy standpoint, " Reynolds said.
Sixth-year senior Tucker battled through similar adversities but had similar success. He ranks second in program history with 3,066 receiving yards and 19 receiving touchdowns. 
"I was overlooked out of high school. I was a guy that no one thought would have a great college career. I was an overachiever. I believed in myself and let the hard work speak," said Tucker.
Watts saw playing time as a true freshman. He holds the program sack record and is sixth all-time for tackles. 
There it is!Congrats Kees!Your all-time sacks leader for Charlotte Football‼️🔥 pic.twitter.com/Gzo2SbxggM

— 𝗖𝗛𝗔𝗥𝗟𝗢𝗧𝗧𝗘 𝗙𝗢𝗢𝗧𝗕𝗔𝗟𝗟 (@CharlotteFTBL) November 5, 2022
"The records feel good. It gives me the comfort and satisfaction of knowing even though I'm leaving, I'll have no regrets. I know I have achieved something. The sack record feels like a burden lifted off my shoulders," said Watts.
Passing the torch
The 49ers will have to fill the trio's roles next season.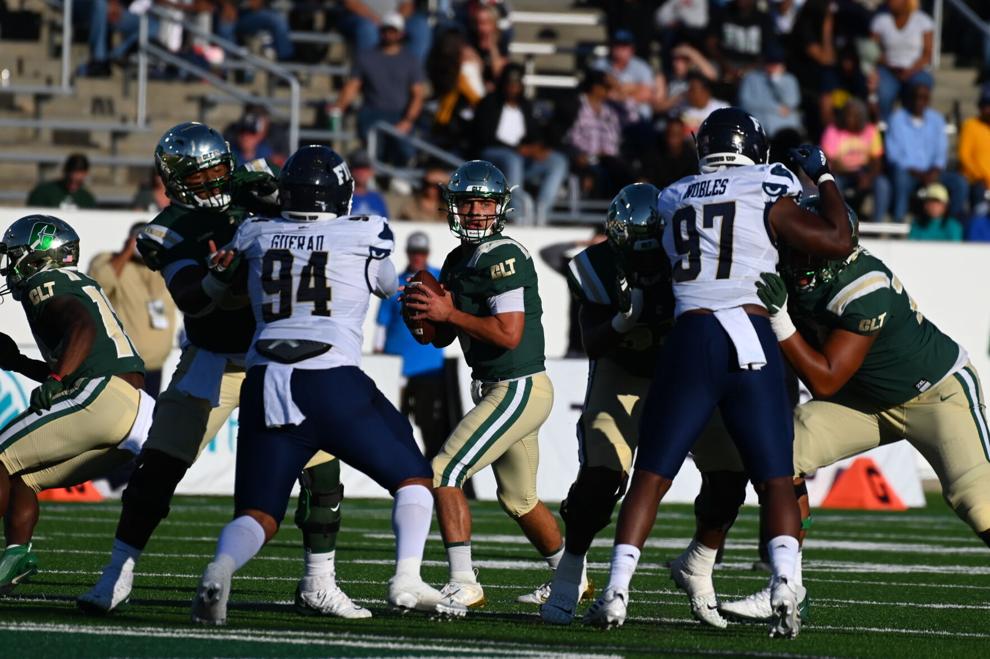 Reynolds looks to sophomore wide receiver Elijah Spencer to fill a leadership role. Spencer made an immediate impact in his true-freshman campaign, earning Conference USA (C-USA) Freshman of the Year. Spencer currently has 886 yards and nine touchdowns on the season.
"Elijah Spencer is special from a preparation standpoint. Of the young guys, I would say he will step up," said Reynolds.
Watts passes the torch to rising junior defensive end, Tyson Clawson. Watts said he would take a significant role in the locker room.
"[Clawson] has been in the D-Line room for a while now," said Watts. "He's been sitting back and taking everything in. Now he will be the one talking out loud and leading the group. He's a great guy."
Tucker expects Nolan Groulx to have a strong presence in the receiver room. Groulx has switched from wide receiver to defensive back this season multiple times.
"Nolan [Groulx] has so much talent and ability. I know the next time he's able to strap it up and get on the field, Niner Nation will know his name and who he is as a football player," said Tucker.
One last ride
Charlotte will host Louisiana Tech in the regular season finale at Jerry Richardson Stadium on Saturday, Nov. 19. This will be the final game for the trio. 
Reynolds said he will take it all in during his final game. 
"It's going to be bittersweet. You know you walk in the door and feel like it will be an eternity until you leave. Especially when you get another covid year, and the next thing you know, it's done," said Reynolds. "I'm going to try to take in every moment and look around for a second because I know it's about to be over."
Watts said he is ready to suit up for the final time.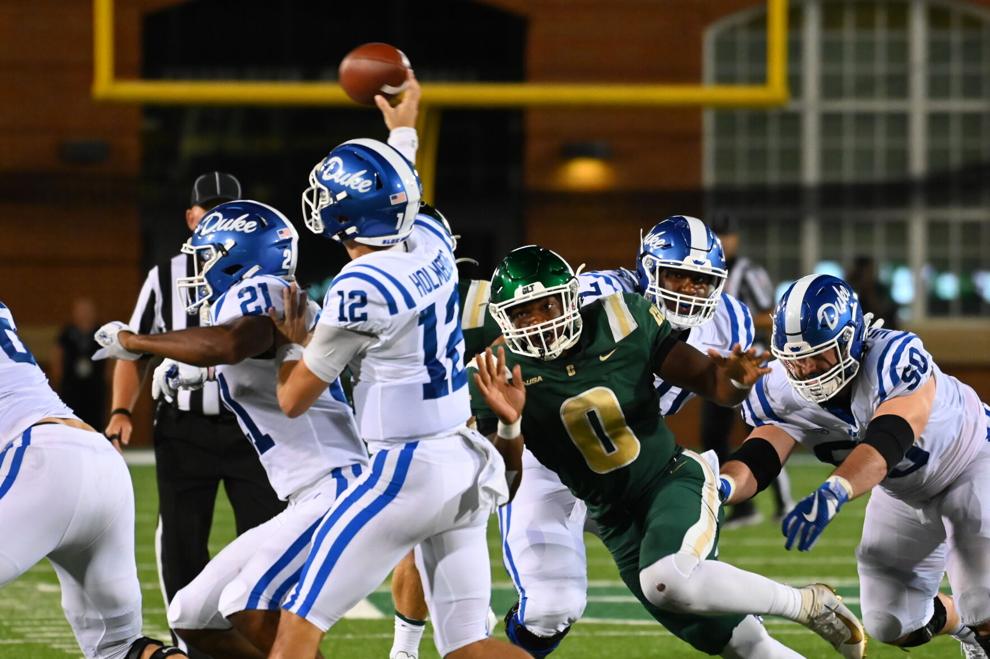 "When I suit up for the last time, I have to ensure that I don't fail myself," said Watts.
The contest will kick off at 3:30 p.m. following senior day festivities. The game will be available to stream on ESPN Networks.