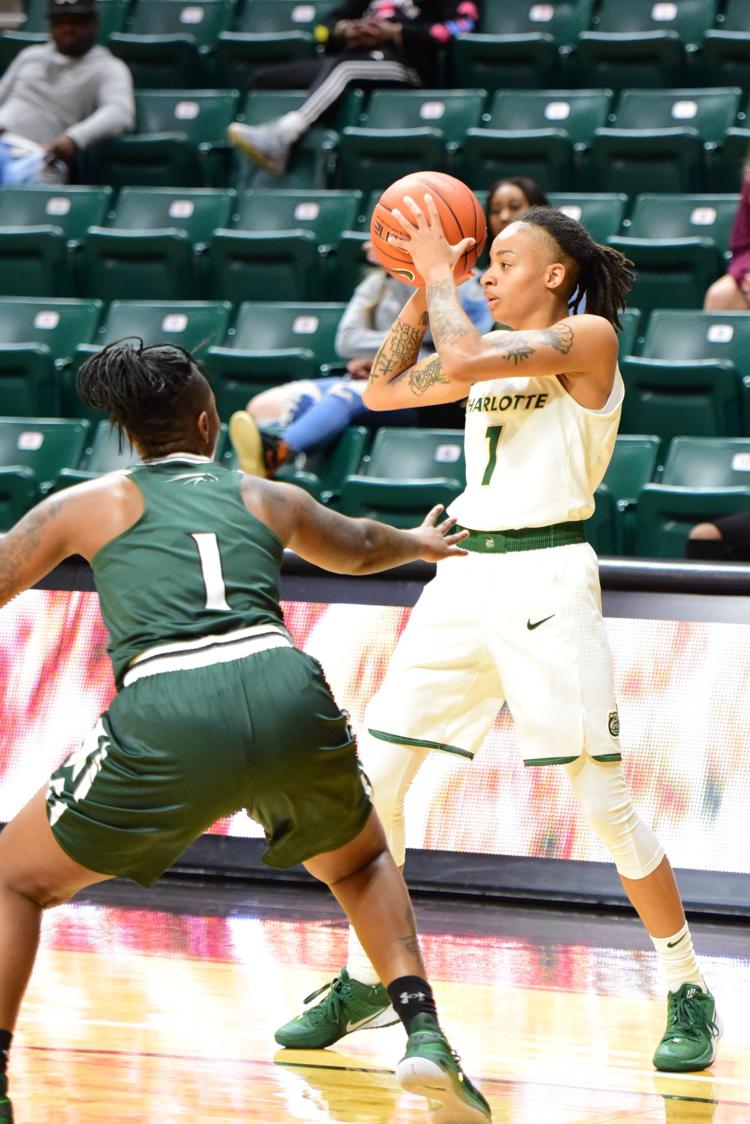 The Charlotte 49ers won in a dominating fashion against Gardner-Webb 74-49 in the home opener. The victory extended the 49ers season-opening victory streak to 10 consecutive years. 
Four Niners scored in double-figures, which was led by 15 points apiece from Jade Phillips and Jazmin Harris. Phillips added 12 rebounds for a double-double. Octavia Jett-Wilson registered 14 points and Christian Hithe added 12 points. 
Gardner-Webb had two players score in double figures. Savannah Plentovich led the way with 23 points while ending 5-for-7 from three-point range. Alexis Hueston added 10 points. 
Both teams started off slow with Harris scoring the first basket of the game for the 49ers at the 6:36 mark. The teams went back-and-forth before the 49ers ended the first quarter on a 7-0 run to take a 19-9 lead. 
Back-to-back threes by Hithe and Mariah Linney extended the 49ers lead to 30-15 with 6:29 remaining in the second quarter. Gardner-Webb fought back before Hithe hit a shot at the buzzer to give Charlotte a 40-30 halftime lead. 
Charlotte started the second half with a 9-2 run that gave them a 49-32 lead with 5:27 remaining in the third quarter. A three-pointer by Jett-Wilson and free throws by Harris and Rinnah Green gave the Niners a 54-36 lead at the end of the third quarter. 
Charlotte took their largest lead when they went on an 8-0 run over 1:37 to take a 66-42 advantage with 4:48 left in the fourth quarter. The 49ers defense dominated the rest of the game as they earned a 74-49 victory. 
Charlotte shot 49 percent from the field while holding Gardner-Webb to 24 percent. Charlotte outscored Gardner-Webb in bench points 40-11. The 49ers also dominated in the paint outscoring the Runnin' Bulldogs 42-18.
"I thought the team performed very well," said redshirt senior Jade Phillips. "We had a lot of things we wanted to work on in practice and I feel like we executed that really well against this team. Just getting our cutthroat, which is like a lot of stops, it really is going to carry on when we play tougher teams and we're just practicing and getting ready. I'm excited and I feel like the team executed well and I'm just ready to go on to the next game."
Charlotte Head Coach Cara Consuegra was satisfied with the effort from her team in the season-opener. 
"I'm just pleased with our effort because that's really what we wanted to focus on," said Consuegra. "We wanted to come out and play really well defensively and we wanted to beat them in all the hustle plays. I thought that's what we did. I thought we got on the floor for loose balls, we took two charges, we were all over the place. That's who we are; that's Charlotte basketball. We wanted to come out, play hard and play well. We did in some areas. Still room to grow and we will continue to grow."
The 49ers will play Richmond at home in Halton Arena on Saturday, Nov. 9 at 4 p.m.