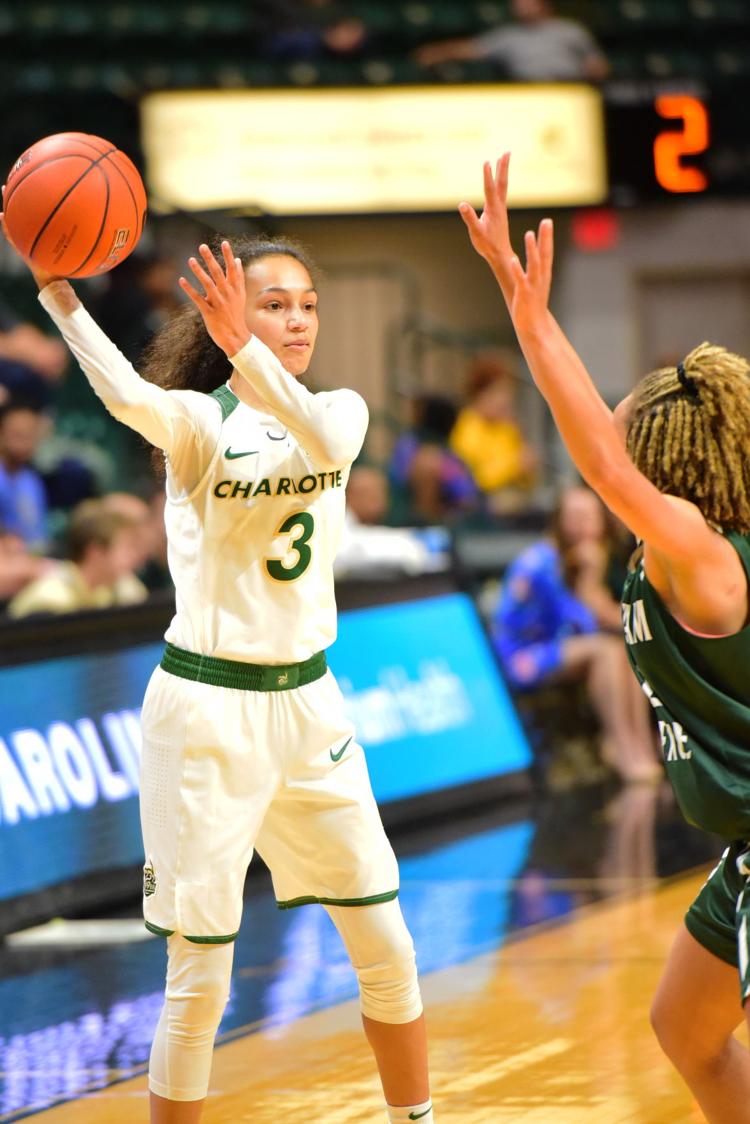 Charlotte travels to Winston-Salem to take on the one-loss Demon Deacons in what is likely to be one of their most difficult non-conference games of the season. 
"It's (Wake Forest) a different caliber team, no doubt about it," said Charlotte Head Coach Cara Consuegra. "Their size and their length and their athleticism is just different from what we've seen so far. The good thing is we've played Wake a lot, so we're familiar with their style of play [and] their schemes."  
The Wake Forest offense is led by senior guard Alex Sharp, who currently leads the team in points per game and rebounds per game with 14 and 7, respectively,  and the Deacons forward duo comprised of Ivana Raca and Ona Udoh. In an era of basketball where three-point shooting is increasingly valued, the Demon Deacons steer away from shooting from beyond the arc. In their first three contests, Wake Forest has shot a total of 33 three-point shots. In contrast, the 49ers have shot 39 three-pointers in two games.  
Despite the Demon Deacons' outdated style of play, they are capable of scoring in bunches as they currently average 78 points per game. However, at times, the Demon Deacons' offense can be stagnant and turnover-prone, such as when they had 11 assists in comparison to 21 turnovers against UNC Greensboro. Christian Hithe and Jade Phillips, the 49ers' leaders in steals, should look to take advantage of the turnover-prone Wake Forest offense. 
Key matchups for the 49ers will be Hithe and Phillips against Sharp, who is currently averaging 14 points per game after averaging 12.7 points per game last season. Hithe presents the perimeter defensive prowess necessary to guard Sharp, while Phillips is equally as versatile on both offense and defense as Sharp. Additionally, Dara Pearson and Lauren Harley will be tasked with corralling the Demon Deacons' interior tandem of Ivana Raca and Ona Udoh. 
The Demon Deacons play defense with a similar level of discipline and stinginess as the 49ers, suggesting this could be a defensive battle. Udoh anchors the Demon Deacons' interior defense while guards Gina Conti and Christiana Morra lead their perimeter defense that has allowed a meager average of 24.8 percent three-point percentage. Additionally, the Demon Deacons' perimeter defenders have accumulated 25 steals over three games, good enough for 93rd in the country. 
First-year starting point guard Jada McMillion will need to be disciplined with her passing and decision making against a strong defensive backcourt. Furthermore, an uptick in three-point shooting percentage from Mariah Linney, who shot 37.4 percent last season, would open up congested driving lanes for more interior-based scorers Phillips and Octavia Jett-Wilson and significantly improve the 49ers chances of victory against Wake Forest.
One advantage the 49ers have going into the matchup is rest. Charlotte has not played a game this week. 
"It's been nice to have a full week," said Consuegra. "I think early on in the week we were able to focus on ourselves and clean up some things from the first week of the season, and then be able to turn our focus to Wake." 
The 49ers are excited about the opportunity to develop their skills on the road against a difficult opponent and to build relationships through traveling. 
"Anytime you go on the road, there is also a bonding experience to it," said Consuegra. "I also like this road swing. Obviously, we'll see that all season long in Conference USA, so I think it's important to give that a test run."
The 49ers' game against Wake Forest tips-off at 7 p.m. on Friday, Nov. 15.