On Friday, Sept. 3, the Charlotte 49er football team earned their first win over a Power Five conference team when they edged out the Duke Blue Devils 31-28. This victory was backed by the strong support of fans' first full return to Jerry Richardson Stadium since Nov. 23, 2019, when the Niners hosted Marshall to clinch their first bowl game in school history.
The crowd of 14,125 brought an energy that was felt throughout the stadium by spectators and players alike.
Starting Charlotte quarterback Chris Reynolds spoke with enthusiasm in the postgame press conference about the crowd.
"With that year of separation and people not coming out here to enjoy the game they love, to see the excitement in the stands, it was just really ridiculous," he said. "As a quarterback, you are trying to zone in and just focus on what you need to do, but when you see those guys, it just gets your energy going."
The crowd was one of the more energetic and electric crowds that have ever been at Jerry Richardson Stadium. The pure excitement from the stands, from guys with "Charlotte" painted on their chests to the average fan screaming with excitement on every play, was something that has not been seen to this extent at a Charlotte football game.
Going back to full capacity at the stadium might be the missing ingredient for the Niners team who showed out in front of the fantastic crowd.
One fan, Daniel Helotie, a junior at Charlotte, spoke about the energy level among fans.
"It was fantastic. I attended a game last year, and while I had fun, the atmosphere was weird, and it did not feel quite right," said Helotie. "Friday night took all of the weird vibes and crushed them by delivering an absolutely incredible atmosphere throughout every quarter."
The fans not only packed the game at the beginning, but they also stayed through to the end to see their Niners battle to win it.
Zach Ledbetter, a third-year Finance major, attended the game in the student section, his first 49er football experience.
"Being a pandemic student, it was amazing to see the Charlotte community come together," said Ledbetter. "I have not felt something that exhilarating since high school. Being in the student section is something that I will never forget."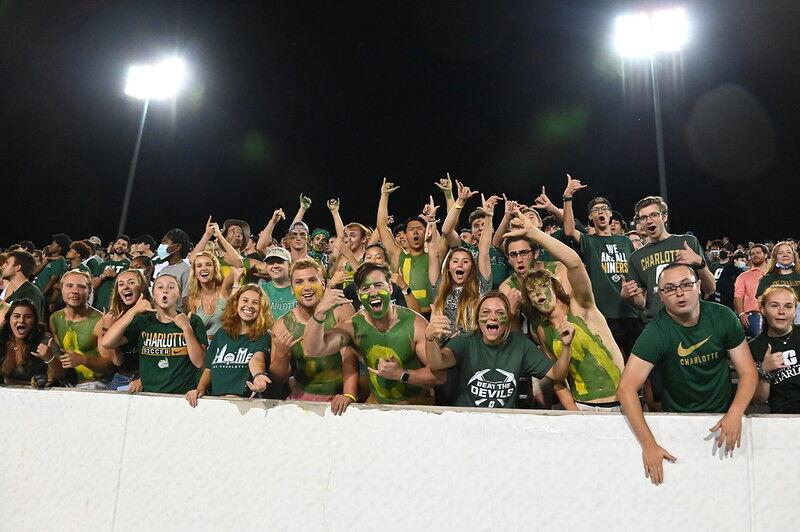 The game's final minutes were eventful, giving the fans plenty to cheer about and keeping them on the edge of their seats for the few fans that were not standing and screaming the whole time. They provided a spark not just for the offense but the defense as well.
"I appreciate the student body section. It was something I did not get to experience the last three years I was here. I had to sit out my first year and then last year with Covid. So I have truly experienced it now. It is crazy how they gave us energy – like we really played off them," said linebacker Tyler Murray. "I just appreciate them being out there and just continuing to help us get better."
Beat Duke ✅First Power 5 win in program history ✅ Hearing that loud "Forty Niners" chant in a packed stadium again ✅Niner Nation was back together to witness a great moment in our history. This is only the start of a very fun era of Charlotte athletics 🤙#GOLDStandard pic.twitter.com/yOntolDxCk

— Jackson Kaplan (@kaplan_jackson) September 4, 2021
The game came down to the wire, and it was the defense that had to come up in the end to put an end to Duke's final drive. You could probably hear the cheers miles and miles away as fans screamed, ripped their shirts off, and stormed onto the field in celebration.
"To see the smiles on their face as they were rushing the field. They were itching to be back out there. It's a special feeling when you have got the fan base behind you like that," said Reynolds.
Helotie spoke on the fans celebrating after the big win.
"I do not think there would have been any way there was not going to be a rush of the field pending a win," he said." Fans have been away from the game for so long, and they had so much energy in them from an incredible game that I would argue it was inevitable. It was a fantastic sight to see fans so fired up for Friday's win."
The crowd was spectacular on Friday and played a vital role in the game's outcome that did not go unnoticed by players or the coaching staff.
Head Coach Will Healy saw a big-time game through his eyes when it comes to the atmosphere.
"The student section, holy cow, I mean that was big time," said Healy. "That was an incredible atmosphere that they created, and they were there the whole game and they were loud the entire game. That was big time. I know our guys felt that too, and I can't thank our students enough."