Two ever-present narratives were oozing throughout Charlotte football's home game against Middle Tennessee on Friday, Sep. 24.
Number one: the 49er offense was able to shake off the rust from Georgia State just a week ago. This is a good thing, and the team is moving in the right direction offensively again. Number two: the defense is still not where it needs to be to compete for a C-USA crown.
Let's get the bad out of the way first and discuss the defensive side of the ball for the 49ers. They gave up 502 total yards to Middle Tennessee. This statistic alone says there is room for improvement. 379 of these yards were passing yards. Now, in all fairness, a lot of media personnel have been blasting this team because of their poor rush defense. The rush defense was a little bit better than in previous games. However, they still gave up 123 yards on the ground.
"I cannot say enough great things about Rick Stockstill," head coach of the 49ers Will Healy said about the Middle Tennessee head coach. He feels like Stockstill's offense played exceptionally well against the Charlotte defense. It goes back to the old cliche of, "Sometimes good offense just beats good defense." This was the case tonight for both teams.
Middle Tennessee converted both of their fourth-down tries, and they were able to score every time they were in the red zone. It was not the defensive performance that would get Charlotte to the top of the conference, and Healy recognizes that reality.
"We've got tons to clean up on if we are going to do what we say we want to do," said Healy.
He believes his team is prepared to put in the work to get the next step.
"When this football team plays well in all three phases, we will be scary," said Healy.
Shifting gears to what Charlotte did well in this game, Chris Reynolds was out to prove something in this game. He had a few games that were not the "Chris Reynolds standard" fans are getting accustomed to seeing the past two games against Gardner-Webb and Georgia State. He turned the tide in this game with 339 yards passing yards on 25 completions. He completed 69% of his passes and had four touchdown passes as well. To put the icing on the cake, he snuck in for a one-yard touchdown rush towards the end of the game to pad his stats.
Reynolds was selfless in his postgame interview and only wanted to credit his teammates for their hard work, which is just want you want from a leader.
"Throwing to Vic and now Grant and just throwing to guys that want to compete at all times, really," Reynolds said about his teammate's mentality. "These are the kinds of guys that if we were playing ping-pong, we would end up throwing paddles by the end of it," Reynolds added jokingly. "It is fun to play when you have guys like that on the sideline."
In this game, Reynolds moved into first place in passing touchdowns for Charlotte, surpassing Matt Johnson's previous record.
"I remember my first one. It was to Vic against Fordham," Reynolds recalled.
However, when his milestone appeared on the big screen above the Judy Rose center, Reynolds did not want to focus on that, but rather on the task at hand and that was to keep putting points on the board and get the win.
Overall, Reynolds had an amazing game, and he will look to continue performing at this level for the rest of the season.
Reynolds had plenty of talented receivers to throw to.
Victor Tucker had five receptions on just seven targets going for 108 yards with a total of 68 yards after the catch. While he may not have gotten in the end zone for a score, his receptions came in crucial moments at times in big yardage situations where the 49ers needed 10 or 11 yards to go, and Reynolds had the confidence to let his best receiver go up and make a play.
What can be said about the Miles College transfer Grant DuBose that probably hasn't been said already? DuBose had a top-tier game. Not just for Charlotte or C-USA, but a nationally great performance with 114 yards on nine catches and two touchdowns in a game. DuBose was the catalyst for the team's offense and kept his intensity up all game.
"We have not even seen the best of what Grant can do," coach Healy said confidently after the game.
One other receiver to mention is Elijah Spencer. Coach Healy was incredibly impressed with how he responded after fumbling the ball in the red zone with the team marching down the field. "What a great response," were Healy's four words about Spencer's bounce back after the fumble. He came back out and got a touchdown, and that is what Healy has been pushing so hard recently. What will be the response when your luck is down?
Spencer finished with 51 yards receiving and the one touchdown to go along with it. He is only 18, so there is still much room for growth, but the strong mentality he showed in this game is what Healy likes to see.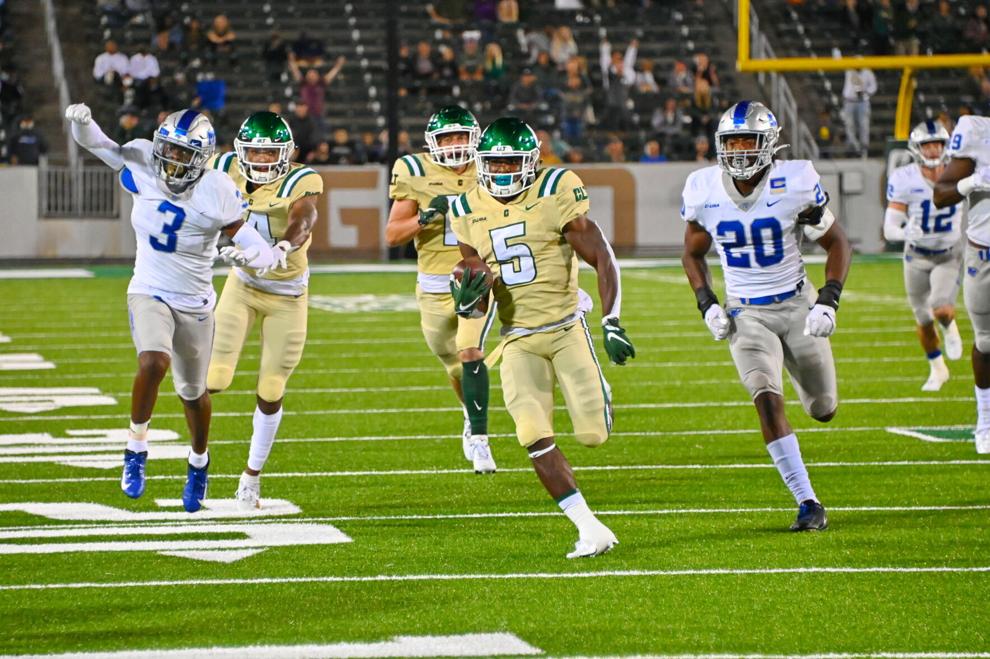 Lastly, we get to the 49er rushing attack. Charlotte had 40 rushes for 220 yards which is their second-best performance on the ground this season. Calvin Camp led the way for the 49ers on the ground totaling 103 yards. That was on just 12 carries for an average of 8.4 yards per carry. His long run of the night came on a 44-yard touchdown run in the third quarter.
To add to the rushing onslaught, running back Shadrick Byrd had a nice night as well, adding in 72 yards on 14 carries for a solid 5.1 average. Byrd also had three kick returns for 60 total yards. He caught two passes for 41 yards and a touchdown as well.
Chris Reynolds did not just want to show off his arm. He rushed the ball nine times for 32 yards and a one-yard touchdown.
It was a total offensive performance that the team needs to continue to produce as they move into some of their toughest games of the season. It was shown in week one against Duke that they have talent. It is about how hard that talent is willing to work that will write the 49ers season story.
In a quick summary, offense equals explosive when in synch, the 49er defense equals unanswered questions still to be hammered out. It is still very early in the 2021 season for the 49ers. There is a lot to clean up, as Will Healy mentioned, if they want to win the C-USA title, but it is a positive sign when the offense can produce a game as they did against Middle Tennessee.
Charlotte will face its second Power 5 opponent this Saturday, Oct. 2, at Illinois at 12 p.m on the Big Ten Network.