Fifth-year Quarterback Chris Reynolds has had a unique path to becoming the primary starter for the 49ers but has remained humble in his success. Reynolds will go from being a walk-on to multiple watch-lists as he looks to give it his all in his final year with the team.
Five years ago, Reynolds started his career with the 49ers as a walk-on having no offers from high school. He took a chance trying out for Charlotte, and it has paid off in a big way. 
"Charlotte was my only option. I was a walk-on. They were the only opportunity, they were the only ones to give me a shot and the only ones that believed in me. From the moment I stepped onto campus, it has been home," said Reynolds. "Starting from the first coaching staff and first guys I played with. I met some of my best friends and had so many relationships. It's not home not only because of playing football here, but it's home because of the relationships I've built, and it's been special, and I'm so thankful."
National recognition 
Coming off a solid 2020 season where he threw for 1,305 yards and eight touchdowns in six games played, Reynolds has gathered attention nationally, as he has been added to both the Maxwell Award watch list and the Johnny Unitas award watch list. 
Both awards recognize outstanding football players. The Maxwell Award is presented by the best all-around collegiate football player in the nation. At the same time, The Johnny Unitas award is given to an upperclassmen quarterback who expresses excellent leadership qualities. Reynolds fits both categories as he will look to take his game to the next level this season. 
"Chris has been off the charts. He has responded to every bit of adversity he's ever faced since I've been here. He is our guy," said Head Coach Will Healy
Quarterback job competition 
The 49ers come into this season with a very competitive depth chart for the quarterback position. James Foster, who transferred in from Texas A&M, and Dom Shoffner, who had an impressive stint as the backup quarterback in 2020, are competing for Reynolds' job.
They pose a tough challenge for Reynolds, but he's fought hard for his job so far against long odds going from being a walk-on to being named to national award watch lists. 
"My preparation right now is for us to be a successful football team and to win football games. It's not a matter of looking to your left and right and competing, it's a matter of competing with yourself," said Reynolds at the 49ers 2021 Media Day. "How can I get better every single day? Because if you aren't getting better, you are getting worse. That's how I operate as a person. Going into my fifth year, my time is ticking. My main focus is to win football games."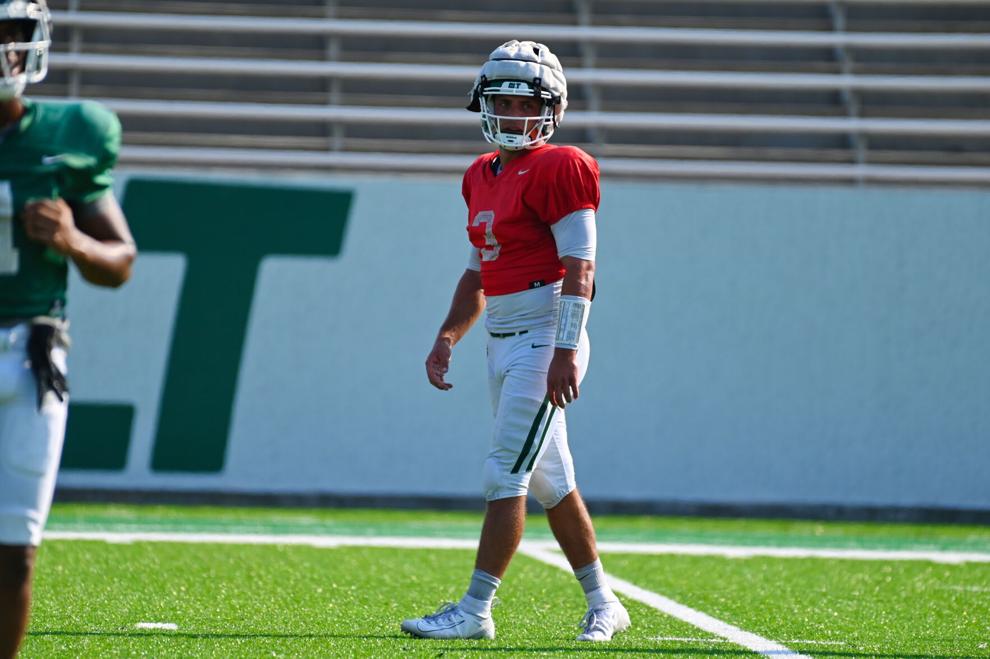 For the time being, Reynolds looks like he has the starting job going into the season, having gained the coach's respect over the years and having a very impressive off-season.
"There is nobody I've coached that I respect more than Chris Reynolds, ever," said Healy. 
Expectations
Reynolds hopes to return to his 2019 form, where he played 13 games throwing for 2,564 yards while also rushing for 791 yards. 
"I expect to be the leader for the young guys, to lead us through adversity. When times get tough, I need to ask myself: how am I going to react? How am I going to push through? How efficient can I be? I want to be extremely efficient. My main goal is obviously to win a championship. My expectation is to put myself in the best position to do so," said Reynolds.
With this being Reynold's fifth and final year with the Niners, he wants to ensure he goes out with no regrets and leaves no stone unturned. 
"I don't want to look back and tell myself I didn't do enough or I didn't put a certain amount of time in. I want to make sure I check every box so at the end of the season I can say I gave it my all, I gave it everything I had, hopefully, that leads us in the right direction," said Reynolds.