Every football school has a tailgating staple. For some, it's cooking outside under a tent or enjoying good eats and drinks on the bed of a pickup truck. However, one of Charlotte's most known football fans likes to tailgate with something a little more unique: an ambulance.
The Inception of Normbulance
Rob Dibble, a Charlotte alumni, and an avid fan sat in a Hickory Tavern restaurant with a few buddies in 2006. They were trying to think of ways to get a football team started at Charlotte. Later named the "football initiative," Dibble thought of ways to move things in the right direction so that Charlotte would have a football team. 
"What can we do to get the administration to at least address the lack of football," Dibble said was his main goal initially. 
If this goal of getting a football team at Charlotte came to fruition, how would Rob and his friends celebrate? Buy something big, of course. A bus, an army truck? No, something better. An Ambulance.
"I was like, I'll tell you what; if we somehow get a football team, I will buy a cool vehicle for us to tailgate out of," Dibble said. 
It just so happened one of his friends suggested an ambulance and even suggested the name Normbulance. Needless to say, it stuck.
Finally, after a while of selling merchandise and pushing for a football team, it happened. Finally, the 49ers got a football team. Rob and his friends achieved their first goal. 
"I bought the first ambulance before we even kicked off in 2011," Dibble said. 
He had this ambulance for a couple of years before buying a diesel ambulance later on.
After a year where Covid-19 shut down tailgating, Normbulance is back in 2021. Normbulance had some work done on it over the summer and almost did not make it to the home opener against Duke. However, Rob called the mechanic and made sure he got it to Jerry Richardson Stadium in time for tailgating. He made it just in time. 
Rob's Background
"I graduated in, technically the fall of '95. So, I was in the last class without Halton Arena. I graduated in the old coliseum off Tyvolla road," Dibble mentioned. "I have a degree in religious studies, and my time on campus is when our basketball team had gotten their feet under them."
Rob would go to several other schools to watch their football teams, but with the 49ers not having one, he did not have his home school to watch on Saturdays. He grew up a UNC Chapel Hill fan, so he would go to many games until one game, where his love for Chapel Hill vanquished. 
"It was 1997 or 1998, and I had season tickets to Carolina football, and I wore a Charlotte hat," Dibble noted. "This was right after we had almost beat them in the NCAA tournament in basketball. I had a guy in front of me turn around and say, 'You've got a lot of guts wearing that in here.'"
Rob did not take kindly to this treatment after this fan insulted him, saying, "I guess you couldn't get into a fine institution like this one," referring to Chapel Hill. But, come to find out, this fan did not even go to Chapel Hill but had just been a fan his entire life.
"It was at that moment, I took the jersey off, threw it in his face, and said, 'You can have this stupid school, you can have everything to do with it, I hate you guys.'" This burnt the 49er pride into Dibble, and he has bled green and gold ever since. 
What is the lasting impact of Normbulance?
"What can I do to show the next generation of students and alums that it is okay to be crazy and act stupid and dumb," Dibble said.
Dibble recently celebrated his 49th birthday, as ironic as that number is, and he says that he still gets people that will come up to him and say that he parties harder than they do even though they are a lot younger than him. He wants everyone to experience a sense of joy and to live a full life. 
"I've had students come up to me and say, 'Dude, you party harder than we do, and you're 49 years old,'" Dibble recalls. "That is what it is about. It is about having a good time with friends and being back on campus. If I can show students that I can do this, then maybe I can cultivate the same passion for the next generation."
Dibble realizes that he will not be around forever, and he wants to leave behind a sense of unity, passion and enjoy himself while he does it. 
The tailgater perspective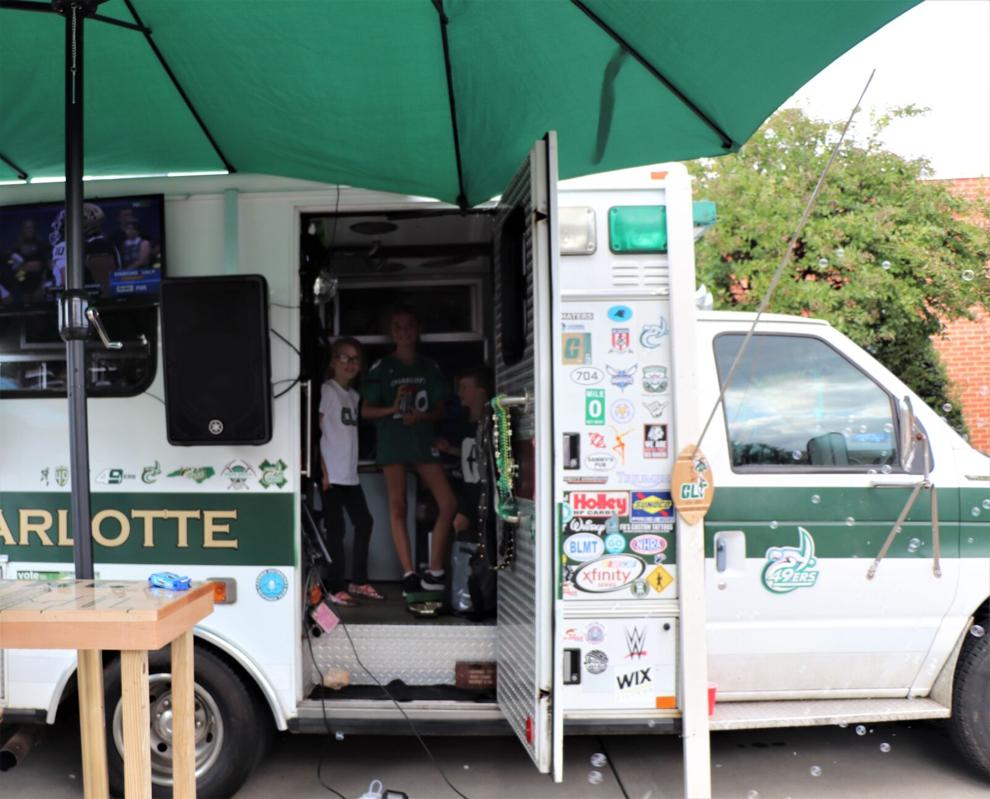 "It's authentic," Charlotte alumni and fellow tailgater Jimmy Touchstone said. The Normbulance experience is authentic, and as Touchstone said, "Doing life with other Niners."
Normbulance is not like every other tailgate out there. "Normbulance embodies what a lot of 49er students go through, from the passionate fan side," said Touchstone. 
Not having tailgates in 2020 limited Niner Nation from coming together as one big family.
"When you come out to that tailgate, it doesn't matter your skin color, your religion, which side of the aisle you vote, because we are all Niners," Touchstone said. "When we didn't have that, it really hurt. It really was a void."
This shows the sense of community that Dibble and Normbulance have brought about, and Jimmy resembled this in his statements.
"Rob and Faith (Dibble's wife) are great examples of what it means to be Charlotte 49ers," said Grace Fendrick, a 49er alumni and Normbulance tailgater. "They embraced me even though I was young enough to be their kid and didn't have any money to contribute to food and drinks."
This is what the core of Niner Nation is all about. Rob and his wife Faith welcome anyone and will bring them in as a part of the Normbulance family. 
It is bigger than a tailgate. It is an experience that resonates with people after the game. It is one big 49er family.
What is next for Rob and Normbulance?
Now that Niner Nation is back having tailgates, people like Touchstone and Dibble can see their friends weekly again and renew their sense of fellowship with one another. Dibble has never missed a home football game, and he does not plan to this year. 
Dibble and Normbulance will be in front of the stadium's entrance for anyone to join the "authentic" 49er experience every home football game.