Charlotte's men's soccer team entered the most important part of their season: conference play.
After going 5-2 against non-conference teams, the 49ers look to win key conference games to help their resume come NCAA tournament time. The non-conference portion of the season saw Charlotte have its highs and lows as they were shut out twice. However, the 49ers outscored their opponents in wins, 16-5, with three goals coming in a thrilling come-from-behind victory against Seattle on Sep. 2.
"No doubt we battled hard during the non-conference schedule," said Charlotte head coach Kevin Langan. "We earned lots of lessons. We talk about earning experiences, not learning from them."
Learning from experiences is something Langan's team did quite well, as they followed up losses with wins early in the season. When the 49ers lost their first game this season at Maryland 0-1, Charlotte won two straight. And when VCU shut them out 0-2, the 49ers won their next four games.
"You can go through all the games and every individual event and we took a lot from each game," said Langan. "Not just the games we lost, also the games we won."
In October, Charlotte will face its stiffest competition with two nationally-ranked opponents in Marshall (5) and Kentucky (10) as of Oct. 2. The 49ers recently played at the 21st-ranked team in the country in Florida International and dropped the contest, 0-4.
Even though the tough part of the season is right on the horizon, Langan thinks his team is prepared after the
"The non-conference schedule has really set us up nicely for the real challenges of the conference," he said.
Every year in Conference USA (C-USA), there are three to four ranked teams, along with teams that are always right outside of the national poll. Marshall, who the 49ers play on Oct. 23, won last year's College Cup.
Even with the loss on the road, Charlotte still sits fourth in the Conference USA standings.
To get back in the right groove, Charlotte has plenty of options to look to for success. Redshirt senior Joe Brito has been a reliable weapon for the 49ers. This season, he currently has four goals, with two of those coming in one game against Georgia Southern. Brito has 13 points overall this season.
Leading the team isn't something new for Brito, who has been a key piece for Charlotte the last couple of seasons.
"I try to, with my personality type, lead by example, do the right thing at all times, so the young players see what I do and learn from that," said Brito.
Brito thinks his team adjusted to a new style of play this year, which will help in the heart of the season.
"We had a good amount of non-conference games to figure the style of play we're playing and just come together as a team," said Brito. "Hopefully, we can take what we learned and apply to conference and win it this year."
Not only has the play of Brito helped the 49ers' record, but he has been a big asset for Langan throughout the years.
"Joe leads by example. I call him the silent assassin. He doesn't say much, but his play is so deadly," said Langan. "His bravery, how he gets on ball. Joe's experience is real...we are going to lean on him."
On the other end of the spectrum, the 49ers have a loud but effective voice on the field in Kameron Lacey. The forward/midfielder has been a vocal player in practice and on the field.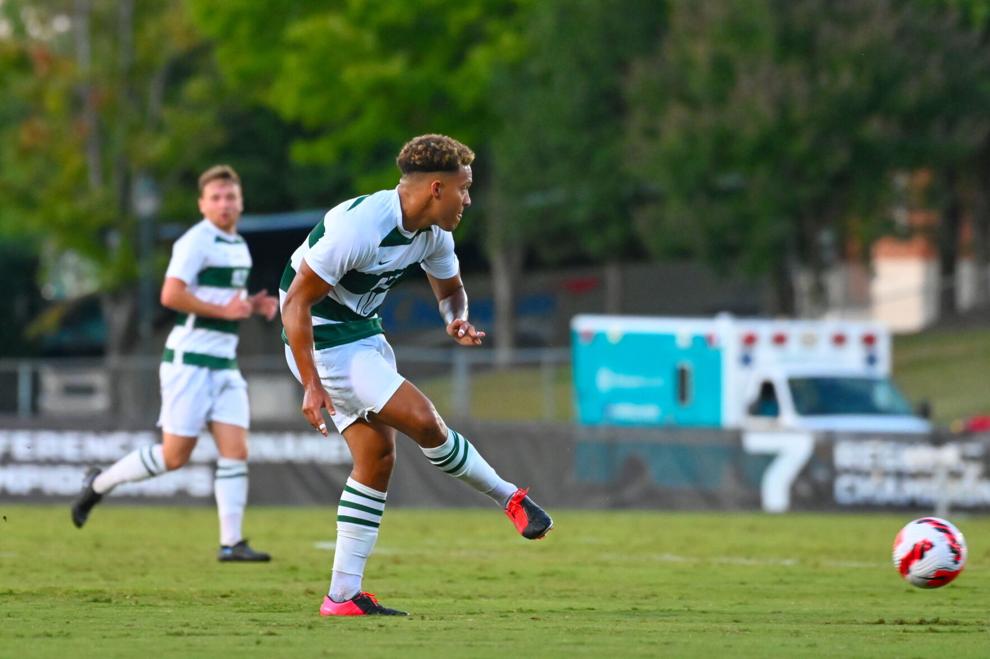 "Kameron's a great player," said Langan. "He has that bravery that Joe has...he is an incredible character for us in the game. And off the field, every day, he is the loudest on the team. He's a jokester, he's happy and he is a wonderful positive energy giver to the team."
There have only been three games this year where Lacey hasn't contributed any points for the 49ers and has 12 points thus far, including leading the team with five goals. He had three goals combined in his first two seasons. The junior has 12 shots on goal in 2021, which also leads the team.
"It wouldn't be possible without our team. We might have the points, but I feel like the team has helped us and led us to those goals," said Lacey of a leader of the team, along with Brito. "We all established goals at the start of the season, and I feel like we are starting to get the buttons clicking."
As a whole, Charlotte has found a way to spread the ball around when it comes to the offense. Seven different players have scored. Preston Popp (2 goals) and Jonathan Nyandjo (2 goals) have been huge for the 49er offense. Most importantly, there has been success defensively. The 49ers have two shutout performances, and goalkeeper Daniel Kuzemka has 33 saves on the season.
Sitting at 6-3 overall and 1-1 in C-USA play, the dreams of winning a conference championship are not gone. Although, the 49ers will have to play their best soccer in October to turn the conference championship dream into a reality.
"I think this team has shown long spells in almost every game of how well we set up how press, get behind the ball...we have shown wonderful moments, but it just hasn't been long enough in games," said Langan. "The challenge is that consistency from game to game...that consistency from minute to minute. What this team does have is that we are very dynamic."
Charlotte hosts Old Dominion on Oct. 9 at 7 p.m..