Charlotte's men's soccer team has found success on the recruiting trail throughout its history in America and across the world. One of the most notable players coming from across the pond was Callum Montgomery, who was drafted to the MLS in 2019.
In 2021, seven of the 28 players on the roster come from outside the counties. With players coming from Canada, New Zealand, Iceland, Italy and even as far as New Zealand, the Charlotte 49ers have found talent from all around the world.
Two of those players making a name for themselves at Charlotte are Alessandro Negri and Alex Willis.
Born in Milan, Italy, freshman wing-back Alessandro Negri moved to the United States to play at Charlotte. In Italy, Negri played for over 10 years at AC Milan. AC Milan is a high-tier professional football club in Milan, Italy. He also played in two pro games for Italy.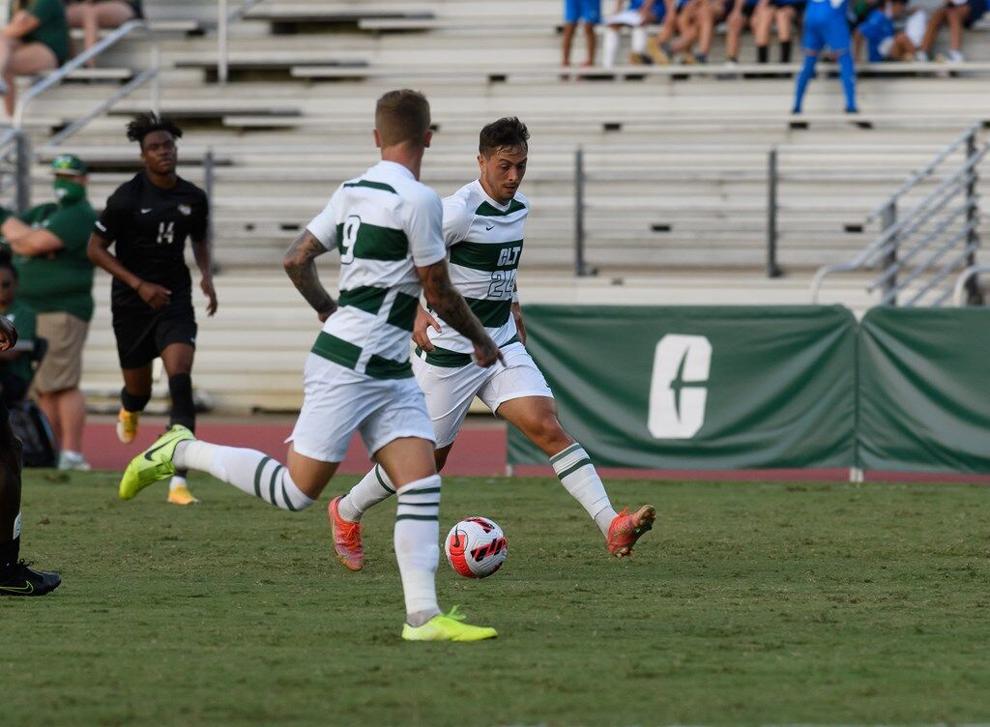 According to Negri, life in America is very different from life in Italy. His schedule of having classes in the morning then practice in the afternoon is very different from what it was like in Italy.
When he came to play in the U.S., it was his first time in the country.
"I've never been to the U.S. before, and it was actually my first time. I really enjoy meeting new people and seeing new places. The colleges and the environment, I think, are the best parts," said Negri.
Not only is life different, but Negri also finds the atmosphere and rules to be different as well.
"I think soccer is really different. College soccer is more physical, and the rules are so different because in Europe soccer you cannot change players a lot of times during a game, and here you can do it," said Negri. "Here is more technical, and the tempo is higher, but in Europe, there is more tactical things, a lot of set pieces and stuff like that, it's very different."
Alex Willis also came from Europe to America, but he comes from Faversham, England. Willis, however, did not come to America for Charlotte. He went to Northern Kentucky for his first two years of college and transferred to Charlotte as a senior.
Before moving here at the age of 18, Willis played for Charlton Athletic Football Club in London, England. Charlton Athletic Football Club is an English professional association football club that competes in League One, the third tier of English football. There, Willis scored 42 goals and dealt out 16 assists in his two seasons.
When Willis was 17, an agency came into the club and presented the U.S. college route. The idea of being able to continue his education while playing soccer piqued Willis' interest. In England and many other countries, the universities have nothing like the 49ers' can provide.
"There is no comparison at all," said Willis. "The equivalent [In England] would be like rec sports if that makes sense. Like you play just for fun. You're not on a scholarship where you get treatment. There are no fans that go to your games or anything. So there is no comparison when it comes to universities."
While he says England and the U.S. aren't as culturally different as the U.S. and Italy, he finds England very different from here.
"As they say, everything in the U.S. is bigger. There are cultural differences, but it's not too dissimilar. Obviously, the weather, the stereotypes about England are pretty true, it does rain a lot, and it's pretty cold. Here it's very humid, a bit muggy and hot," said Willis.
"I love America," he added. "Playing here definitely. I've enjoyed my American time a lot. It's just the whole atmosphere here like you're a student and you're an athlete. That's just crazy. It is a lot of fun and the memories you make."
While the transition to America was smoother for Negri, Willis had a different experience with the transition from play in England to here. Willis says the college system is a lot more team effort while you play for yourself in England. You especially play for yourself at a young age because you are competing with others for a contract. In America, everyone is invested in the same thing and wants to achieve the same team goals.
Willis and Nergri have found a place for themselves here at Charlotte. In his freshman year, Negri is fourth in shots and third in shots on goal for the Niners despite being a defender. Willis was named All-Conference USA First Team in his debut season at Charlotte. This duo continue to be a big part of the 49ers soccer team while continuing their education.