Fourth-year Bethany Clayton says farewell to her volleyball career and her time at Charlotte after setting multiple career highs this season. Not only is she a significant asset on the team with her lively personality and leadership skills, but she also contributed significantly to the team's success in statistical areas.
The outside hitter has played in 185 sets throughout her career and has totaled 148 kills. Clayton has 502 attempts in her career, and she has a hitting percentage of .167.
This season, Clayton reached her career highs in sets and matches and appeared in 74 sets and 23 matches. In addition, her assist record, and total attempts are at an all-time high this season, as she recorded eight total assists and 251 attempts.
The Pinnacle, NC native, has made impeccable progress during her time at Charlotte, especially after facing tough challenges along the way, such as recovering from knee surgery her second year.
"Coming back from that knee surgery was something I'm really proud of because it was not easy," said Clayton.
"It was probably one of the hardest things I've ever had to do in my life because I didn't walk for 12 weeks. I wasn't sure if I was going to be able to compete that season, and making it back to compete for half the season is something I'm pretty proud of. I think it gave me a nice boost of confidence that has helped me throughout the rest of my career and in setting career highs and doing well in games."
Clayton's presence on the team had an enormous impact on her coaches and teammates alike. Coach Weatherington expands on what Clayton being on the team has meant to her over the last four years.
"Bethany has been steady for us since the day she arrived," said Weatherington.
"She brings lightness, positivity and energy to the program and has from the time she was a freshman. She's very consistent in how she works every day in practice, but you know, it's something about her heart and her spirit that when she comes in, it just makes everybody feel a little bit better," she added.
"Even on the floor, she just always has a smile on her face, and she's just one of those teammates that everyone wants. I've just really enjoyed coaching her. I think she's had a breakout season this year. She battled some injuries coming up, and then watching the way she worked back from that, she was very gritty about it, and this year she just brings a leadership spirit that has helped us win some important games."
There is a feeling of mutual respect between Weatherington and Clayton. According to Clayton, they have created a strong bond over the last four years, making playing the sport all that more enjoyable and comfortable.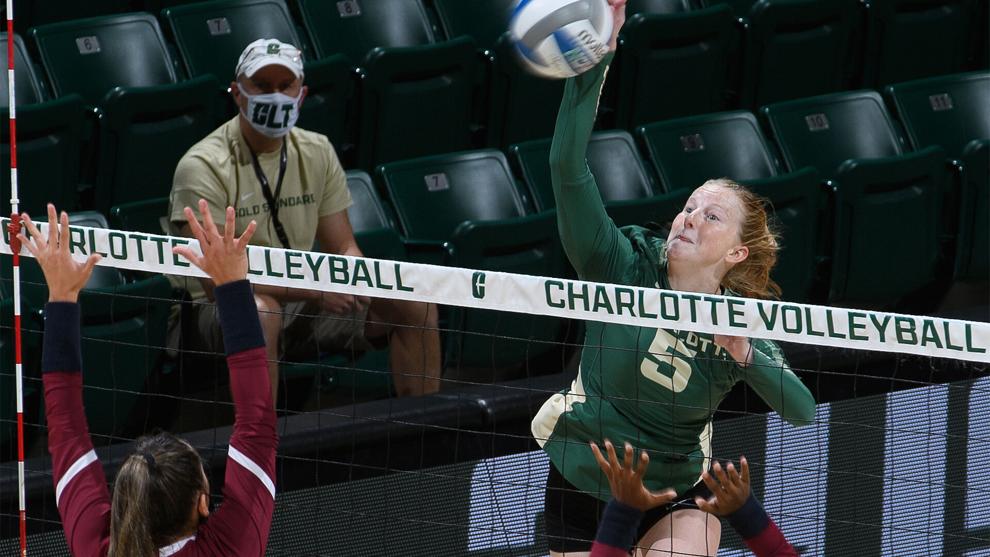 "It's been really good because the coaches care about you as a person too and not just as a player," said Clayton. "It's really good having that trust in the relationship and being able to know I can talk to them about other things than volleyball, which I think helps the volleyball part because I know that they're there for me and that I can trust them."
Clayton's welcoming spirit and true leadership qualities have made it easy for Charlotte volleyball to feel her presence. When it comes to the legacy she wants to leave as her time at Charlotte comes to an end, Clayton hopes that a winning culture will be visible on the horizon for the teams that will follow her.
"I hope to leave behind a culture of winning," said Clayton. "We've done so well, especially since my first year of winning more games and going to conference tournaments more and winning conference tournament games, so I hope to see that continue and be improved upon."
Throughout her career, Clayton has gained a wealth of knowledge. With many mentors and coaches to learn from, many life lessons and pieces of advice have been offered. But, it is relatively straightforward when it comes to the best piece of advice she's been given.
"The best piece of advice is honestly, just to enjoy it," said Clayton. "It goes by so fast. I can't believe I'm done with my volleyball career. I think for me, enjoying the time—because you won't get it back—and just being there with my team, in the moment and hanging out with them and loving them and enjoying all that volleyball has given me has been important."
Clayton has learned skills such as organization and time management from being a student-athlete. They won't be the only things that she takes with her into life outside of Charlotte, as the relationships and the life she built within Charlotte volleyball will follow her as well. Clayton touches on what she hopes to leave her teammates with when she goes.
"I feel like I am a pretty fun teammate and bring a light into the locker room, so I hope that that's how they remember me," said Clayton. "I hope that other people can bring that too and keep things fun and entertaining and know that we want to win and this is a game, but we want to have fun while we're playing."
Clayton and the Charlotte women's volleyball team finished the season with an overall record of 12-13 and fell in the first round of the Conference-USA Championships to Rice in a 3-1 defeat.