"What would Kenzie do" is a saying that Charlotte Women's Volleyball freshman setter Annika Wetterstrom says to herself. The team was devastated by the injury of their senior setter Mackenzie Reaume to open the season. Reaume is a mainstay at the position, a team leader cherished by her teammates and someone to turn to for advice that's now done for the season. The team then turned to the 18-year old Wetterstrom.
"Initially it was a lot of pressure. For her to go down it was pretty devastating, but what I took away from it was, it was an opportunity I've been given, and I try to take advantage of that, and try to do the best for my team," said Wetterstrom. "Since Mackenzie went down, we've all come together and realized the reason that we're playing is bigger than what we initially thought it was. We're playing to support her, and for her." 
Hailing from Longmont, Colo., which has a population of 96,000, it shaped Wetterstrom into the person she is today and has given her a community to lean back on. Wetterstrom's family has been living in the area for five generations, and making her way to Charlotte was certainly new. 
The former star setter for the Longmont Trojans won multiple conference and regional championships and was awarded Conference Player of the Year in 2018 for her contributions. Wetterstrom credits her sister with influencing her volleyball career and making her time at Longmont High School so valuable.
"My first year, I got to play with my older sister and that was great because I've always looked up to her. She's who got me to start playing volleyball," said Wetterstrom. "Everything I've done up until this point is because of her and in a way for her." 
Wetterstrom picked Charlotte because her teammates, coaches and the rest of the staff made it feel like a home away from home, checking every box for the girl traveling so far from her actual home.
"Transitioning from Colorado where I have a huge support system to Charlotte...forced me in a way to meet new people and go out of my comfort zone and find my own support system and start building my own community," said Wetterstrom.
The Charlotte Women's Volleyball team has had an up and down year with a 14-14 record but at a pivotal part of the season with three games left, they are primed to make a run at tournament play. The team has been working hard to find a rhythm and get back on track.
"We've definitely overcome some adversity. We're pretty goal-oriented, we're determined to be the best we can. Even with the ups and downs we've faced, we've found a way to make it positive," said Wetterstrom. "I've learned the importance of having teammates who always have your back."
There is a large amount of responsibility that goes into playing the setter position which is why it is considered one of the most difficult positions in volleyball. There are mental and physical components that go into the position and every decision has to have a reason. 
"When I'm on the court there's numerous different aspects of it you have to be focused on what you've been given in the past and what your different options are," said Wetterstrom. "You have to think of the other team's defense and how they are going to react to the offense you throw at them, there's just a lot of different aspects." 
In her transition into the starting role, Wetterstrom's coaches have spent time in the film room and in practice preparing her to take on the responsibilities of the position and filling the void left by Reaume.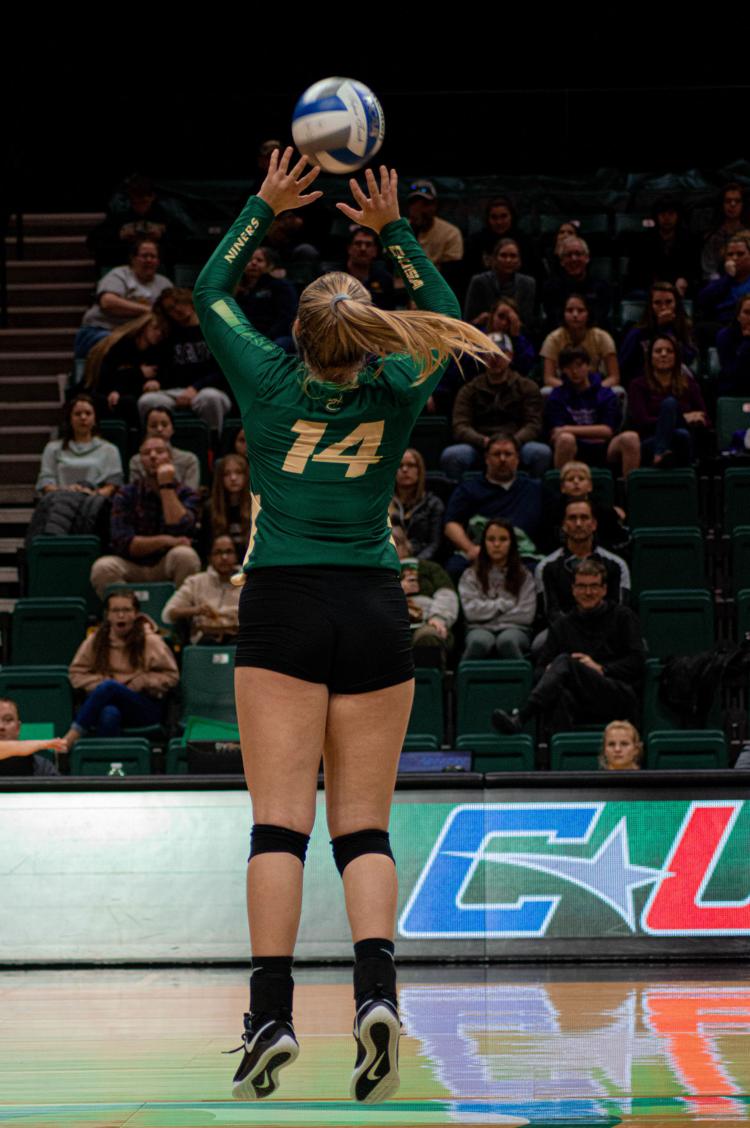 "My coaches, they've spent a lot of time with me in helping me. In high school I could just set and it was fine but in college there are ten different layers in the choices you make and why they matter," said Wetterstrom. "Each week I have film with Coach Ana [Pego], she helps me go over the game-plan each week and prepares me as I go through a mental checklist of what I'll do during game-time." 
Wetterstrom also relies on her teammate, Mackenzie Reaume, whose shoes she will be filling for the remainder of the season. Reaume is someone that Wetterstrom leans on for support.
"I rely on her. The first game after she went down, I went up to her and in my head I was like W.W.K.D: what would Kenzie do," said Wetterstrom.
While she gets more comfortable in her role, Wetterstrom and her teammates are preparing to flip the switch and potentially still make it to the conference tournament.
"This weekend we have a great opportunity to go 2-0 and then our last two games will be at home and that'll be a fun match because it's our senior night and it's wrapping up our conference playm" says Wetterstrom. "We're looking to go 4-0. All the games are really important, but the next four are going to be crucial just cause it's going to really determine our chances for conference tournament."