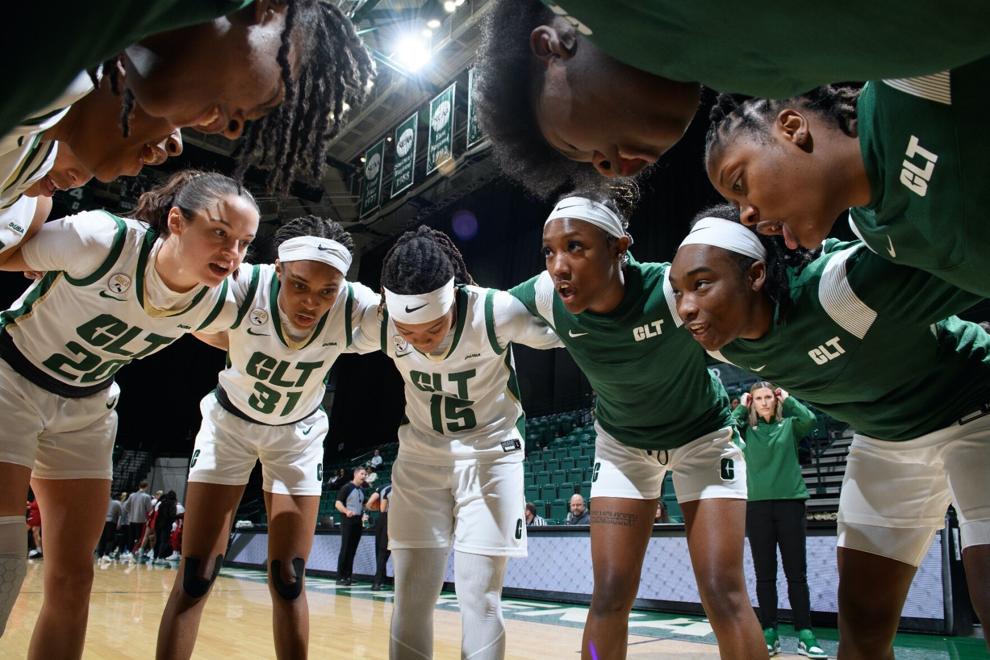 Winter break for Charlotte ran from Dec. 16, 2022, to Jan. 8, 2023, but while classes were out, 49er basketball was still in full swing. 
Over winter break, the men's and women's basketball went 3-3, but both squads had notable moments fans may have missed. 
Brice Williams' career week
In back-to-back 49ers victories against Middle Tennessee State University and Louisiana Tech University (LA Tech), Williams averaged 31 points, five rebounds and 1.5 assists while shooting 78% from the field (18-23), 56% from beyond the 3-point line (5-9) and drained 21 total free throws.
Williams totaled 62 points in his two matches for the week while only playing a combined 55 minutes coming off the bench. 
The two performances marked the first time a 49er scored 30+ in back-to-back games since Leemire Goldwire in 2008. This stellar week for the current redshirt junior 49ers guard led to him receiving multiple honors. 
Williams was named the Conference USA (C-USA) Player of the Week with his outstanding performances. 
Two days following his C-USA recognition, on Wednesday, Jan. 8, the United States Basketball Writers Association named Williams the Oscar Robertson National Player of the Week. This makes him the first 49er ever to receive the award.
Williams, averaging 12.2 points per game and 4.1 rebounds per game while shooting 49.6% from the field, 47.9% from three and 83.6% from the charity stripe, is a significant threat for winning the C-USA Sixth Man of the Year Award while leading Charlotte in scoring despite coming off the bench in all 16 games this season. 
Very impressive performance from Brice Williams (6'7", Junior) against Middle TennesseeHe put up 31 PTS (9-11 FG, 2-3 3PT, 11-13 FT) & 2 AST while showing several really nice finishes whether it was creating for himself or cutting, and made some nice jump shots as well pic.twitter.com/DrjD4NNnEQ

— Zach Milner (@ZachMilner13) December 30, 2022
Women's basketball begins conference play
The Charlotte women's basketball team began C-USA play on Dec. 19 with an 85-79 victory over the University of Alabama at Birmingham (UAB). After five conference matchups for the 49ers over their winter break, they now hold a 3-2 conference record. This puts them at No. 4 in the C-USA and one game out of No. 2. 
Each of their five conference games has resulted in alternating wins and losses. Their three wins came against UAB, LA Tech and Florida Atlantic University (FAU) in their most recent match. 
🚨Floater Alert🚨CLT 71FAU 64💻 https://t.co/yHXLnEFz5g📻 https://t.co/HAf6R437hc📊 https://t.co/9TrnN5DRqt pic.twitter.com/hHRTgEFwCM

— Charlotte Women's Basketball (@CharlotteWBB) January 7, 2023
In their latest outing, the 49ers took down FAU 77-67 as Dazia Lawrence dropped a career-high 31 points.
🚨 NEVER A DOUBT! 🚨 ✅ Avg. 29 pts/game (27 & 31 vs. FAU)✅ Shoot 50% from the floor✅ Shoot 84% from the line✅ 4 steals/game✅ 5.5 reb/game✅ 3 assists/game✅ All in 36.5 mins/game✅ 2nd honor of the year#GoldStandard | #playwithHEARThttps://t.co/MEWj2j3eCW

— Charlotte Women's Basketball (@CharlotteWBB) January 9, 2023
Their two conference losses came against formidable opponents. Their first C-USA loss was to Middle Tennessee, who sit at No. 1 and are undefeated in conference play at 5-0. The other loss came against Florida International University, who are tied for No. 2 with a conference record of 3-1. 
Men's basketball finishes 2022 year strong and continues to dominate at home
The men's basketball team won both games in the final week of December, taking down Middle Tennessee and LA Tech, backed by Williams' stellar week.
With the two victories coming within Halton Arena, the 49er's record at home improves to 7-0. This marks their best start from home since the 2007-2008 season, where they also took victories in their first seven games at Charlotte. 
In January, the 49ers have yet to put up similar performances, losing both of their matches thus far in 2023 to drop them to 2-3 in conference matches, placing them No. 7 in the C-USA.
Up next
The men's and women's teams have a small break before returning to action following the start of the new semester. They each play the University of Texas at San Antonio (UTSA) on Jan. 14. 
The men's game will be played in Halton Arena at 2 p.m. while the women's team heads south to San Antonio, Texas, for a 3 p.m. matchup. Both games will be broadcasted on ESPN+.