All good sports teams have that one special player, their Swiss Army knife, who they can put in anywhere and trust to get the job done. This player is typically the super-utility player; the 2016 World Series-winning Chicago Cubs had Ben Zobrist, the 2020 Los Angeles Dodgers had Kíke Hernandez, and the 2009-2010 championship-winning Los Angeles Lakers had Lamar Odom.
This season, the Charlotte 49ers women's basketball team will rely on sophomore guard Jacee Busick to fill that pivotal role. 
"I expect her to be a glue player. Someone who can fill in wherever we need her," said Coach Cara Consuegra.
"So if we need her defensively to guard a certain player, if we need her to be able to knock down open shots, if we need her to play a post position or a guard position, if we need somebody to step in and take charge. She can affect the game in so many areas," she added. 
Sophomore jump
Busick is coming off an impressive freshman season where she earned a place on the All-Conference USA Freshman Team and earned three Conference USA Freshman of the Week honors during the season. She is expected to make a big jump and build off the experiences she gained from her first season.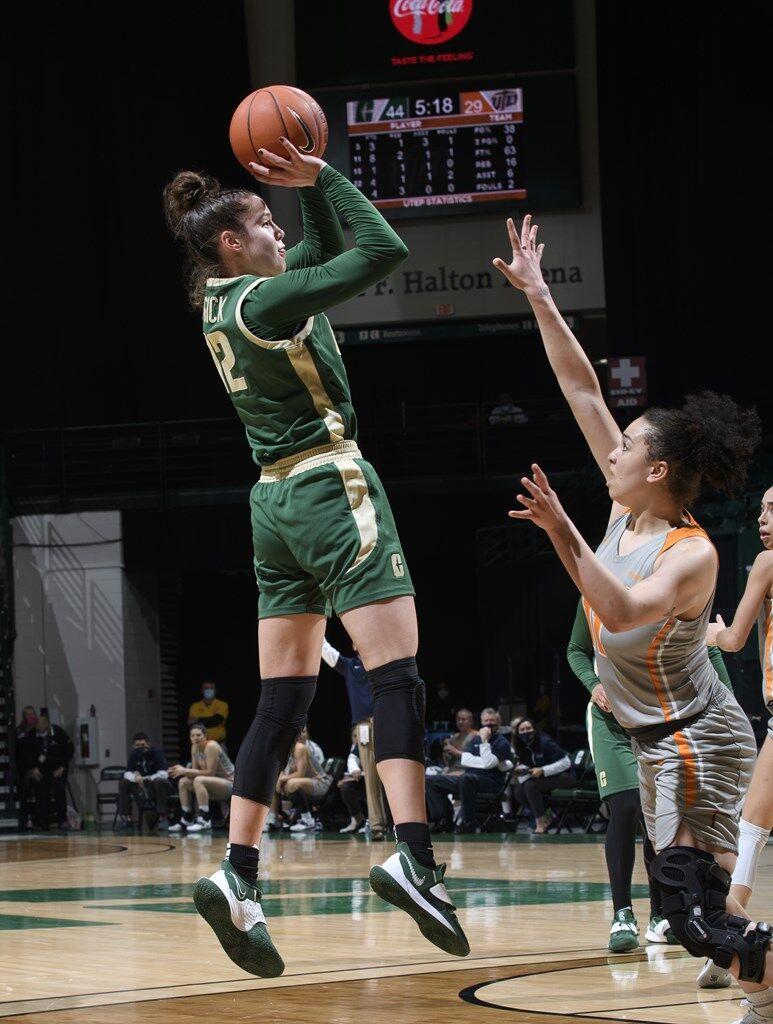 "I'm excited for her because last year, as a freshman, she was thrown into so much early, " said Consuegra. "She was thrown into that because she earned it with the way that she practices and the way that she approaches every day. I'm excited for her to have that year under her belt."
"Even though as good as she was, being an All-Freshman team member, so much becomes easier as a sophomore, and I think with all the minutes that she got and the situations that she played in, I expect her to take a big jump with that experience." 
Busick, who averaged 6.6 points per game and four rebounds, will look to add to that total by taking the next step. She doesn't want to set her expectations too high. She wants to focus on being better and learning from last year to help the team in any way possible. 
"I hope just to take some of the experiences and the lessons from last year and keep building on that and keep working on being more consistent," said Busick. 
Successful past
Busick's freshman success wasn't new to her, as she was nominated to the prestigious McDonald's All-American Game in 2020. Being named a McDonald's All-American is one of the highest honors a graduating high school basketball player can achieve; it's the equivalent to the NBA all-star game for high school students. 
She was also named to the 2020 All-North Carolina first team by the Associated Press and the 2020 North Carolina Coaches Association second team. Busick was also named to the 2020 MaxPreps third team. 
Add those accolades to the freshman awards she garnered from Conference USA in her first year; her trophy case is already getting full. The 49ers hope she builds on her prosperous past and receives a few more accolades in a potential run to the conference championship. 
"Just her level of communication and understanding, she makes us a better team when she is on the court," said Consuegra. 
Season expectations
The women's basketball team has high hopes for this upcoming season, with the goal being a conference championship. The team was voted to finish first in the conference based on the preseason conference polls.
"Our expectations are high, we are excited about our roster, and we are excited about the talent that we have and the experience that we have," said Consuegra. "Because of that, our expectations are high; we want to compete for a championship here at Charlotte, we want to do that every year, but I do think we have a lot of great pieces that can put us in a position to do that." 
If the team is to reach their goal, it will require a significant contribution from their Swiss Army knife, Jacee Busick, who seems to be prepared to step into that role and contribute any way she can. 
"Personally, I want to be better than I was last year, whether that is in leadership with knowing what to do. As a team, I think we have championship expectations, so just doing whatever it takes to get there," said Busick.