"'Take a Timeout' is geared towards assessing the mental health needs and preferences of male and female student-athletes," Charlotte women's soccer alum, Abigail Coffey, said.
Coffey played for the 49ers women's soccer team 2015-18 while getting her undergraduate degree in public health and is now pursuing a master's degree in the same field.
"Take a Timeout" was designed by Coffey as a research project that has developed into podcasts to deliver cognitive and dialectical behavioral therapies for student-athletes. These two therapies have been around a long time and Coffey curated this project to apply directly to student-athletes and the struggles they endure throughout their careers.
During Coffey's junior season, 2017-18, she became hospitalized for an eating disorder and went through all the levels of treatment and care. While weighing in the options of if or when to return to collegiate soccer, Coffey realized her friends and other student-athletes were going through the same things.
"Knowing that they felt the same way I did, I felt like something needed to be done," Coffey said.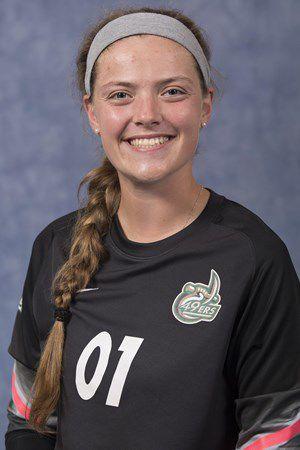 "Take a Timeout" was born out of Coffey's personal experience and it will become a resource for student-athletes struggling with mental health issues. As a public health professional and student-athlete herself, Coffey became an advocate.
"All these ideas started clicking in my head, but I had no foundation to build from since I was only a first-year public health student," Coffey said.
After completing an internship in student-athlete development, Coffey was introduced to a funding grant source from the NCAA where she presented her project plans. Coffey reached out to a professor in the department of public health sciences, Dr. Alicia Dahl, to offer a collaboration. Dr. Dahl later became Coffey's principal investigator on the project and from then, the project really started to begin. "Take a Timeout" started as Coffey's research project for the graduate program and it turned into an amazing set of therapeutic podcasts for the betterment of student-athlete's mental health.  
They applied in the fall of 2018 for the grant program and finished in the top ten of 87 applicants. The next funding cycle included 66 applicants. The funding source provided $100 thousand and split it up how they see fit. The NCAA has their own timeline for when grants are due and when recommendations are made for each research applicant's project. The final report is set to come out on Feb. 10, 2021.
The funding from the NCAA was the main source of assistance for this project. The NCAA is hosting a convention in Washington DC in 2021 for every research applicant to gather and deliver the results from the grant within each project. These resources within "Take a Timeout" are planned to be available for every NCAA student-athlete, not just Charlotte athletes.
"After a pilot study is completed and the final steps are done, the website, podcasts and resources will potentially be available to every NCAA program in the country," Coffey said.
The pilot program is the biggest priority of the project as Coffey is looking to have 100 NCAA student-athletes. It will cap at 100 participants, but the project will be available to all NCAA student-athletes after the pilot.  
The podcasts are scripted in a role-play scenario. A set of characters will be assigned a set narration and the therapy skills will be delivered through the podcasts. Coffey's roles as a researcher and an intellectual just add to what she experienced as a student-athlete. The therapies involved in the podcasts are rooted in research from decades ago, which only points towards success for "Take a Timeout" and the listeners.
"The things I am writing about and researching are things that happen every single day," said Coffey. Coffey experienced the detrimental effects of mental-health issues and she watched her own teammates go through it as well.
The pilot program in the fall is a research project and "Take a Timeout" will be a website with the podcasts and a sign-up section. Participants will be asked to fill out a survey and give informed consent. All the identification needed will be the grade and sport of the athlete. After the pilot, Coffey is not certain on how schools will deliver the content. Coffey is really excited about "Take a Timeout" because it is aimed to help student-athletes navigate the same feelings and thoughts she was feeling.
"Every day is something new [with this project]. Every day is something amazing because I keep in mind how many student-athletes' lives could be changed or even saved," Coffey said.